Mbappé: PSG place 200m-euro price tag on Real Madrid target
Amid stalled talks over an extension, PSG have reportedly resolved not to sell Kylian Mbappé for under 200m euros despite the striker being out of contract next year.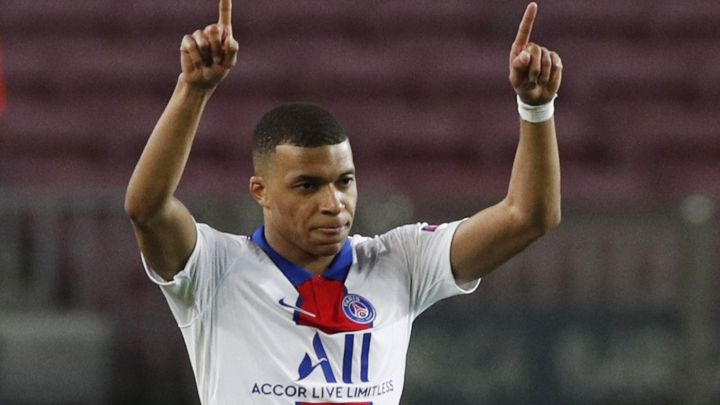 The future of Kylian Mbappé, who scored a stunning hat-trick in Paris Saint-Germain's 4-1 Champions League thumping of Barcelona on Tuesday, remains uncertain.
PSG out to extend Mbappé and Neymar's contracts
PSG are presently attempting to secure the renewal of team-mate Neymar's contract, but tying Mbappé down to a new deal is also one of the Parisians' priorities, all the more so after his memorable display at the Camp Nou.
However, the striker is currently stalling on signing an extension to his contract, which expires in 2022, as Real Madrid eye an end-of-season swoop for a player identified at the Bernabéu as a major transfer target.
He has also been linked with clubs such as Liverpool, Manchester City and Juventus.
Le Parisien: PSG won't accept anything less than 200m
But if PSG are to sell, claims a report in the French newspaper Le Parisien, an offer of at least 200 million euros will have to come in for the World Cup winner, whose performance against Barça has served to boost his transfer value.
Although the 22-year-old will only have 12 months left to run on his contract in the summer, PSG reportedly see this asking price as a fair reflection of his potential as a player and feel they cannot justify letting him leave for anything under that.
200m-euro fee out of reach in current climate?
According to Le Parisien, there are currently no clubs in a position to meet PSG's demands, with the financial crisis caused by the coronavirus pandemic leaving potential suitors with severely depleted transfer war chests.
Mbappé's 30-million-euro annual wage is also a stumbling block for any club eyeing the France international's signing, the publication adds.