NFL
Eagles quarterback Carson Wentz heading to Colts
After five years with the Eagles, Carson Wentz is on the move and will be reunited with Frank Reich at the Colts.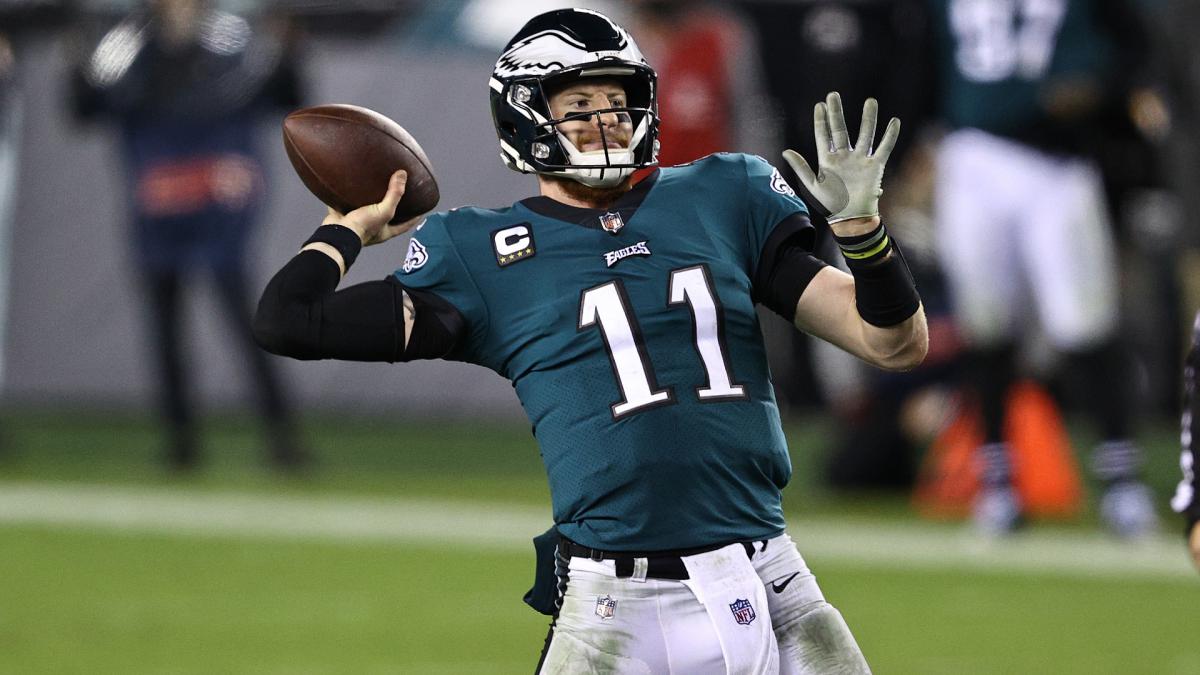 Carson Wentz is heading to the Indianapolis Colts after the team struck a deal to trade for him from the Philadelphia Eagles.
Wentz going to Colts
The quarterback, who was benched for Jalen Hurts towards the end of a miserable 4-11-1 season for the Eagles, is poised to join the Colts, according to widespread reports.
Indianapolis will give the Eagles a 2021 third-round draft pick and a conditional 2022 selection in exchange.
The pick in 2022 is provisionally a second-rounder, but can increase to a first-rounder if Wentz plays 75 per cent of the snaps next season.
It could also convert to a first if Wentz leads the Colts to the playoffs while playing in 70 per cent of snaps.
Wentz will be reunited with Colts head coach Frank Reich, who spent the QB's first two years in the NFL as the Eagles' Offensive Coordinator, with impressive results.
The 2017 season, Wentz's second in the NFL, saw him produce MVP-calibre form and throw for a franchise record 33 TDs before going down with injury and famously being replaced by Nick Foles, who took the team to Super Bowl glory.
Wentz signed a four-year, $128 million contract ahead of the 2019 season.
But he has struggled to replicate his early career form, culminating in the Eagles drafting Hurts in the second-round last year and benching Wentz after Week 13.
The 28-year-old averaged 218.3 yards per game last season, the lowest mark of his career, and threw a career-high 15 interceptions in 12 games.
Philip Rivers' retirement had left the Colts seeking a new QB to lead a roster that appears ready to contend in the postseason.
They narrowly lost to the Buffalo Bills in the Wild Card round in 2020 after going 11-5.
Wentz is the latest domino to fall in what is proving to be another dramatic offseason on the QB market.
Jared Goff was the number one overall pick in 2016 - one spot ahead of Wentz - but was recently traded by the Los Angeles Rams to the Detroit Lions in exchange for Matthew Stafford and draft picks.
Question marks remain over the future of Deshaun Watson with the Houston Texans and Dak Prescott is still unsigned by the Dallas Cowboys.
Meanwhile, Trevor Lawrence – billed as a generational talent – leads a star-studded crop of QBs in the draft.
There are suggestions Lawrence, Zach Wilson and Justin Fields could go 1-2-3 in the draft.
Wentz had also been connected with the Chicago Bears, who now continue their search for a 2021 starter.