Laporta: "I've spoken to Piqué, he's devastated"
The ex-president gave his thoughts on Barcelona's painful defeat to PSG during the presentation of his project if he is re-elected.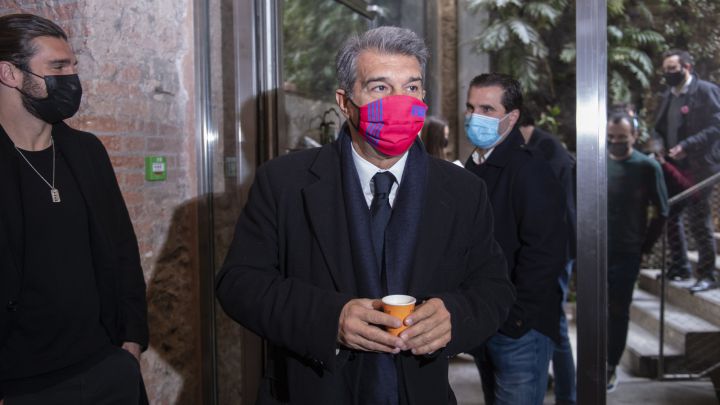 Joan Laporta, one of the candidates running for president at Barcelona, revealed that he spoke to Gerard Piqué after Barcelona's humiliating 1-4 thrashing to PSG in the Champions League and said that the defender was "completely devastated and angered" by what happened out on the pitch at Camp Nou. Laporta also outlined what he plans to do if he is elected president next month, and explained that he will be by the players' side helping them to recover their winning mentality if he returns.
"I spoke to a first team player after the game. He was devastated, angry, but he was the one who set an example by wanting to play even though he has only just come back from injury. As the culé he is, he was absolutely gutted," Laporta said after today's presentation, adding that he wants to be close to the players and to support them. "We can't just leave them to deal with this on their own, we will be by their side and help them to recover a winning mentality. We have to continue battling but we also need to know how to handle losing. We have to be there for the players. And we have to get back our winning mentality, that is what I ask of team - that they don't crumble when faced with an adverse situation, but fight".
Laporta feels that Barcelona has more options of winning silverware in LaLiga than in the Copa del Rey or the Champions League, but asks the team to show commitment and above all, dignity. "We have to play the return leg in the Copa; in LaLiga, Atlético will go through a difficult patch. I ask the players to maintain their dignity and get their winning mentality back, we will never abandon them, but right now, that's how they must feel," he continued.
As for the return leg against PSG, Laporta hasn't ruled Barca out of staging what would be an historic comeback in Paris. "We have to maintain our dignity when we play the second leg in Paris. We have had comebacks before, although this time it will be more difficult, but we have to try. They were the better side the other day, but we have had epic moments during our history, nights which led us to glory. I hope the players are calm when they go to Paris and keep their dignity, and have the spirit that an historic can happen," Laporta added.
On a personal level, he admitted he was angry about the defeat to Kylian Mbappé's PSG at Camp Nou. "I was angry at the time, it was such a huge disappointment, I just felt like going to bed and forgetting all about it. But the message is clear - we need to stand by the players and support them," he reiterated.
He reaffirmed his determination to keep Leo Messi at the club in spite of the financial difficulties. "Our competitors are 'State-clubs' who have their ways of getting around 'Financial Fair play' rules. Leo is sure to receive some big offers, they can pay him more, and it will be difficult for us to compete with them, but I will try to convince him to stay".
Laporta is keen to make La Masia the focal point
As for the presentation of Laporta's project, Rafa Yuste explained how the different sections of the club would be divided - four professional and eight amateur with La Masia being the focal point. Laporta aims to introduce 'Barça's football model' to the other sections and also ensure that each section is economically viable. He proposes to individual sponsors for each section, and also find a sponsor who will being in income from naming rights by renaming the Palau.
But the main thrust of his project is to strengthen the youth academy and have more homegrown players coming through into the first team squad. At the moment, that is something which is not happening in any of the professional sections of the club (basketball, handball, hockey and futsal). Laporta proposes creating specialised initiation schools for each of those sports, as well as increasing the number of players who are resident in La Masia, converting it into "a centre of sporting excellence" so that the path from youth to professional level is more direct.