Mbappé-Haaland: the duel to succeed Messi and Cristiano
Growing up and developing their game while idols Cristiano Ronaldo and Lionel Messi fought out one of the greatest rivalries, is now the time for them to step up?
World football is witnessing a new duel of young stars at the very top of the game. Those kids, born in the 1990s, grew up watching their idols: Zidane, Ronaldinho, Henry, Totti, Gerrard, Lampard, Raúl and the rest. They were then replaced by arguably the greatest individual rivalry known to The Beautiful Game, Lionel Messi and Cristiano Ronaldo, one that has been diluted in recent years due to more distance separating them.
And as those two living legends edge closer to passing over their crowns, two new pretenders to the throne are stepping up: Kylian Mbappé and Erling Braut Haaland, two youngsters who developed under the influence of the Portuguese and Argentinian megastars.
Mbappé: one step ahead of Haaland
The world watched as Barcelona were blown away by the magnificence of Mbappé on Tuesday at the Camp Nou. The Frenchman was without his normal attacking partner in crime, but no Neymar potentially freed the star to outshine Messi and leave Piqué behind, quite literally, in an image that will live long in the memory.
Ever since his first minutes as a professional at AS Monaco, the French striker has developed at an exponential rate and at just 22 years of age he is the leading light of a European powerhouse and of an entire French national team, one that has already collected a World Cup with him at the helm.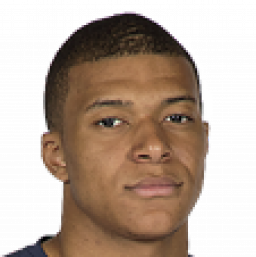 Despite his young age, Mbappé has been one of the protagonists in all of the titles won just as he has been in the collection of great European nights, a list that is rapidly growing as the seasons go by. He was in Barcelona this past week, quite possibly his best to date, and then there was the one at Old Trafford where he scored the goal that should have put United to the sword. Go back further and we remember him presenting himself to the European stage at the Stade Louis II with Monaco, eliminating the all-powerful Manchester City.
Look too at his exploits with the national team: his round of 16 match against Argentina where he scored two and provided an assist in a 4-3 win that woke up the world to his attributes.
Kylian came close to winning the Golden Shoe and the head of the Ballon d'Or podium seems only a matter of time. With a contract at PSG expiring in 2022, his future is less than certain and Real Madrid have been after his signature for years, having already let him slip through their grasp during the previous transfer moment. A big decision now needs to be made by the footballing prince as he reaches full maturity, and any club wishing to take him away from the French capital will likely be looking to fork out at least 200 million euros, if the latest report from Le Parisien is to believed.
Los Blancos are readying themselves to bring in their new Cristiano: Mbappé is an option, but there is another member of the goal-scoring royalty that has drawn their attention of late.
Haaland is missing titles, for now
Haaland is two years younger than Mbappé and has lifted less titles the Frenchman, but in terms of expectations and performance the balance is more equal than you may think.
At 1.94 meters tall, Haaland is not the classic poacher. Shooting is his thing, but with it comes with astonishing precision. The Leeds-born forward has notched 25 goals in 24 games, a record few players in Europe can boast of.
Haaland bagged an incredbile nine goals against Honduras in the 2019 U-20 World Cup. In his first season at Salzburg he scored 44 goals, which led to understandable interest from across Europe. Manchester United, through Haaland's former coach at Molde, Ole Gunnar Solskjaer, tried to convince him to join the Old Trafford outfit.
A controversial first encounter
Haaland and Mbappé have already faced one another on the European front. The Norwegian had just been recently signed by Dortmund, and came face to face against PSG in the Champions League. Both players played their part in the tie. Haaland shone in the first leg with a double that put Dortmund ahead. Mbappé, however, played a bigger role. The Frenchman assisted Neymar to make it 2-1 in the second leg in the French capital. In an empty Parc des Princes, Haaland and his Dortmund fell to PSG, with Neymar leading the comeback that culminated in Bernat's goal.
More precocious than Messi and Ronaldo
Leo Messi grew up under the tutelage of Ronaldinho at Frank Rijkaard's Barcelona, whilst Cristiano was Sir Alex Ferguson's 'child' at United, where he eventually went on to become one of the clubs greatest ever players, winning the Champions League and Ballon d'Or. Their emergence was striking, however, looking at the data, Mbappé and Haaland have managed to add more in less time, but also in less demanding environments and leagues than at Barcelona or Manchester United.
The trajectory in terms of ages is relatively similar. Messi won the 2006 Champions League, although with a role far from what he has now. Cristiano played the final of the 2004 European Championships when he was 19 and won the Champions League in Moscow at 23. The similarity with Mbappé is evident, although he won the 2018 World Cup aged just 19, the biggest achievement in world football.
Regarding goals, Mbappé is already among the top scorers at PSG and Haaland continues to climb the ladder in the Champions League charts, recently surpassing Brazilian great Ronaldo Nazario.
As Messi and Ronaldo continue to lead at Barcelona and Juventus respectively, it will soon be time to wave goodbye to two of the greatest players of all time. After their displays in the Champions League this week, it appears that Mbappé and Haaland are ready to battle it out to be the star of the next decade.