Theo: "It was better for Achraf and me to leave Real Madrid"
Theo Hernández spoke about the reasons why he felt he had to leave Real Madrid. He is looking forward to Sunday's derby meeting with Inter.
AC Milan didn't have an easy night as guests of Red Star in Belgrade. The Rossoneri had a Europa League engagement to get through before this weekend's derby and the sensations could have been better against a rival who had Milan Rodic sent off in the final minutes. Nevertheless, they take a 2-2 draw into the return leg.
Among the positives was Theo Hernández - the former Real Madrid player is making great progress in his role as an attacking wing-back and he is furthering his education in Italy's top flight. Theo believes he has evolved since leaving Real Madrid where he was deprived of opportunities in the first team - similar to Achraf Hakimi, his old team mate and friend who will be on the opposing side on Sunday. He explained to DAZN. "Both Achraf and myself didn't get to play very much at Real Madrid and so the best thing for both os us was to leave, because if you are there but not playing, you're not happy - you are not getting the opportunities you want. We did the best we could and now we are both here in Milan". 
Against Red Star on Thursday, Theo opened his account in European competition at top level. He only previous goal in Europe was in the Youth League when he was still at Atlético Madrid. He won a penalty and converted it himself on 61 minutes, Mario Mandzukic ceding duties to the 23-year-old.
He has always had a decent shot, and he has been working hard on his shooting in Lombardy, but he had only previously scored once from a dead-ball situation - he hit the equaliser 1-1 in the 2017 Copa del Rey final between Barcelona and Alavés with a tremendous strike into the top corner.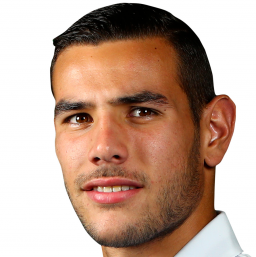 Dispuesto a superar sus mejores números
Last night's goal in Belgrade was his fifth of the season and the eleventh he has been involved in in 29 games for Milan - the other six being assists. He's just one away from equalling the 12 goals which he played a part in last season (seven goals and five assists) - the best figures of his career so far.  "All I need to do is work hard every day and wait until the squad list is named. I don't feel Spanish, I'm French. While I lived in Spain since I was a boy, that doesn't mean anything. I was born in France, my family is in France and I am French," he added. 
Theo will be one of Milan's chief weapons in Sunday's derby against Inter. He is already looking forward to meeting and taking on his old friend Achraf. "Achraf is an incredible player, he has a lot of talent, he's quick, he has quality, we are quite similar players. I know him well and we have spent a lot of time together. He's a great guy and a great friend. What will I say to him on Sunday in the derby? I won't say anything, out on the pitch we'll be enemies, but once we are off it we'll be good fiends again," he concluded.