Leipzig make the first move for Ajax prospect Brian Brobbey
RB Leipzig have expressed an interest in the prolific youngster, who is out of contract at Ajax this summer and likely to have plenty of suitors.
Brian Brobbey could be described as single-minded: "If I don't score I get angry and I can go a while without talking to anyone. Sometimes a whole day," says the 19-year-old Ajax striker. Brought through the famous academy at the Eredivisie giants, as things stand it seems that Brobbey, a prolific youth international for the Netherlands, will be forging his career elsewhere after reaching an impasse with Ajax. AC Milan, Manchester United and Bayern Munich have all been linked.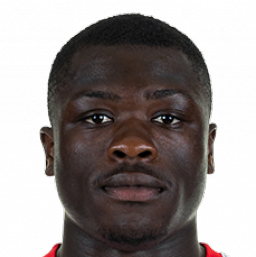 "It's a shame. We've done everything we can for him to stay but he would prefer to play at another club. I'm tired of the story now but he is within his rights," said Ajax sporting director Marc Overmars on Brobbey's situation recently.
Brobbey "jumps higher than Cristiano Ronaldo"
The forward has been attracting interest already and he is certainly an exciting prospect, drawing comparisons to both Romelu Lukaku and Didier Drogba. "He is the fastest player at Ajax. He runs 30m in 3.7 seconds. He weighs 91 kilos and has a low BMI, he jumps higher that Cristiano Ronaldo," said his youth coach at Ajax, John Heitinga, in 2019.
And he scores goals. Lots of goals: 26 with Ajax's under-17s, 42 with the under-19s and 15 in 27 matches with the reserve side, Jong Ajax. He also has 16 in 24 games for the Netherlands under-17s. And Brobbey has wasted no time making his mark for the Ajax senior side under Erik ten Hag. Three goals and an assist in 145 minutes gives Brobbey a strike rate of a goal every 48 minutes and he banged in the winner against Lille in the Europa League to hand Ajax the advantage in their last-32 tie with the Ligue 1 leaders.
RB Leipzig have already expressed an interest and the Bundesliga side are unlikely to be alone when Brobbey's contract expires. With Mino Raiola handling the young striker's affairs, there is bound to be a lot of noise surrounding the 19-year-old this summer.