Coronavirus US: What is the age range to be vaccinated?
The covid-19 vaccine rollout has been stepped up and Dr Anthony Fauci is confident that they can make up the 6 million shots lost to the winter storms.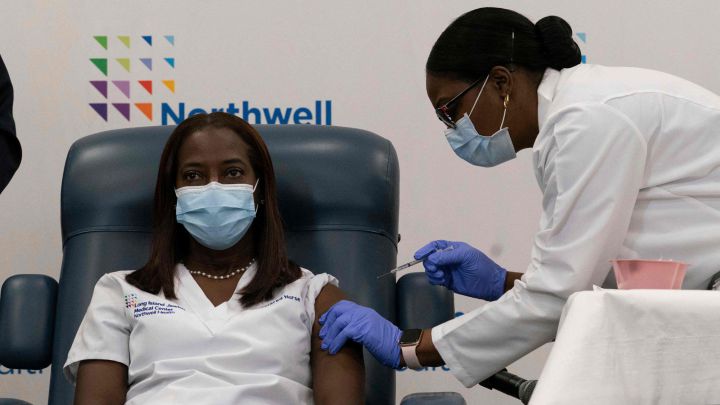 Since the pharmaceutical breakthroughs were first announced in late 2020 there has been real hope that vaccinations could bring about the end of the coronavirus pandemic. Numerous different vaccines reported extremely promising study results but the main challenge is now the distribution effort.
The American Rescue Plan will provide billions of dollars to assist the national effort but the recent spell of extreme weather in the south has disrupted the rollout. Officials face a race against time to get the life-saving shots in people's arms, and the most vulnerable age groups have been prioritised for the early stages.
Pfizer says it will double vaccine supply from 5M doses/week to 10M in the next few weeks, @rileyraygriffin reports.

This more or less confirms what we wrote yesterday about the coming increase that will significantly boost US vaccine numbers. https://t.co/jKV2LdTUyJ

— Drew Armstrong (@ArmstrongDrew) February 19, 2021
Elderly Americans the first to receive covid-19 vaccines
In January the Trump administration recommended that the vaccine rollout should be extended to everyone aged 65 and over. Initially the shots were only reserved for frontline healthcare workers, long-term care facilities and those with medical conditions that make them particularly vulnerable.
The recommendation was not enacted universally, but by 1 February 29 states and the District of Columbia had widened vaccine eligibility to everyone aged 65 and over. This has seen the vaccine rollout pick up pace and by 21 February 63.1 million doses had been given in the United States. In the last week, health officials were administering over 1.3 million shots per day.
On Friday, I visited Kalamazoo, Michigan to tour a Pfizer manufacturing plant. I had an opportunity to see the COVID-19 vaccine production process up close and thank the workers for their tireless efforts – because of their hard work we're going to beat COVID-19. pic.twitter.com/tt0vYyskE9

— President Biden (@POTUS) February 21, 2021
Across the country, there are 53 million Americans who are 65 and older and 110 million who have comorbid conditions who would be able to receive the coronavirus vaccine if all states were to adopt this guidance.
Israel lead the world in rapid vaccine rollout
Both the infection rate and the number of deaths from covid-19 have fallen substantially in Israel where the nation has focused on vaccine distribution, giving a glimpse at what to expect in the US. Israel began with very similar high-risk groups to those prioritised in America and is reaping the rewards.
By 6 February Israel had managed to get both doses of a coronavirus vaccine to 80% of individuals aged 60 or older. As of 21 February they have managed to get a massive 32% of their population fully vaccinated. In comparison, just 5% of Americans have received both doses of the vaccine.
The results speak for themselves, after hitting a peak in mid-January the infection rate amongst those aged over 60 has fallen by 66% in the following month. As a particularly high-risk group, hospitalisations have dropped by 57% and the national death rate has fallen accordingly.
Vaccine distribution disrupted by winter storms
Health officials in the US are attempting to up the speed of vaccine rollout but have been halted in their tracks in much of the south over the last week as they battle against severe winter storms. Texas and surrounding states have been particularly badly hit, with millions going without electricity and clean running water for days.
Prayers going up for everybody who has to drive the next few days.

Snow plow drivers, paramedics, chauffeurs, first responders, food delivery, mail carriers, truckers, school bus drivers, and of course those working hard to deliver vaccines! 🙏🙏🙏

— Jeanie Smith (@JeanieSmithKSDK) February 15, 2021
Understandably this has had a knock-on effort on the vaccination effort, with around 6 million doses delayed according to Dr Anthony Fauci. But while the situation is far from ideal Dr Fauci was optimistic about the prospects of catching up on lost time by speeding up the process.
On Sunday he told NBC News: "Obviously, it is a setback because you'd like to see the steady flow of vaccine getting out there to get into people's arms. But we can play pretty good catch-up."
"The number was 6 million doses got delayed. We've gotten two million out, and we project that by the middle of the week, we will have caught up."