Harden after Nets win: We're still growing
James Harden and Brooklyn Nets team-mate Kyrie Irving reacted to Sunday's win over the Los Angeles Clippers.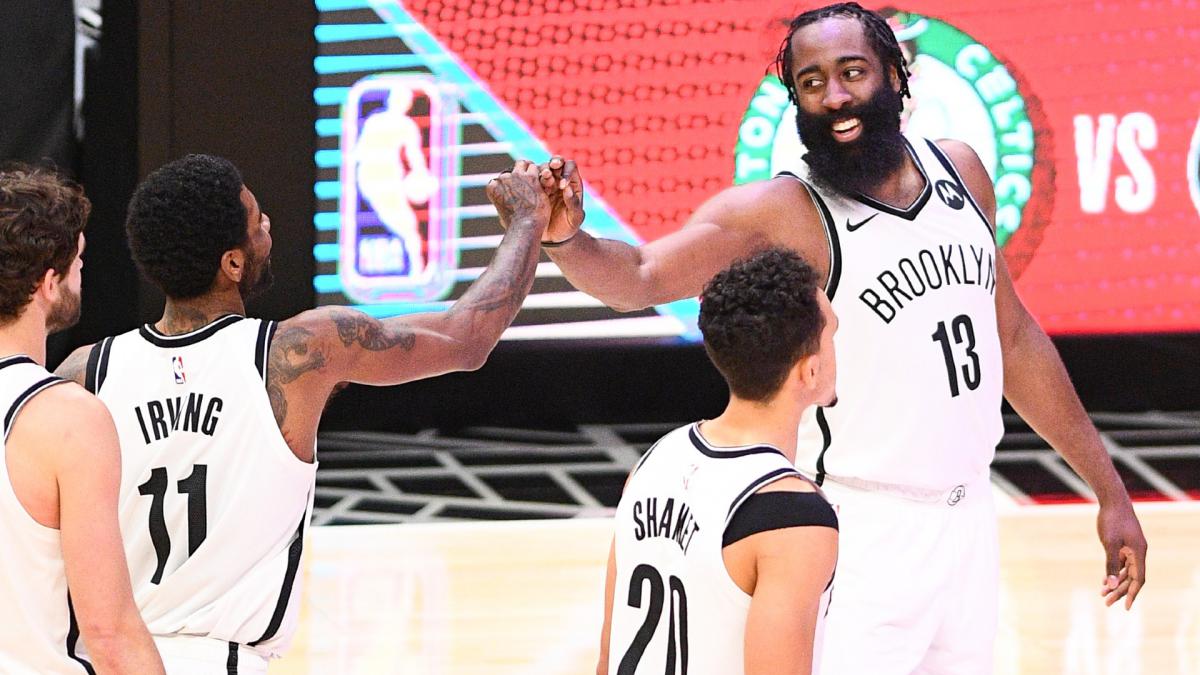 James Harden warned the Brooklyn Nets are still growing after taking down Kawhi Leonard's Los Angeles Clippers as they extended their winning streak to six games in the NBA.
The star-studded Nets wrapped up a 5-0 road trip – their longest undefeated single trip in franchise history – with a 112-108 victory against the Clippers on Sunday.
Former MVP Harden (37 points, 11 rebounds and seven assists) and star team-mate Kyrie Irving (28 points) combined to inspire the Nets in the absence of Kevin Durant (hamstring).
The Nets have beaten all five Pacific Division teams on the road over their last 5 games. According to Stats Perform, Brooklyn are the first NBA team to beat an entire division on the road in consecutive games since the Milwaukee Bucks did so against the Pacific Division over their last five games of the 1972-73 season.
"The most I'm proud of is our mindset every game, every possession," said Harden, who joined the Nets from the Houston Rockets in a blockbuster trade in January.
"We don't take our opponent lightly at all, no matter who we're playing it's the same goal. It's the same mindset and that is to go out there and help each other defensively. Offensively, take your shots when you're open and when you're not, be unselfish. And it's contagious on both ends of the floor as you can see.
"Really good road trip"
"So, we're still growing, but this is a really good road trip for us and now we get the opportunity to go back home and keep playing that same brand of basketball."
The in-form Nets (20-12) are now within half a game of Eastern Conference leaders the Philadelphia 76ers (20-11).
"I think just staying resilient with everything that's going on, not just within our league but in the world," Irving said about the Nets' winning run. "Obviously, we know how much of a privilege and blessing it is to be able to play this game every day so we just want to wish all the families at home well during these times.
The @BrooklynNets have beaten all 5 Pacific Division teams on the road over their last 5 games.

They're the first NBA team to beat an entire division on the road in consecutive games since the Bucks did so vs. the Pacific Division over their last 5 games of the 1972-73 season.

— Stats By STATS (@StatsBySTATS) February 22, 2021
"We get two hours, two and a half hours, three hours of basketball just entertaining people, so we don't take that for granted. Besides the winning streak, that's great, I just feel like it's a bigger purpose out here, so we're just having fun and we get to compete against the best. So that's why I think our resilience is probably what I'm most grateful for."
"I don't know everything"
"We're all individuals, but we can hold each other to a standard where we all meet," continued Irving. "I think we've been able to communicate that in a very unique way. Steve [Nash] holds us accountable because we need to be coached. I don't know everything, everyone else on the team [doesn't], so it takes a full collective effort for us to go against these great teams.
"That's what I feel. I think he's right. I agree with him on that sentiment, but like I said, it's just a standard we can hold each other to. We want to be coached hard."
Nets seeing more consistent efforts

Nets head coach Steve Nash added: "A non-negotiable step in any team's aspirations is to have that resolve and toughness and connectivity. I've been saying that since day one and we're starting to see more consistent efforts. I just get a sense that our guys are coming together a little more off the floor as well.
"They're finding a bit of a bond and a joy playing together and fighting for one another and that is, other than the toughness and application I talked about, the fact that those guys have come together a little bit more, look like they like each other and want to play for each other has been the most positive part of the last six games."