Varane: "They wrote Real Madrid off but we're back"
The Real Madrid central defender took part in a virtual chat with French media to promote his new role as the face of sports brand, Puma.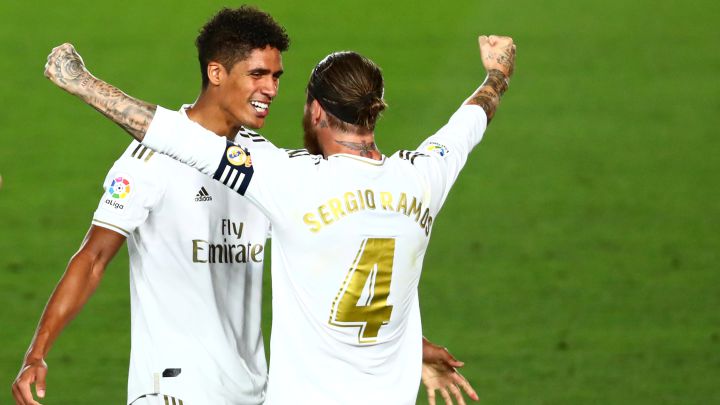 Real Madrid central defender Raphaël Varane took part in a virtual chat with French media to promote his new role as the face of sports brand, Puma. Among the topics he discussed was the telepathic understanding he has developed with Sergio Ramos after spending a decade playing together, Real Madrid's unwavering spirit which allows them to rise up in the face of adversity and the strange feeling of playing without fans in empty stadiums.
Never say die in Real Madrid's DNA: "People gave us up for dead but we bounced back. That is something which is part of this team and this club. It's about lot of things. The coach, the players and the club. It's a way of being and thinking which I took on quickly as soon as I signed for Madrid".
Three points behind Atlético in LaLiga: "Anything is still possible. It's an atypical season and the dynamics can quickly change. We could string together a number of good results and everything could be back working for us again. We already know that could happen".
"There's no need for Ramos and me to talk; we understand each other completely"
Raphael Varane, Real Madrid centre-back
Recovering form: "To play at top level, resilience is important. When we go though difficult periods, you self-confidence comes and goes. What we need to do is stay focused and be ready to get back fighting with one objective which is to be competitive. The context and how the season is has made it difficult for us".
Playing without fans in the stands: "I can say that you really do notice the difference. For example, when we score, there is usually a big reaction from the fans. But now, there's nothing. All of us have to look within ourselves, it's a very different feeling. We have to encourage each other and spur each on on out on the pitch. And that's not always so easy".
Playing without Ramos: "It doesn't change anything about my own performance levels out on the pitch. I'm always there to guide my team mates. I've always done that, with or without him. We have played together for 10 years. So there's no real need for us to communicate, we know each other inside out... Compatibility and experience counts for something. Before the game, we take one look at each other then we are straight into action. Both of us knows how the other moves around the pitch. There's no need to think, we know where the other will be and where they will go ".
Demanding the best from yourself: "To stay at the top level, you have to battle with yourself to take yourself to the very limits and always try to improve. We were talking about Ramos... but I see playing in the squad who have spent years at the club and they have managed to maintain the top level for that desire to win and always want more".