3
Barcelona vs Elche: results, summary and goals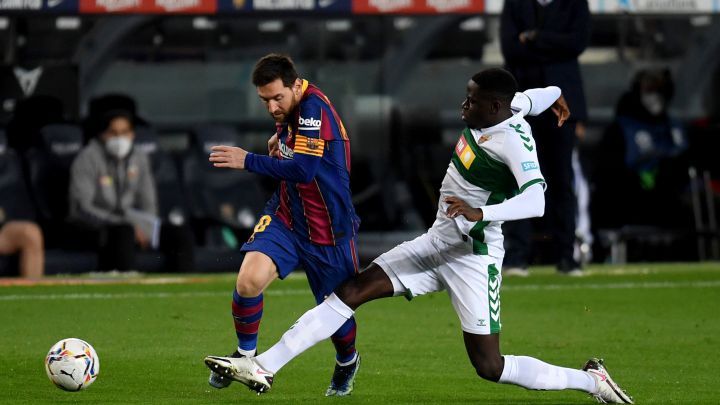 Barcelona vs Elche: match report; as it happened
After the humiliating defeat to PSG and a poor draw against Cadiz, Barcelona got back to winning ways against Elche, with goals coming from double-scorer Lionel Messi and Jordi Alba in the second half.
Elche had not scored against Barcelona since 1978 but came close to ending that incredible 43-year streak within five minutes, when Lucas Boye had a clear-cut chance inside the box. But the Elche striker could only manage to drive the ball over the bar in what proved to be best chance the visitors would have in the game.
Barcelona went on to create just two real chances in the first half, but finally managed to break the deadlock in the 47th minute, as Messi linked up with Martin Braithwaite to allow the former to score from six yards out thanks to a clever back-heel pass from the Danish striker.
Messi scored again in the 68th minute, this time assisted by Frenkie De Jong, who dribbled all the way from the half-way line, beating three defenders before squaring a pass to the Argentine captain. Messi then skipped around two men himself to slot the ball passed Badia for a second time.
Four minutes later, Braithwaite had his second assist of the game, getting on the end of a Messi cross and calmly heading the ball into the path of the unmarked Alba, who had very little to do as he drove the ball into the net from six yards out.
Three goals and three points for Ronald Koeman's men as they overtake Sevilla to move into third – two points behind Real Madrid in second and five points behind Atlético, who have a game in hand over the other two.
Peep, peep, peep! Game over at Camp Nou as Barcelona win 3-0. Elche's 43-year goalless streak against El Blaugrana continues.
Umtiti had taken a knock and gone off after receiving some attention. But he's shaken it off and is back on the pitch.
Griezmann blasts the ball off the crossbar as he tried to lift the ball over Bandia. Dest did well to find space down the left flank and play a quick square ball to the unmarked Griezmann in the box.
And that will be Braithwaite's last contribution as he makes way for Griezmann. Koeman also brings on Dest and Lenglet for Pique and Jordi Alba.
GOAL BARCELONA!
The goals are coming fast now as Braithwaite bags his second assist to set up Jordi Alba's goal. Messi started the move with a lobbed pass towards Braithwaite by the far post. The Danish striker calmly places a header into the path of Alba, who has very little to do as he drives the ball into the net from six yards out.
Two more changes for Elche as Boye and Milla head to the bench. They pair have made way for Carrillo and Nino.
GOAL BARCELONA!
Superb goal as De Jong and Messi combine to put Barcelona two-nil up. The Dutchman dribbles all the way from the half-way line, beating three defenders before squaring a pass to Messi. The captain then skips around two men himself and slots the ball passed Badia. That's his second and Barcelona lead 2-0. Incredible assist from De Jong.
Barcelona make a second change as Trincao, who was on the end of Barcelona's best two chances in the first half, makes way for Busquets.
Messi and Braithwaite again linking up as the captain tries to release the latter with a quick pass. But the Dane is dispossessed as he tried to round a defender in the box.
Two changes for Elche: Cifu and Regoni go off; as Fidel and Tete Morente come on.
Another Messi-Braithwaite combo ends with a corner as the former is dispossessed before he can get a shot off. Messi takes it short before Alba plays a cross to Pique, who can't get much power on his header across goal.
GOAL BARCELONA!
Absolute peach of a goal from Messi! The captain collects a pass from Pedri before rushing forward, beating one defender and passing to Braitwaite, who plays a cheeky one-two back-heel pass to put Messi one-on-one with Badia. The shot was not great as Badia gets a hand to it, but he cannot keep the ball from spilling over the line. 1-0 Barcelona.
Peep! Barcelona kick off the second half.
One change for Barcelona ahead of the second half as Pjanic makes way for Dembélé.
Peep, peep! The referee brings an end to the first half in which Barcelona have dominated possession and made more of the chances. But Elche have had a handful of chances also and remain very much in the game. 0-0 at half time at Camp Nou.
It's two on two as Elche break on the counter. Milla has Boye in space to his left but he decides to have a pop himself from the edge of the bos. His shot is too close to Ter Stegen, however, and the Barca keeper punches the ball away. Decent change goes a begging for the visitors.
Messi has another chance to deliver a cross from a free-kick set piece after Braithwaite is fouled on the edge of Elche's thrid. But this time he can only find the head of an Elche defender, who clears the danger.
Lionel Messi currently leads in number of passes with 25 -- 21 of which were accurate.
Half an hour gone here and Barcelona have made two clear-cut chances - through Trincao (20') and De Jong (29') - to Elche's one from Boye in the fourth minute.
Chance Barcelona! Pjanic is fouled, giving Barcelona a set-piece from a dangerous area. Messi gives the perfect delivery from the free kick to find the onrushing De Jong at the edge of the six-yard area. But the Dutchman blasts his header right at Badia.
Messi is dispossessed in the box before he could get a shot off and Barca have a corner, which quickly leads to another corner. The hosts do little to trouble the defense with the second chance from the set piece and the ball eventually goes out for a goal kick for Badia.
What a save from Badia to deny Trincao! Trincao's shot from point-blank range is stopped by the Elche keeper. The Portuguese collected a pass from Messi, skipped around two defenders before teeing up his shot. But Badia did incredibly well to save. That was the best chance of the game for Barca so far.
A through ball is played towards Messi by the edge of the box, but the Barca captain is surrounded by three or four Elche defenders, who manage to snuff out the danger.
Braithwaite has a chance to break but Elche keeper Badia rushes out to grab the ball before the Barca striker can get to it.
Boye's chance for Elche in the fourth minute remains the best of the game. Looking at a replay again and it would have been easier for him to score than to boot the ball over as he managed to do. He was unmarked and practically had an open goal in front of him.
Barcelona plugging away looking for holes in the visitor's backline but Elche holding out well so far.
What a chance for Elche! A clear chance for striker Boye to score from ten yards out, but he's managed to drive the ball over. The 43-year goalless streak continues but it was so close to ending within five minutes there. Boye will be kicking himself!
Early chance for Barca as De Jong releases Trincao with a quick first-time pass that allows the Portuguese to shoot at the edge of the six-yard area. But it's a tough angle and his shot is easily saved by Badia.
Peep! Elche get the game underway at Camp Nou. Can they bring an end to a 43-year goalless streak against Barcelona?
The teams have emerged from the tunnel and are ready to go!
Koeman has 10 days to persuade Barcelona he is the right man
Ronald Koeman faces a run of games in the next two weeks that will define his first season at Barcelona and, quite possibly, go some way to determining whether the Dutchman will be afforded another at Camp Nou.
Read more....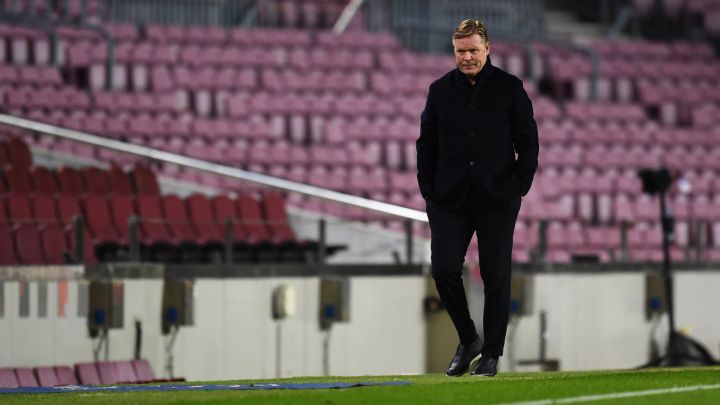 Barcelona can move to third
A win this evening would move Barcelona ahead of Sevilla into third and put them just two points behind Real Madrid and five behind leaders Altético, who will have a game in hand.
Pts
MP
W
D
L

2

RMA

52
24
16
4
4

3

SEV

48
23
15
3
5

4

BCN

47
23
14
5
4

5

RSO

41
24
11
8
5

6

VLL

37
24
8
13
3
De Jong and Riqui Puig on point in last meeting with Elche
The last meeting between these two was exactly just one month ago on 24 January, where Barcelona ran out 2-0 winners at Estadio Manuel Martínez Valero thanks to goals from Frenkie de Jong and Riqui Puig.
H2H: Barcelona vs Elche
Barcelona have won nine and drawn two of their last 11 games with Elche since 1980. They have not conceded a single goal against Los Franjiverdes since 1978. Incredible!
Elche finally taste victory
Meanwhile, Elche will go into the match with some confidence after ending their 16-game winless run against fellow relegation candidates Eibar (1-0). Fran Escribá's men are sitting 17th in the standings, with 21 points, tied with Eibar and Valladolid.
Elche haven't won away from home in eight attempts, since October, and they haven't been able to defeat Barcelona since the 1974-75 campaign. Meanwhile, Barcelona haven't conceded a goal to Elche since 1978 - a run of 11 consecutive clean sheets in all competitions.
Barcelona look to get back to winning ways
After a couple of very disappointing results in Champions League and in LaLiga, Barcelona will have the opportunity to come back to winning ways in the Spanish competition against Elche at Camp Nou.
Ronald Koeman's men were just able to grab a point against Cádiz at home in a match where they had opportunities to take it comfortably.
However, at the very end a penalty by defender Clément Lenglet changed everything, and the draw was taken as a defeat by Barcelona fans, since it was seen as a wasted opportunity to get closer to leaders Atlético Madrid, who lost to Levante (0-2).
Moreover, the draw against Cádiz 'helped' Sevilla to overtake the 'Blaugranes' and take the third position in the standings. Barcelona are now five points behind archrivals Real Madrid and eight points behind Atleti.
Welcome
Hello and welcome to our live coverage of the LaLiga match between Barcelona and Elche. The game gets underway in around 40 minutes. In the meantime we'll be providing you with the preamble so stay with us.
.