Atalanta 0-1 Real Madrid: result, summary and goal
Atalanta 0-1 Real Madrid: Champions League as it happened
Peeep peeep peeeeeep! Real Madrid were made to sweat, but they will return to Spain with a priceless away goal and a narrow first-leg advantage.
Zinedine Zidane's men couldn't really have hoped for a more favourable scenario in Bergamo, playing the vast majority of the game against 10 men after Remo Freuler's 17th minute red card - but they threatened to come away with what would have been a highly disappointing goalless draw.
However, Ferland Mendy - the man Freuler fouled for his dismissal - curled in a lovely strike five minutes from the end to leave the 13-time European champions in pole position to qualify for the quarter-finals when they host Atalanta in the return leg on 16 March.
It'd be the first time in three years that Madrid have reached the last eight of the competition.
That's all from me - thanks for reading!
Hold on, this will be Atalanta's last chance to snatch a goal. Kroos is penalised and the hosts have a final dead-ball opportunity, this time from the left.
It's hung up high towards the box, but Courtois charges out and punches clear... and that will be that.
One last chance for Atalanta to snatch a goal. De Roon stands over a free-kick on the right wing - but Madrid deal with the Dutchman's delivery.
Three minutes of time added on.
Madrid could easily have nicked a second there! Vázquez cuts it back from the right byline for Díaz, whose strike is blocked by Palomino. Casemiro is there to put his foot through the loose ball from close range, but again Palomino blocks!
What a massive goal that is from Mendy. A 0-0 draw having played against 10 men for the best part of 75 minutes would have been hugely, hugely underwhelming result for Real Madrid.
Atalanta made a double change just before that Mendy goal, by the way, Palomino replacing Maehle and Malinovskyi coming on for Ilicic. The substitute is substituted.
Goal for Madrid! Los Blancos have finally broken the deadlock!
Vázquez is fouled by Pasalic on the right wing, letting out quite the yelp of pain as he goes down. Madrid's free-kick is turned behind for a corner, which is worked to Mendy 25 yards out - and he curls a lovely strike past Gollini and into the corner with his weaker right-foot!
Casemiro falls to the ground in the box and is calling for a penalty - but Herr Stieler is having absolutely none of it.
Kroos takes aim from range, but fires well off target. That attacking trio of Arribas behind Duro and Díaz really does tell you all you need to know about how stretched thin Madrid are.
Madrid ping a long ball over the top for Díaz to chase, but Romero is in position to hold the striker off and deal with the danger. A slight hint of desperation about that hoof forward.
Ilicic flops to the turf under Modric's challenge on the corner of the Madrid box, but he's not getting a free-kick.
Madrid boss Zidane then makes two further changes, replacing Asensio and Isco with Sergio Arribas and Hugo Duro.
Vázquez is penalised on the left wing, and Atalanta have a precious chance to swing a free-kick into the mixer. Can they snatch a goal from a set piece?
No, at least not from this one. Ilicic's delivery is cleared.
Moments later, Gosens clips a ball into the box, but it's easy for Varane.
Gosens flattens Vázquez 25 yards or so out from goal and is shown a richly deserved yellow card.
The free-kick is just right of centre, an ideal position for Asensio's left peg - but he curls his effort too close to Gollini.
Madrid continue to monopolise possession, but the clock has now ticked over into the final quarter of the 90 and slowly, slowly, Atalanta are creeping towards the hardest of hard-fought draws - one that would feel like a 5-0 win to Gian Piero Gasperini's men.
Modric plays the ball into Mariano with his back to goal, the striker attempting to turn it first-time into Isco's run past him on the left wing. Atalanta clear, but only momentarily.
Back come Madrid, Casemiro controlling on the edge of the box and touching the ball back to Modric, who fires over. That's a shame - he was in a decent shooting position there.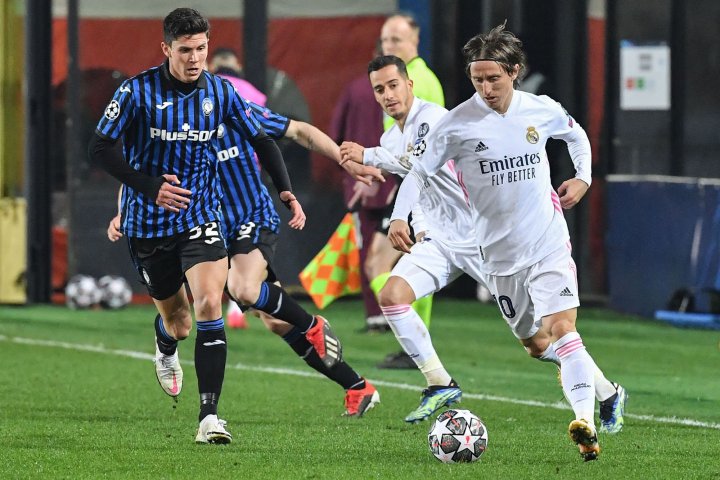 Real Madrid's Luka Modric (right) takes on Atalanta's Matteo Pessina.
(Photo: Tiziana FABI / AFP)
Over 68% possession for Real Madrid, according to the latest stats.
Kroos takes a touch 35 yards out and lets fly, but his shot is deflected over, and the corner comes to nought.
Before the German delivers the corner, Madrid make their first substitution of the night, replacing Vinicius with Mariano Díaz.
Atalanta make another change, replacing Muriel with Valencia tormenter-in-chief Josip Ilicic.
Mendy earns a yellow card for a late challenge on De Roon.
Every time Atalanta get the ball, Real Madrid are winning it back within seconds.
The visitors continue to pin the 10 men back in their own half, Modric clipping a lovely cross from the left-hand channel towards the far post, where Tolói has to look alive to head behind.
The corner is played short before being swung into the six-yard box... where Vinicius has to score, but doesn't! It drops to the Brazilian no more than five yards out from goal, but he seems surprised to find the the ball at his feet and scoops over the crossbar!
Just wide from Modric! Real Madrid plop the ball about in the Atalanta half for what must be about two minutes, before the Croat exchanges passes with Asensio and advances into shooting space just inside the area.
As is his wont, Modric opts for an outside-of-the-boot effort - and after taking a touch off Maehle, his strike spins a matter of inches past Gollini's post!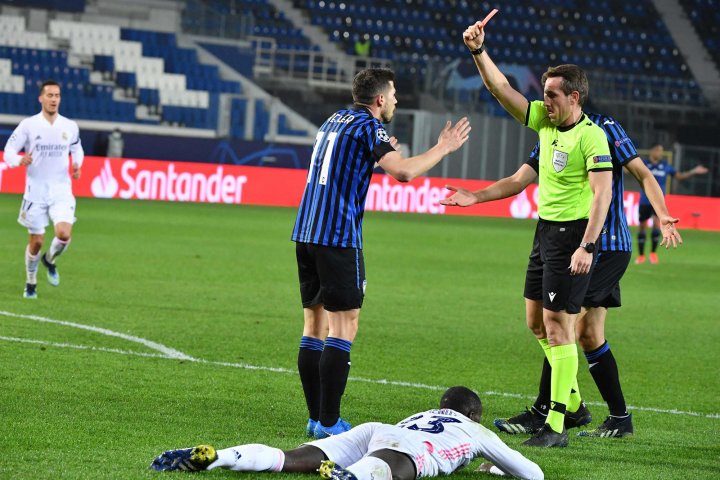 Remo Freuler (left) is red-carded for his first-half challenge on Ferland Mendy.
(Photo by Tiziana FABI / AFP)
15th UCL knockout-stage red card against Real Madrid
According to Opta, Remo Freuler's dismissal tonight is the 15th time a player has been sent off in a Champions League knockout tie against Real Madrid - a record that Los Blancos now share with arch rivals Barcelona.
Peeep peeep peeep! Half time in Bergamo. It's been all Real Madrid ball ever since that early red card for Freuler, but as yet the visitors have been unable to make their numerical advantage count.
Real Madrid win a free-kick on the left - and Casemiro goes so close to giving the visitors the lead! Kroos' inswinging ball from right finds the Brazilian, whose point-blank header is beaten out by Gollini!
Three minutes of time added on.
Vázquez and Muriel collide just inside the Real Madrid box, and both are left sprawled out on the turf in pain. Atalanta want a penalty, but they aren't getting one.
Both Vázquez and Muriel are up and look like they'll be alright.
Again Madrid create a shooting opportunity, and again Isco is involved! The Spaniard finds Vinicius with a lovely pass, and the Brazilian controls and fires towards goal from the edge of the box - but his strike is deflected just over!
From the corner, Asensio sends a decent heading chance straight at Gollini.
Atalanta respond, though, Djimsiti striding out of defence and feeds Muriel, who turns sharply before arrowing a shot towards Courtois' bottom corner - but sends his effort just wide.
Close from Isco! Modric slides a ball from the left to the penalty spot, where Isco twists and turns, but can't shake off Romero and Tolói and his shot towards Gollini's right-hand corner is deflected wide.
From the corner, the ball finally falls to Modric 35 yards or so out, and he thrashes well over.
It's all Real Madrid ball. What a chance they have been given to come way with a decent first-leg advantage here.
Modric fizzes a ball into the middle box to meet Vinicius' run, but it's just overhit and flies safely through to Gollini.
At the other end, Nacho is alert to the danger to poke a through ball into Muriel away from the striker on the edge of the Madrid box, Courtois scooping up the loose ball.
Blimey, this really isn't turning out how Atalanta would have hoped. Zapata appears to have some sort of muscle complaint, and has to be brought off.
Midfielder Mario Pasalic comes on for the striker.
At the other end, Atalanta work it to Muriel in crossing space just inside the Real Madrid box, but the Colombian's delivery from the right is easily headed clear by Varane.
There's an opening for Nacho! The defender barrels his way past three or four players into the Atalanta box, but from an acute angle he clearly can't decide whether to shoot or cross, and succeeds only in blazing the ball high and well wide across Gollini's goalmouth.
Third-earliest UCL red against Real Madrid
That Freuler red card is the third-earliest sending-off for a player facing Real Madrid in the Champions League, according to Spanish stats guru Mister Chip.
Olympiakos' Vasilis Torosidis was dismissed after 13 minutes against Real in 2007, while Spurs' Peter Crouch was given an early bath against Los Blancos after 15 in 2011.
Casemiro is booked after bringing down Zapata - and it's a yellow card that means the Brazilian will be suspended for the second leg.
Nacho is down in a heap after taking an arm in the face from Zapata, but he looks like he'll be OK.
Isco stands over the free-kick on the left-hand corner of the box - and scuffs his shot straight into the wall.
Red card for Atalanta! Freuler is given his marching orders!
It's a lovely move from Madrid. Mendy clips it to Isco, who plays it round the corner to Vinicius on the left. He knocks a quick ball back into Mendy, who has continued his run forward, and suddenly the Frenchman is haring towards the box.
Before he can advance into the area, however, he's brought down by Freuler - who is deemed to be the last man!
Red card looks a little harsh to me, but the decision stands.
Just as I write that Real Madrid look to be settling nicely into the game and are having the lion's share of the ball so far, Isco gives it away on the halfway line, and Atalanta have a chance to break at speed.
Mendy and Nacho combine to run Maehle off the ball over on the right wing, though.
Moments later, Zapata wins a corner-kick for the hosts, but Madrid clear.
Vinicius again picks the ball up and runs at the Atalanta backline, doing a couple of stepovers - or 'lollypops', as Ron Atkinson calls them - and lulling Tolói into bringing him down on the left-hand corner of the box.
Kroos curls the free-kick towards the back post, but Casemiro is beaten to the header and the Italians clear.
Muriel sends over a dangerous cross to the back post, where Gosens is very close to making contact.
Real Madrid then get their foot and the ball and keep it for a good while in the Atalanta half, but fail to create anything of substance.
Vinicius tries to carry the ball at pace deep into the Atalanta half, but is run off the ball.
Up the other end, Casemiro fould Maehle on the right wing, giving the hosts an opportunity to swing the ball into the box. Gosens delivers, but between them, Modric and Casemiro get it clear. The Brazilian shows some nifty skills to bring the ball down on the byline, juggle it briefly before booting away.
Peeeeep! German referee Tobias Stieler gets us underway!
Minute's silence for Willy Ta Bi
There will be a minute's silence before kick-off at the Gewiss Stadium, as a mark of respect for former Atalanta youth player Willy Ta Bi, who died this week after losing his battle with liver cancer. Rest in peace.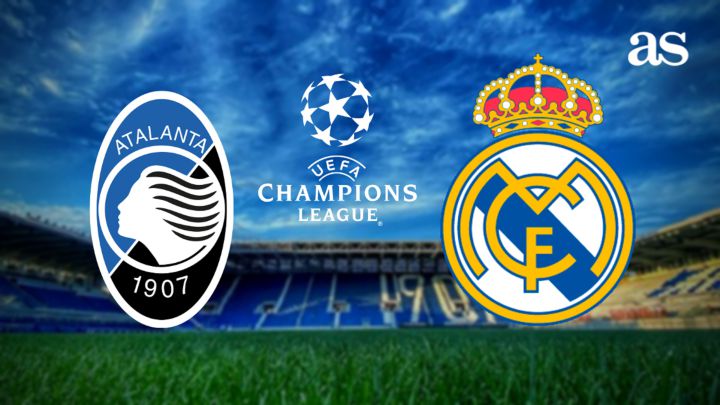 Madrid on five-game winning run in Italy
Recent history suggests Real Madrid can avert a fourth defeat out of four for LaLiga clubs in this last 16.
That's because the 13-time European champions go into their first ever meeting with Atalanta on the back of a very good run of results against Serie A sides in Italy.
Los Blancos have won each of their last five away matches against Italian opposition, with an aggregate score of 12-1, football stats specialists Opta note.
Atalanta have less experience against LaLiga teams - but what experience they have is overwhelmingly positive.
In their only European meeting with a Spanish side, La Dea faced Valencia at this stage of last season's Champions League, recording a thumping 8-4 aggregate victory over Los Che.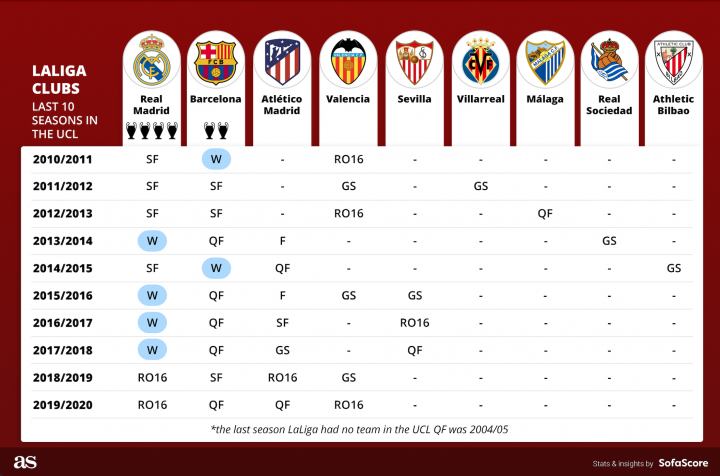 Madrid tasked with avoiding clean sweep of LaLiga defeats
It hasn't been a very successful last 16 so far for Spain's Champions League representatives - so much so that it'll be down to Real Madrid to avoid a full house of LaLiga defeats as the first legs conclude tonight.
Sevilla lost 3-2 to Borussia Dortmund and Barcelona were walloped 4-1 by PSG last week, while yesterday's last-16 clashes saw LaLiga leaders Atlético Madrid go down 1-0 to Chelsea in their 'home' leg in Bucharest.
The last time not a single LaLiga club made it to the Champions League? Back in 2004/05. As the above overview of recent seasons shows, Spanish clubs have done fairly decently in the intervening period.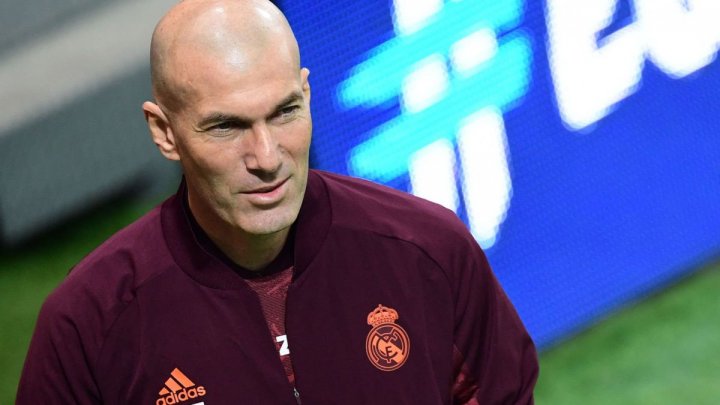 What the coaches said: Zinedine Zidane, Real Madrid
Atalanta:

"They're very good going forward; they attack well and are physically very strong […]. It's going to be a good game."

Injuries:

"There's no reasonable explanation [for Madrid's spate of injuries]. It's obviously bad news for us that we have so many injuries. We've got quite a few, it's true - that's the situation we're in. But we're ready. We have to work together and know how to create chances."
Zidane's pre-match press conference in full
(Photo: Miguel Medina/AFP)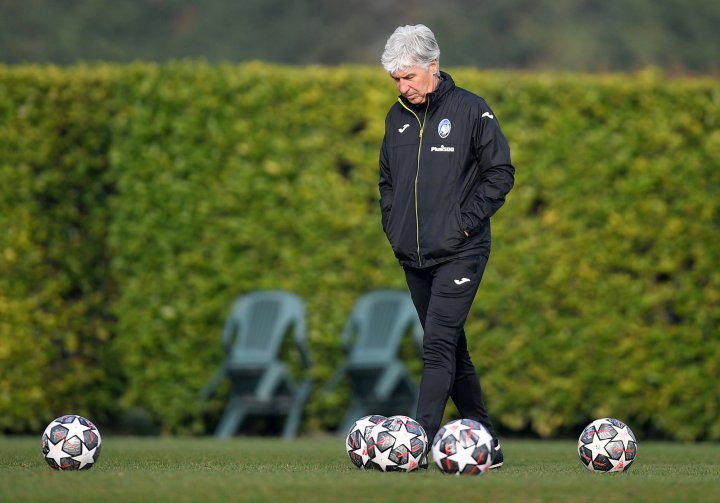 What the coaches said: Gian Piero Gasperini, Atalanta
Real Madrid:

"We're playing over two legs and it would be ideal if we won today, but we have to be careful. Real Madrid's absences will mean they're on their mettle all the more. Madrid are one of the greatest clubs in the world and playing games like this helps us to grow as a group."

Zidane:

"If Zidane played tomorrow, I'd be very worried. What I saw him do on the pitch I didn't see often. When he played at Juventus, I was a youth-team coach and I often went to see his extraordinary training sessions. It's hard to find players like him. As a coach, he carried on winning major silverware right away. He has football in his DNA and is a great of the game."
(Photo: REUTERS/Daniele Mascolo)
Isco starts for striker-less Real Madrid
Real Madrid boss Zinedine Zidane makes one change to the team that began the 1-0 weekend win over Real Valladolid in LaLiga - and it's an eyebrow-raiser.
Isco, who has been a peripheral figure at Madrid this season, makes his first Champions League start of the campaign, the attacking midfielder coming into the side in place of centre-forward Mariano Díaz.
With Karim Benzema one of the nine players that Madrid currently have out injured, Díaz had been expected to lead the line tonight - but Zidane has instead gone for a striker-less line-up. Now there's a vote of confidence in the Dominican if ever I saw one.
One would imagine that Asensio and Vinicius will play up top, with Isco sitting just behind them in front of a midfield three of Toni Kroos, Luka Modric and Casemiro.
In addition to Benzema, Madrid also have Sergio Ramos, Dani Carvajal, Rodrygo, Álvaro Odriozola, Éder Militao, Eden Hazard, Marcelo and Fede Valverde all out injured.
Meanwhile, Atalanta are unchanged from the side that beat Napoli 4-2 in Serie on Sunday. They tend to alternate between a 3-4-1-2 and a 3-4-2-1 depending on the game, but with strikers Luis Muriel and Duván Zapata both in the XI tonight, it looks like it'll be the former.
Atalanta team news
Starting line-up: Gollini, Tolói, Romero, Djimsiti, Maehle, Freuler, De Roon, Gosens, Pessina, Zapata, Muriel
Substitutes: Miranchuk, Ruggeri, Malinovskyi, Pasalic, Sutalo, Caldara, Ilicic, Sportiello, Lammers, Palomino, Rossi
Real Madrid team news
Starting line-up: Courtois, Vázquez, Varane, Nacho, Mendy, Casemiro, Modric, Kroos, Isco, Asensio, Vinicius
Substitutes: Lunin, Altube, Mariano, Arribas, Blanco, Chust, Duro, Miguel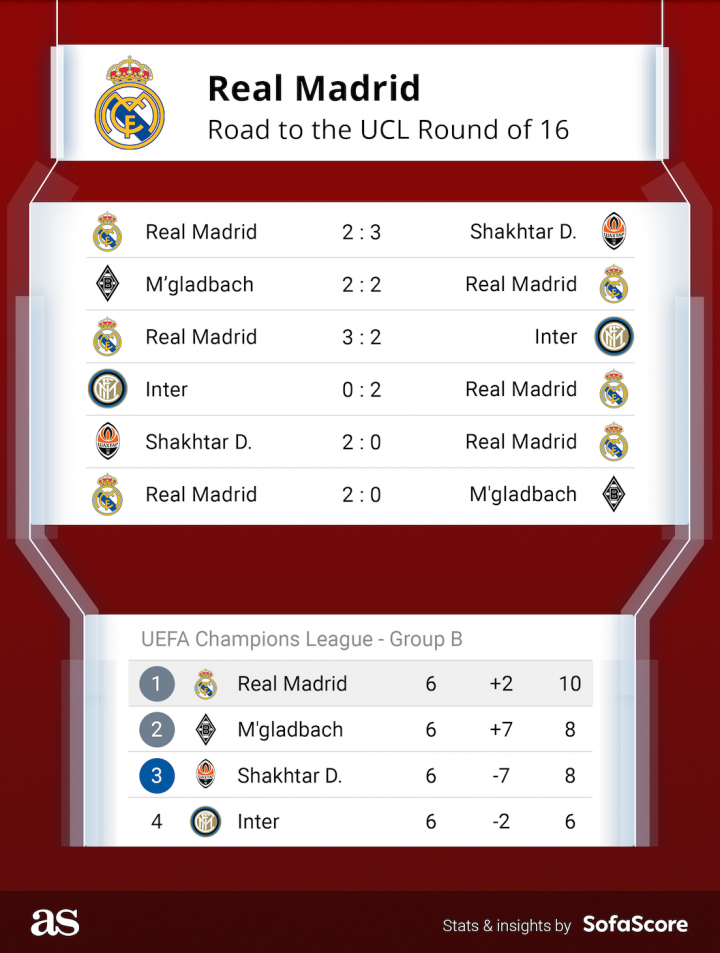 At a glance: Real Madrid's path to the Champions League last 16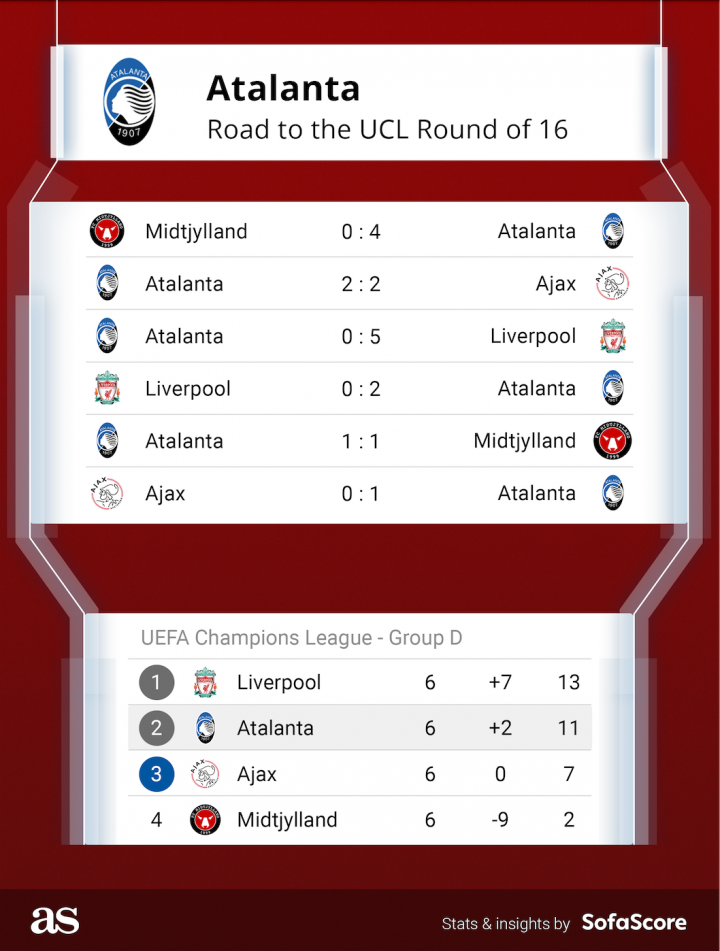 At a glance: Atalanta's path to the Champions League last 16
Atalanta vs Real Madrid: preamble
Good evening! Welcome to our live coverage of Real Madrid's Champions League last-16 first leg against Atalanta, as Zinedine Zidane bids to steer Los Blancos into the quarter-finals of Europe's top club competition for the first time since they last won the trophy, in 2018.
In their 100th Champions League knockout game, Madrid face a side with rather less experience in the competition, given that this is only Atalanta's second season in the European Cup.
Gian Piero Gasperini's men have settled into life as a Champions League club very nicely, though, making the knockouts in both their tournament campaigns so far. Indeed, they were a stoppage-time PSG comeback away from reaching the semis at the first attempt in 2019/20.
Madrid remain utterly injury-ravaged, but they head into tonight's game at the Gewiss Stadium in pretty decent form, having now won their last four games. Atalanta aren't exactly in terrible fettle, either: they are on a three-match run of victories and have lost just once in their last 20.