Why has Biden rescinded Trump's apprenticeship program?
The White House has ended the Trump administration's Industry-Recognized Apprenticeship Program (IRAP). What's behind the decision to repeal the program?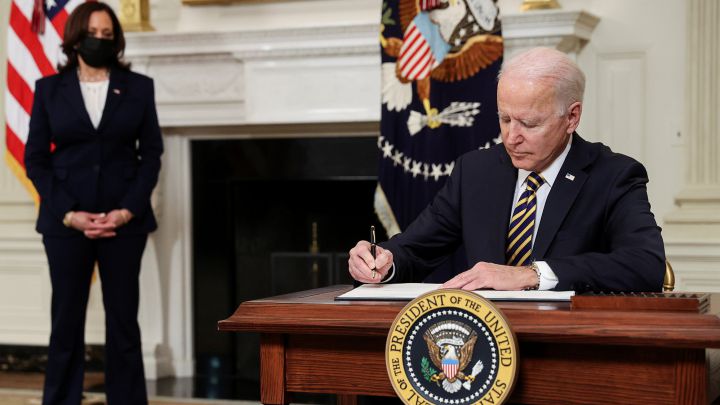 In signing an executive order on 17 February, President Joe Biden rescinded a 2017 order approved by former President Donald Trump calling for the launch of the IRAP, or Industry-Recognized Apprenticeship Program.
Trump's IRAP promoted the development of apprenticeship programs by third parties such as trade and industry groups, corporations, non profit organisations, educational institutions, unions and joint labor-management organisations. The order therefore was set to move much of the supervision of such workforce initiatives to industry groups.
Why did Biden rescind the apprenticeship program?
Criticised by Democrats, the White House argues that the IRAP has "fewer quality standards" than registered apprenticeship programs that are overseen by the Labor Department.
The Biden administration was "concerned that the IRAP program creates a redundant apprenticeship program, with duplicate and often inferior systems that compete with the highly successful and longstanding Registered Apprenticeship Program," according to an announcement from the US Department of Labor (DOL).
Under the Program created by Trump's order, employers and industry groups had leeway in designing their federal apprenticeship programs without much oversight from the government. For example, standards recognition entities (SREs) weren't required to report to the DOL information on a program's success rate, according to Bloomberg Law.
House Democrats have been concerned about the IRAP's effects on the Registered Apprenticeship Program (RAP), possibly reducing funding for RAPs and the possibility of putting safety and quality standards for workers at risk, according to HR Dive.
IRAP's shortcomings included failure to require the "wage progression that reflects increasing apprentice skills" and not having standardised training practices, according to 17 February statement by the White House. Additionally, in 2019, a national network of organisations dedicated to expanding apprenticeship programs, wrote in a public statement voicing concern that "the creation of a parallel system of Industry Programs may further fragment our national apprenticeship system and introduce programs of widely varying quality."
How successful was Trump's apprenticeship program?
Apprenticeships are excellent career pathways to not only build a skilled workforce, but fill good-paying jobs.

This is a great step by @POTUS—I'll continue working to expand skills training and apprenticeship opportunities for Michigan workers. https://t.co/bN7erurG8Y

— Senator Gary Peters (@SenGaryPeters) February 19, 2021
The first industry-led apprenticeship program was not announced until October 2020. Now, just a few months later, Biden has effectively put wheels in motion to slow support for the program, which will ultimately serve to dismantle it. The President has also asked that the DOL no longer consider the applications it receives from trade associations or companies to become SREs.
The White House decision to repeal the IRAP this month will not affect the 27 SREs which have already been approved.
Biden is endorsing the Democrats' National Apprenticeship Act, which passed in the House on 5 February, 2021. The National Apprenticeship Act seeks to expand registered apprenticeship, youth apprenticeship, and pre-apprenticeship programs in an effort to create more job training opportunities.