2
Ousmane Dembélé 28',
Messi 84'
Sevilla 0-2 Barcelona result, summary and goals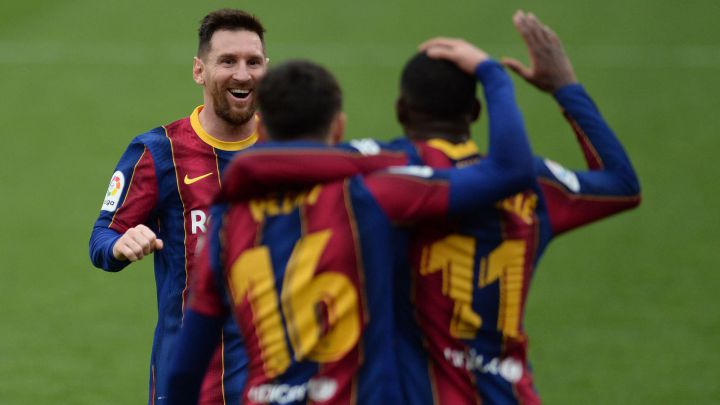 Sevilla vs Barcelona: match report; as it happened
Barcelona secured their seventh consecutive away victory in LaLiga on Saturday afternoon in Seville, seeing out a comfortable 2-0 victory over hosts Sevilla, who had very little to offer over the 90 minutes. Following his two goals mid-week in the 3-0 win against Elche, Lionel Messi came up with the goods again, assisting one goal and scoring the other at the Pizjuán stadium.
In what was a rather uneventful first 45 minutes, Barcelona made the only real chance of the half and managed to score with it, as Messi released Ousmane Dembélé with a clever through ball in the 28th minute, which allowed the Frenchman to coolly put the ball passed Sevilla keeper Bono.
Things livened up somewhat in the second half as Sergio Dest smacked the post for Barcelona in the 58th minute, while Messi missed a clear chance two minutes later, uncharacteristically driving a shot over the bar from just inside the box under very little pressure after Dembélé had worked hard to tee him up.
Twenty-five minutes later, Messi made up for that earlier miss with one of his textbook goals. Having picked up a one-two pass from Dembélé and dribbled round one defender, the captain found himself one-on-one with Bono, who managed to save Messi's first attempt to scoop the ball over him. But the Argentine striker was quick to pounce on the rebound, tapping the ball in from three yards to kill the game with five minutes left on the clock.
With that win, Barcelona overtake Real Madrid to move into second place, sitting two points behind leaders Atlético Madrid, who now have two games in hand. Madrid, however, can once again regain second place if they win their game against Real Sociedad on Monday.
As Atléti, Madrid and Barca begin to enter the business end of season, it's a three horse-race at the top with fourth placed Sevilla not too far behind.
Piqué speaks after the game, saying the wins against Elche and Sevilla this week has given Barcelona "another life" to compete in the league. He added: "The season is still long and we can have chances to win titles."
Messi leads the race for the Pichichi with 19 goals, three ahead of his former strike partner Luis Suarez, who has scored 16 for Atletico.
Another strong performance for Messi, with one goal and one assist, following his two goals against Elche (3-0) on Tuesday.
Peep, peep, peep! The ref blows it up and Barcelona have secured their seventh consecutive away win in LaLiga. The wins puts them one point ahead of Real Madrid as they move into second place and two points behind Atlético. Although the leaders have two games in hand.
Four minutes of added time to be played.
MESSI SCORES FOR BARCELONA!
Textbook Messi as the captain receives the one-two pass from Dembele, dribbles round one defender and then tries to scoop the ball over Bono. The Sevilla keeper manages to save but Messi pounces on the rebound to tap the ball in from three yards. 2-0 Barcelona and that should be game over.
Araujo is not a happy man and a replay shows him kicking over some pitchside seating as he came off.
Strange one as Araujo is taken off for Barcelona after coming on just 15 minutes ago. Umtiti is on for him, as Braithwaite replaces Dembele.
Goal disallowed for Sevilla
En Nesyri scores for Sevilla inside the box but the goal is immediately disallowed for a hand ball by the same player in the build-up.
Messi is kicking himself after doing all the hard work to get into the box, but his chipped pass towards his support on the right ends up in no man's lad and the ball goes out for a goal kick.
Second change for Barcelona: Pedri off, Moriba on.
Barca have goal disallowed
The ball has gone into the net from a Messi free kick delivery. It was aimed at Lenglet but the ball went over his head and bounced passed the goal line. However the goal is immediately ruled out for a Lenglet offside.
First change for Barcelona as Pique makes way for Araujo.
Sevilla have made two more changes to use up their five: Oscar and Torres come on for Rakitic and Luuk de Jong.
Messi misses a clear chance!
A second clear chance for Barcelona within two minutes. This time Dembélé does well to dribble into the box before teeing up Messi at the edge of the area. 8 times out of 10 he would score that but this time he's driven it over the bar. Koeman can't believe it.
Dest hits the post for Barcelona!
The ball passes through the feet of a few Barca players until it reaches Alba on far side of the box. His cross towards Dembélé goes across goal, passes the Frenchman and reaches the unmarked Dest, who rockets his shot off the top part of the near post from 8 yards out.
Sevilla's Navas has a pop from distance but his low shot is saved by Ter Stegen at the near post. Decent effort from the captain and Sevilla's best of the game.
Peep! The second half begins!
Three half-time substitutions for Sevilla as Lopetegui looks to change things up: Off come Haddadi, Gomez, and Diego Carlos, who make way for En Nesyri, Rekik and Suso.
Peep, peep! And the ref calls time on the first half. The teams head to the dressing rooms with Barcelona leading 1-0. There has only been one real chance in the game so far, and Barcelona managed to score with it through Ousmane Dembélé.
Now Messi goes in the book for a late challenge on Fernando as the Sevilla player tried to play the ball forward well inside his own half.
Moments later, Messi fouls again and the Sevilla players are shouting for another booking. Sevilla coach Lopetegui is furious and has also been shown a yellow from the referee.
Chance Barca! De Jong finds Sergio Dest on the edge of the box. The US youngster cuts inside one defender and lets fly with the his right boot. But the ball sails over.
Sevilla's Diego Carlos is booked for a challenge on Messi, who has gone to the floor holding his face. It seems he may have gotten a poke in the eye.
Sevilla finally test Ter Stegen, who comes to collect a low cross from the left from Gomez. The home side have offered very little in this opening half hour.
GOAL BARCA!
Messi cuts open the Sevilla defence with a ball into the path of Dembélé, who takes one touch and then coolly places the ball passed Bono into the far bottom corner. There was a VAR check for offside, but the goal stands. 1-0 Barcelona!
A bit of a heated moment between Barcelona new boy Mingueza and old boy Rakitic, after the former shoved the Sevilla midfielder to the ground as he tried to round him around the middle of the park.
The second shot of the game comes from Messi, who looked to be attempting a cross from the edge of Sevilla's third from the byline. The wayward cross almost catches out Bono, who scrambles back to grab the goal-bound ball.
And finally the first shot of the game comes through Dembélé, who tries to curl one towards the far corner from the edge of the box. it's on target but a weak effort and Bono saves with ease.
Twenty minutes gone now and it's been uneventful to say the least. Neither side has even had a shot on goal. Barcelona dominating possession (64%-36%).
A period of Barca possession ends without the visitors managing a chance at goal and now Sevilla have the ball and an opportunity to move forward. But it's not long until Barcelona have the ball back.
Messi and Dest link up again as the latter delivers a cross from the right which is headed out for a corner by a Sevilla defender. Barcelona can do nothing with the corner.
Five minutes gone here as Barcelona push forward. Messi tries to release Dest on the right but the US winger's cross is blocked. That was the first threat of the game, albeit a light one.
Jordan sends Busquets an early message with a crunching challenge in the middle of the park. Barca have a free kick.
Peep! Game underway at Pizjuan!

Rakitic starts for Sevilla
Former Barcelona midfielder Ivan Rakitic starts for Sevilla, where he arrived last summer for €20m from Camp Nou. The Croatian international has played 33 games across all competitions for Sevilla this season, providing five goals and three assists. How he'd love to net one against his old club today.
Lopetegui's pre-match comments
"I'm expecting a top team full of extraordinary players and the best in the world. We are very excited for the game, it will be incredibly demanding and we will have to be at our best in all departments, there's no other way to be against Barcelona. They have got some important players back and that adds to the quality they already had."
On facing Barcelona twice in a matter of days:
"They will be two different matches, there's no doubt about that. We can use the last match as a reference point for what we did well and not so well, and so can they. We will try to evolve our game. We have to be ready for the kind of game I think we will have tomorrow."
Koeman's pre-match comments
On playing Sevilla twice in the space of five days:
"They are two different games. Tomorrow is the league and Wednesday is the Copa. We have to try to win both. We know the result of the first leg of the Copa and tomorrow it's about continuing the run we're on in the league. We need to pick up points and put pressure on those at the top."
Barcelona are in the building
The Culé bus arrived at the Pizjuán, where they drew 0-0 last season against the home side back in June. Of course their last game here was just 17 days ago in the Copa del Rey semi-final, which saw Sevilla run out 2-0 winners.
The second leg of that Copa tie will be played at Camp Nou on Wednesday as Barcelona look to turnover that 2-0 deficit. But first their attention will be on this afternoon's league meeting.
How they stand
A win for home side Sevilla today would see them overtake Barcelona and move into third, which would leave them with one point ahead of today's oppoments with a game in hand, and just one point behind second-placed Real Madrid, who play Real Sociedad on Monday.
A second win for Barcelona this week would be a symbolic one as it would move them one point ahead of Real Madrid, with one more game played, and two points behind Atlético. Though Simeone's men, who play Villarreal tomorrow night, will have two games in hand over Barca.
Pts
MP
W
D
L

1

ATM

55
23
17
4
2

2

RMA

52
24
16
4
4

3

BCN

50
24
15
5
4

4

SEV

48
23
15
3
5

5

RSO

41
24
11
8
5
Griezmann on the bench again for Barcelona
Antoine Griezmann will once again start on the bench, as Braithwaite, Trincao, Umtiti and Pjanic also drop back to the bench after the quartet started against Elche midweek. Dembélé, Busquets, Lenglet and Dest come back into the starting line up to replace those four.
Sevilla Starting XI:
Bono, J. Navas, Koundé, Diego Carlos, Escudero, Fernando, Jordán, Rakitic, Munir, Papu Gómez, De Jong
Barcelona starting XI:
Ter Stegen, Dest, Pique, Lenglet, Mingueza, Jordi Alba, Busquets, De Jong, Pedri, Dembéle, Messi.
Hello and welcome to our live coverage of this weekend's big fixture in LaLiga as Sevilla host Barcelona at the Pizjuan stadium in Seville. The game gets underway soon, so stay with us. Team news to follow shortly.
.