Barcelona player ratings after comfortable Sevilla win
Lionel Messi and Ousmane Dembélé provided the goals in the 2-0 win against Sevilla, where there were plenty of outstanding performances all round for Barcelona.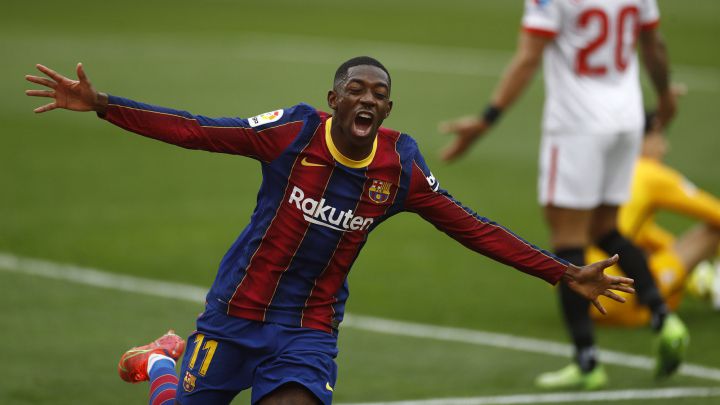 Ter Stegen: There was some concern for Ter Stegen during the warm up when he seemed to have hurt his thumb. Fortunately, it turned out to be nothing to worry about. But the truth is the Barcelona keeper could have played with an injured finger as he only had two saves to make in the entire game. Sevilla asked very little of him.
Mingueza: Superb performance from the young defender. The intensity the Barca academy graduate showed at every turn was commendable. He looked very settled and comfortable as one of the three central defenders against Sevilla.
Piqué: A great game for the deputy captain, who showed plenty of the usual leadership and drive from the back. He lasted 66 minutes playing at a high level, despite repeatedly touching his right knee.
Lenglet: The Frenchman's best game of the season. It seems that his blunder against Cádiz has spurred him on. He was commanding, quick in anticipating the play and controlled the ball well moving forward. He has largely redeemed himself following his mistake that gave Cadiz the penalty a week ago in the poor 1-1 draw.
Dest: The American full back needed a game like that, in which he was much freer to move forward with Mingueza behind him. He was always looking to provide options on the overlap on the right wing, where he constantly threatened with the ball. He hit the woodwork in the second half with a chance he probably should have scored but all round a great performance from the young US international.
Sergio Busquets: The midfield veteran was outstanding. He moved the team around how and when he wanted, always choosing the best option, accompanied by a fireproof De Jong and an omnipresent Pedri.
De Jong: He's playing spectacularly of late. His ability to break between the lines is incredible, not to mention his sublime power without the ball to snuff out threats from the opponent.
Alba: Had a game-long battle with fellow 'old rocker' Jesús Navas, out of which neither came out a clear winner, as they cancelled each other out. In any case, Barcelona came out the better of the battle.
Pedri: What this 18-year-old lad is doing week-in-week-out is almost supernatural. It's not normal for a player to play such high-pressure games with such tranquillity. His talent knows no bounds and with each passing week he offers increasingly more versatility. It was a pity he had to request to be taken off in the second half due to a sore ankle.
Messi: Another match-winning performance from the captain, who provided a goal and assist following his two goals against Elche on Tuesday. He now has 19 goals in La Liga this season and 38 career goals against Sevilla. His great through ball that cut open the Sevilla defence to allow Dembélé to score the first goal, followed by his own extraordinary goal, served as epitomes of his brilliance and showed that the Argentine striker still believes Barcelona can win LaLiga.
Dembélé: Koeman had asked the French striker for more efficiency and with the second he had in front of Sevilla keeper, he didn't disappoint with a coolly finished goal. He gave balance and depth to the team, and was committed in his defensive duties when the team was under pressure. An outstanding match for Dembélé, who is enjoying his best season since his arrival at Barcelona.
Substitutes:
Araújo: He came on for Pique in the 66th minute but had to be withdrawn 15 minutes later due to an issue with his left ankle.
Moriba: For a young player to come onto the pitch with the attitude he showed was great to see for Barcelona. In his first action of the game, he almost stole the ball from Bono and shortly after he gave Messi a backheel pass that left the captain one-on-one with the Sevilla goalkeeper.
Umtiti: Came on for the final ten minutes to replace Araujo and did not have much involvement.
Braithwaite: Showed his usual desire and hunger for the ball during his cameo appearance.