Gareth Bale holds the key in possible Mbappé acquisition
Real Madrid are aware that eliminating the Welsh striker's high salary will be instrumental in bringing the Frenchman to the Bernabéu next season.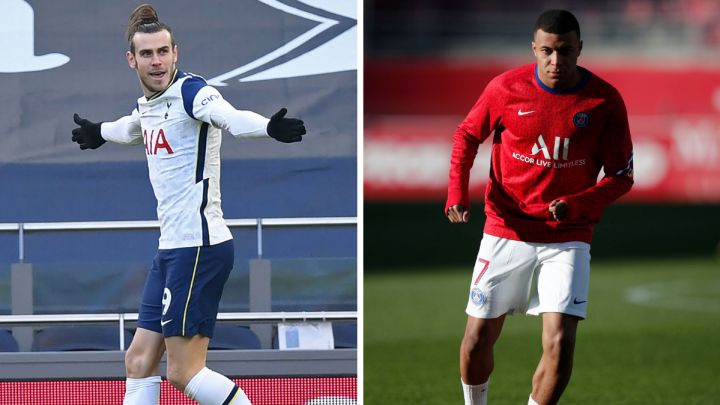 Gareth Bale seems to have found his form and a stunning performance on Sunday in the Premier League over Burnley would attest to this with the Welsh international bagging a brace as part of a 4-0 win. Each solid performance by Bale is wildly celebrated by Real Madrid executives who are anxious to free-up his 30 million euro salary from the wage bill at the club. Their aim is for Bale to perform, increase his market interest, offload the player remove his substantial salary and lure Mbappé.
With the loan deal to Tottenham this season, the English side have absorbed 50% of his his pay-packet but doubts exist about the player's ability to perform in the current demanding two games per week situation. Madrid are crossing their fingers that Bale maintains this positive run of form and a solid showing for Wales at the delayed Euro 2020 competition will go some way in attracting would-be-suitors for his services next season.
2022 contract conclusion for Bale
Bale's current Real Madrid expires on 2022 with the Spurs loan deal only confirmed for the current campaign with both clubs splitting the lofty wage bill and the Spanish club who have been badly hit by the lack on income provoked by the covid pandemic are anxious to not have the striker's salary on the wage bill with all financial efforts focused on the acquisition of French striker Mbappé.
Real Madrid need various stars to align in their quest to secure Mbappé's signature with the most complex being the player not agreeing to renew with PSG. Real Madrid also need to find a formula to be able to match the 36 million euro that the Ligue 1 side are set to offer the striker and only by liberating the Bale pay-packet from their outgoings can they possibly come close to matching PSG's offer for the 22-year-old's services.