NBA All-Star draft: how and where to watch - times, TV, online
The NBA All-Star Game draft is scheduled for March 4. The All-Star game itself will be played on March 7 in Atlanta.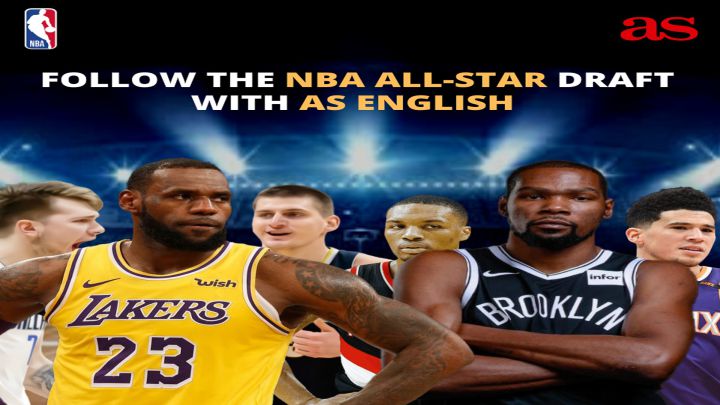 This year, LeBron James and Kevin Durant will serve as the two captains for the NBA All-star Game. Team LeBron is looking for its fourth consecutive victory in the NBA All-Star Game, as the four-time NBA champion has led his team to victory since the game's new format took hold in 2018.
Follow live coverage of the NBA All-Star 2021 draft

Team LeBron will be facing off against Team Durant, captained by the Nets star, who is an All-Star Game captain for the first time in his prolific NBA career. Durant will be inactive for the game, having pulled out of the contest with a hamstring injury. He will, though, still be drafting as one of the game's two captains.
The 2021 NBA All-Star Draft will see LeBron James have the No. 1 pick. And with how much success James has had in these drafts in the past few years, he probably doesn't need anybody's help making his picks this year.
NBA All-Star 2021 to feature the Game and Skills competitions on one night for the first time on March 7. The NBA and NBPA are committing more than $2.5M toward HBCUs and provide support and awareness around equity and access to COVID-19 relief and vaccines.

A THREAD ⤵️ pic.twitter.com/doU1zWuuJq

— NBA (@NBA) February 18, 2021
Durant and James go head-to-head
Only recently introduced, the All-Star Draft sees the conferences get mixed up for the All-Star Game. The leading vote-getters from each conference are nominated as captains (Durant and James in this case), and they select their rosters.
The starters are selected first – the two captains draft from a pool of eight players voted as starters by the fans, media and players. Jayson Tatum was elevated to starter in Durant's absence.
This process is then repeated for the reserves. Domantas Sabonis and Devin Booker were backup inclusions in the reverse listings with Durant and Anthony Davis out through injury.
LeBron recruits
LeBron James is no stranger to recruiting teammates. His previous All-Star Draft decisions have been analyzed as such, but there aren't many angles for LeBron to work here. Kawhi Leonard is the only player heading for free agency this offseason.
It makes sense for Kyrie Irving to be favourite. Durant and Irving plotted to team up in Brooklyn. They are close friends. Maybe that's just too obvious, though, and Durant looks to spice it up a bit and reunite with Steph Curry. Durant and Curry are clearly still on good terms despite his decision to leave the Warriors, and this could be an opportunity for the pair to once again go head-to-head with LeBron James.
Giannis Antetokounmpo and Joel Embiid represent the two Eastern Conference rivals that Durant could select first. Drafting either could be perceived as an attempt to build the pressure on their East foes. Durant hasn't done this before, and his strategy remains a bit of a mystery.
LeBron James is out of Los Angeles Lakers' game against the Sacramento Kings midweek, his first absence of the NBA season. He will now sit out of the second game of a back-to-back when the Lakers travel to take on the Kings.
After having a rest and receiving some treatment, it is still expected James will play in his 17th straight All-Star Game on Sunday.
Four players - Jaylen Brown, Zach LaVine, Julius Randle, and Zion Williamson - will be making their first All-Star Game appearance, while LeBron James will be making his 17th appearance in the game. That number puts him third all-time, behind only Kareem Abdul-Jabbar (19) and Kobe Bryant (18).
LeBron James (top-voted) will get to pick the first starter while Kevin Durant will pick the first reserve. They will take turns to complete the picks and this show will take place on March 4, 2021.
The other important dates and events:
NBA All-Star Game 2021 – March 7 – 18:30 ET
Skills Challenge and three-point contest – March 7 (preceding the All-star Game)
Slam Dunk Contest – March 7 (All-star Game half-time)
What time does the draft take place at?
The draft for Team LeBron and Team Durant will take place on March 5 at 02:00 CET time.
March 4 US (ET): 20:00
March 4 US (PT): 17:00
How can I watch the All-Star NBA draft?
The draft for Team LeBron and Team Durant will be available to watch on TNT.
You can also watch on the NBA League Pass, where it will be covered prior to the Miami Heat @ New Orleans Pelicans.

NBA draft: live AS English coverage
You will can follow live coverage of this year's NBA All-Star draft right here on AS English.