NBA All-Star 2021: which players have won the most Skills Challenges?
Three players - Steve Nash, Dwyane Wade and Damian Lillard - share the record for the most wins in the Skills Challenge, which was first held in 2003.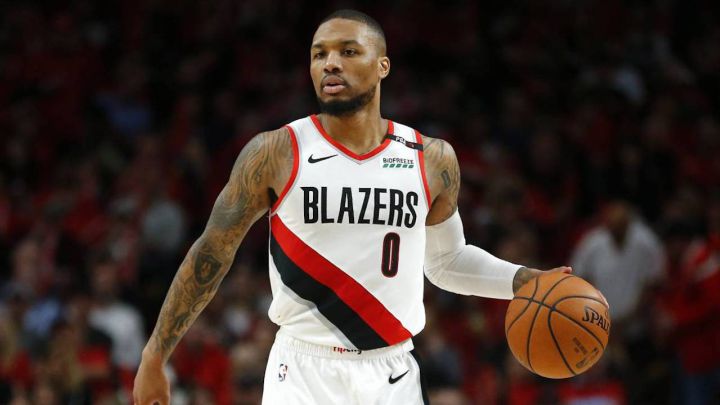 First held during the 2003 All-Star weekend, the Skills Challenge is an obstacle-course contest which, according to the NBA, tests players' "dribbling, passing, agility and shooting".
Skills Challenge: dribble, chest pass, lay-up, 3-pointer
The Point God is returning to the All-Star Skills Challenge a decade on from his last appearance, having never won, whilst Steph Curry headlines a stacked 3-Point Contest 🍿

Including all the contestants, formats and some ambitious predictions for this Sunday's event:

— Sky Sports NBA (@SkySportsNBA) March 3, 2021
In the Skills Challenge's current version, participants must first dribble up the court from the baseline, slaloming between five pylons before completing a chest pass into a hoop. They must then dribble the length of the court to complete a lay-up, and finally dribble back to the other end to make a 3-point shot.
Since 2015, the Skills Challenge has taken place in head-to-head knockout format, with the first to finish the course in each two-man match-up qualifying for the next round.
Six players in total take part in the tournament: three guards and three frontcourt players. These two trios are kept apart until the final.
A full NBA explainer on the Skills Challenge can be found here.
Who has won the Skills Challenge the most times?
Steve Nash, Dwyane Wade and Damian Lillard share the record for the most Skills Challenge victories, having each won the contest twice.
Two-time NBA MVP Steve Nash came out on top for the Phoenix Suns in 2005 and 2010, and three-time NBA champion Wade won out two years in a row for the Miami Heat in 2006 and 2007.
Lillard's first victory came in 2013, before the Portland Trail Blazers point guard teamed up with the Utah Jazz's Trey Burke to win a relay-style Skills Challenge in 2014.
2021 Skills Challenge: who's involved?
This year's Skills Challenge will see the Dallas Mavericks' Luka Doncic, the Portland Trail Blazers' Robert Covington and the Phoenix Suns' Chris Paul participate on the guards' side of the draw.
Meanwhile, the three frontcourt players involved will be Julius Randle of the New York Knicks, Nikola Vucevic of the Orlando Magic and Domantas Sabonis of the Indiana Pacers.
What time does the 2021 Skills Challenge start?
The 2021 Skills Challenge, which this year takes place on the same day as the All-Star Game itself, is scheduled to start at State Farm Arena, Atlanta, at 6:30 pm ET on Sunday 7 March.
The Skills Challenge will be followed by the 3-Point Contest, before the All-Star Game gets underway at 8:00 pm. The Slam Dunk Contest will be at half-time of the game.