Carolina Panthers ready to accelerate timeline after impressive start under Rhule
The Panthers lost 11 games in 2020 but were much more competitive than many pre-season predictions expected them to be.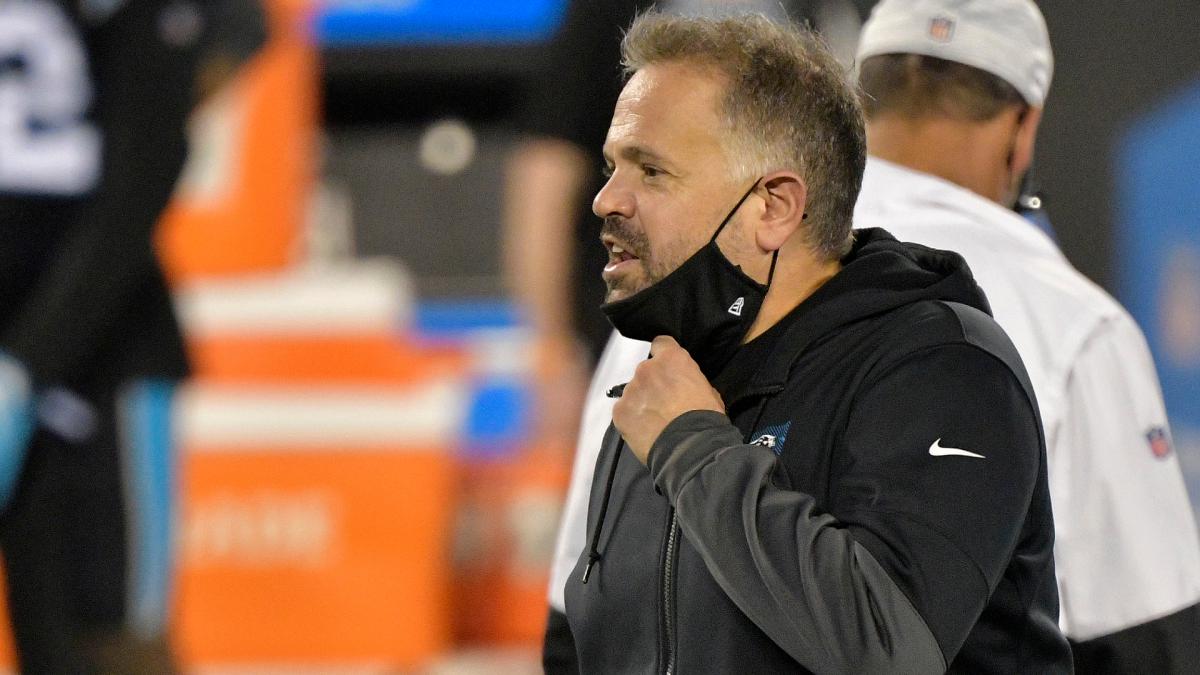 Rebuilds require patience and a willingness to accept growing pains and, initially, quite a lot of losing.
The Carolina Panthers experienced a lot of that in 2020 but, such was their competitiveness in their first year under Matt Rhule, the franchise now appears ready to accelerate the timeline.
Carolina went 5-11 but a 3-2 start and a lack of blowout defeats fostered hope they can soon be back in postseason contention.
Where do they need to improve to make that ambition a reality?
We reflect on their campaign using Stats Perform data and looked ahead to a pivotal offseason that will go a long way to determining whether they will be back in the playoff mix in 2021.
Offense
After ending the Cam Newton era, the Panthers signed Teddy Bridgewater to be a placeholder at the quarterback position.
Reports suggest the Panthers may view his job as the bridge quarterback as being completed, as they are seemingly looking to a potentially more exciting future under center.
That is not surprising given how limited the Panthers' passing attack was in 2020.
Only two teams had fewer touchdown passes than Carolina's 16, with Bridgewater completing only 41 per cent of his attempts of 21 air yards or more for three touchdowns and five interceptions.
Bridgewater was a quarterback more reliant on his receivers' abilities after the catch than his arm strength. The Panthers had 4,129 gross passing yards and 50.7 per cent of that tally was made up of yardage after the catch, well above the league average of 45.6.
That is not necessarily a criticism in an NFL where several teams rely heavily on short passing games that focus on the strengths of their receivers in the open field, but it is evident through the lack of downfield success that the Panthers need a more dynamic quarterback if they are to contend.
Carolina lost eight games by one score in 2020, with Bridgewater failing to author a single game-winning drive.
Panthers require more physically gifted quarterback
He threw one touchdown to three interceptions in the fourth quarter last season, further illustrating the need for the Panthers to find a more physically gifted quarterback who can make the clutch throws in the waning moments.
Of course, the Panthers might have been more successful in that regard had Christian McCaffrey been available for more than three games.
Bereft of the talents of a running back who led the league in scrimmage yards and touchdowns in 2019, the Panthers were 21st in rushing yards per game.
They actually slightly improved in terms of rushes of 10 yards or more, recording 47 to the 45 they registered in 2019. However, with Carolina's 64 scoring drives ranked 23rd in the NFL, the Panthers evidently gave defenses little to fear in 2020.
That has to change if they are to make the second-year leap under Rhule.
Defense
The Panthers spent every pick of the 2020 NFL Draft on defense and, at least in terms of their pass defense, that decision paid dividends.
Carolina allowed 6.23 yards per pass play, the 12th-best average in the NFL, but the Panthers were dragged down by a below-par run defense.
Indeed, the Panthers gave up 4.75 yards per rush, with just four teams faring worse than Carolina in that regard.
And, while teams did not move the ball efficiently through the air against Carolina, the Panthers struggled to keep opponents out of the endzone.
Of the 161 opponent drives versus the Panthers, 74 resulted in either a touchdown or a field goal, giving Carolina an opponent scoring efficiency of 46.0 that ranked 27th in the NFL.
Optimistic for 2021
Yet this youthful unit still showed enough for Rhule and the Panthers to be encouraged going into 2021.
Carolina finished 2020 tied-10th in takeaways with 22, third-round pick Jeremy Chinn contributing three of those in an impressive rookie season from the versatile safety.
The expected development from him and first-round defensive tackle Derrick Brown provides reason for optimism, though the onus will be on Brown and edge rusher Brian Burns to do more to pressure the quarterback after the Panthers recorded 29 sacks in 2020, only good enough for tied-23rd in the NFL.
This inexperienced group was asked to do too much by the offense last season but, if the likes of Chinn, Brown and Burns make the anticipated strides, the defense will have a much better chance of winning games for the Panthers in 2021.
Offseason
It's all about the quarterback in Carolina. After reportedly making an offer to the Detroit Lions for Matthew Stafford before he was traded to the Rams, the Panthers are expected to aggressively pursue a deal with the Houston Texans to acquire Deshaun Watson.
With the young core they have, the Panthers would instantly become playoff contenders with Watson under center. Failing that, Carolina stands out as a likely destination for one of Zach Wilson, Justin Fields or Trey Lance in the draft.
Regardless of whether it is Watson or one of that group of rookies under center in 2021, the Panthers will also need to reinforce their offensive line.
Both starting tackles from last season, Russell Okung and Taylor Moton, are scheduled to hit unrestricted free agency.
Thankfully, the Panthers are in a decent position to re-sign free agents and pursue those from other teams. They will be nearly $40million under an assumed salary cap of $185m.
Having gotten little production from the position last season, tight end should be an area the Panthers look to address. Ian Thomas led Carolina tight ends with just 145 receiving yards in 2020.
The defense is not the finished article but, after focusing on that side of the ball last year, this offseason is one in which Carolina needs to load up on offense to help the Panthers make the next step.