Not time to panic, but LeBron's Lakers could use some help
The Lakers are still the defending NBA champions, but they are not without their weaknesses. We look at what is going wrong in LA.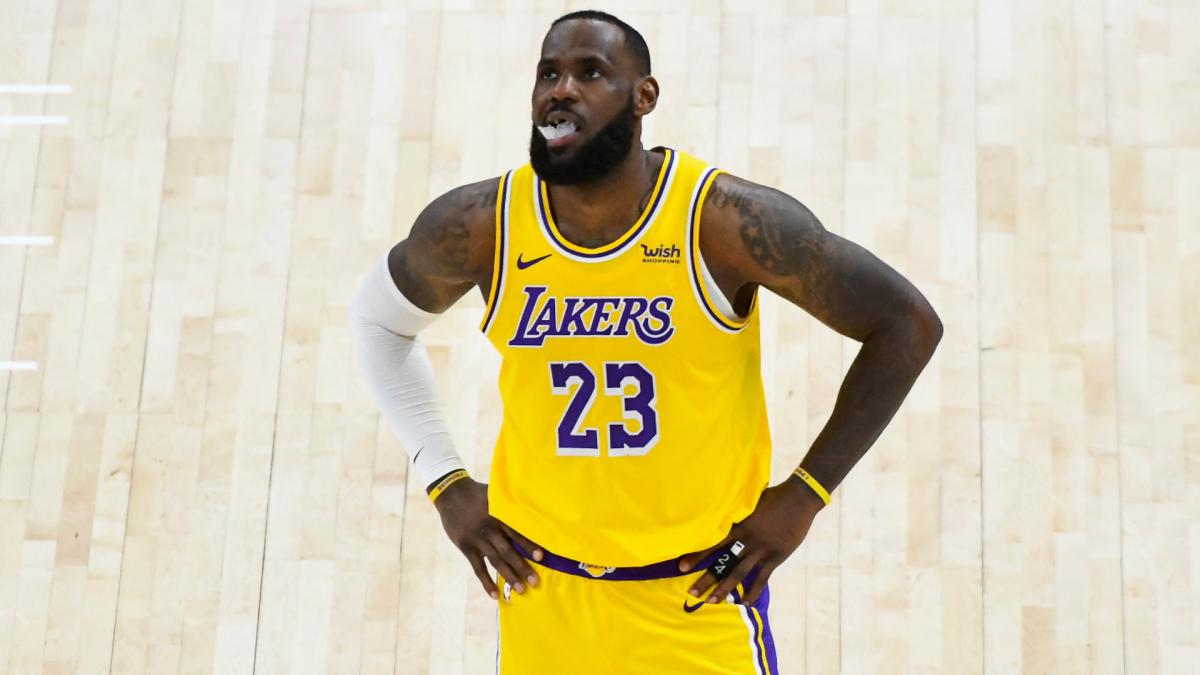 The Los Angeles Lakers are still the defending NBA champions, but they are not without their weaknesses. Ones that the league's other premier teams are beginning to exploit.
The NBA's oldest team wheezes into the All-Star break with losses in six of their last eight games and looking up at the Utah Jazz, Phoenix Suns – and possibly cross-town rivals the Los Angeles Clippers – in the Western Conference standings. And although that entire rough stretch has come with Anthony Davis sidelined by an Achilles' strain, the difference-making forward's absence does not solely explain the Lakers' slump.
There is no debate that the Lakers are a far better team with Davis on the floor, but the offensive struggles that have been exposed during the team's recent descent into mediocrity were in reality present even when the perennial All-Star was healthy. In 21 games since January 30, the Purple and Gold rank 22nd in the NBA in points per game, 24th in offensive rating, and dead last in three-point percentage with a 31.0 percent success rate from beyond the arc.
Granted, the Lakers were not a prolific perimeter shooting team during last year's championship run. Their ratio of points from three-pointers to total points stood at 29.1 percent, which ranked 25th in the NBA. That was 2019-20, however. This is 2020-21, a season in which triples are being taken and made at historic levels, and it is no coincidence that the teams that currently rank in the top four in three-point percentage (Clippers, Brooklyn Nets, Jazz, Milwaukee Bucks) also happen to own four of the top seven winning percentages.
The Jazz seemingly provided the blueprint on how to attack the Lakers when they knocked down 22 threes in handing the Los Angeles franchise their most lopsided loss of the season, a 114-89 defeat on February 24. The Suns followed the plan to a T when they drained 16 triples in a win earlier this week.
Truth is, those teams' methods were more of a trend than a discovery. The Lakers have allowed 14 or more three-pointers only 10 times in 37 games thus far, but they have lost eight of those contests. Just six teams have a lower winning percentage than the Lakers when permitting that many treys in a game, and none of them would be headed to the playoffs right now (for the record, those teams are the Minnesota Timberwolves, Sacramento Kings, Orlando Magic, Houston Rockets, Detroit Pistons and Atlanta Hawks).
The initial reaction may be to believe that this is some sort of defensive issue, but it is not. The Lakers still lead the league in defensive rating and rank in the top 10 in three-point percentage defense. But it is become more than apparent that they have had trouble keeping up against opponents that can bomb away from long range with high proficiency, a real potential problem down the road should they meet the Jazz or Clippers in the playoffs, or the Nets in a possible Finals scenario.
The Lakers have one player, the streaky Kentavious Caldwell-Pope, who is shooting 38 percent or better from beyond the arc while taking at least three three-pointers per game. The Clippers have seven such players, the Jazz six. The Nets have five, as do the Denver Nuggets, who have battled inconsistency and injuries but showed in a dominant win over the Lakers last month that they are still plenty dangerous.
Getting Davis back will surely help matters, as the chart below illustrates the offensive impact he brings when on the floor.
LAKERS, WITH/WITHOUT ANTHONY DAVIS ON COURT, 2020-21
(/100 = per 100 possessions)
With/Without
Points/100 – 112.8/106.4
FG Pct – .498/.469
Three-Pt Pct – .371/.338
Turnovers/100 – 13.9/15.5
The difference Davis makes, particularly from a shooting efficiency perspective, is more than evident. But is that enough, especially with there being no guarantee he will remain healthy throughout the postseason grind?
In hindsight, the contributions Danny Green made to last year's title run as a floor stretcher and perimeter defender may have been seriously undervalued. Wesley Matthews was supposed to fill that role following Green's initial trade to the Oklahoma City Thunder (before joining the Philadelphia 76ers) for Dennis Schroder, but he is shooting a career-worst 33.7 percent on threes and has been a complete non-factor offensively during the Lakers' current rut.
Caldwell-Pope's shot has gone south of late as well. In fact, he has had one of the steepest individual drop-offs from the perimeter over the last month-plus.
LARGEST DECREASE IN THREE-POINT PCT, PRE-FEBRUARY VS. REST OF SEASON – 2020-21
(min, 3.0 3PA/individual game)
Pre-Feb Since 2/1 Diff.
Tobias Harris, Phi – .464/.279/-.185
Wayne Ellington, Det – .505/.333/-.172
Kentavious Caldwell-Pope, LAL – .478/.317/-.161
Garrett Temple, Chi – .408/.255/-.153
Desmond Bane, Mem – .520/.377/-.143
To summarise, the Lakers do not necessarily need another shooter if they are operating at full strength, though bringing one in surely would not hurt. That brings us to the next question – who could or should general manager Rob Pelinka be targeting at the trade deadline for some added reinforcements?
In a perfect world, the answer would be Bradley Beal should the Washington Wizards be open to parting with the league's current leading scorer. That is also a complete fantasy since the Lakers have neither the assets nor cap flexibility to pull off such a blockbuster. Even a less pricey option like JJ Redick is not realistic. Pelinka will need to do some bargain-hunting if he wants to buy.
Here are a few likely available options that seem to fit the Lakers' needs and price range:
Wayne Ellington, Pistons
Though he has been off the mark lately (see above), the 33-year-old journeyman is still hitting at an over 43 percent clip on three-pointers, is on a cheap contract and can likely be had for minimal cost with Detroit in the midst of a massive rebuild. Ellington would be a liability on the defensive end, but those deficiencies could be mitigated by the Lakers' strong supporting cast.
Ben McLemore, Rockets
McLemore is having a terrible year for a terrible Rockets team, but he shot 40 percent or better from three-point range in each of the previous two seasons and may benefit from a change of scenery. Team-mate Sterling Brown does not have McLemore's overall track record, but he is shooting above 40 percent on threes this season and could be a target as well.
George Hill, Thunder
A onetime team-mate of LeBron James in Cleveland, Hill would be an excellent fit as a sharp-shooting, savvy veteran who can alleviate some ball-handling duties from the King and Schroder. Though clearly not part of the Thunder's long-term plans, Hill's value and $9.6million salary still may be a tad too costly for the Lakers, who might have to part with a young asset like Kyle Kuzma to get a deal done.
The Lakers will not be making major moves at the deadline, nor should they have to with a roster that is deep, experienced and sports two of the game's best players. But in a season that is unveiled several legitimate challengers to their throne, playing it safe may just be the greatest risk.