Guardiola says Man City internationals will not fly for country duty
Manchester City's South American contingent and Riyad Mahrez are set to be ruled out of the forthcoming internationals by Pep Guardiola.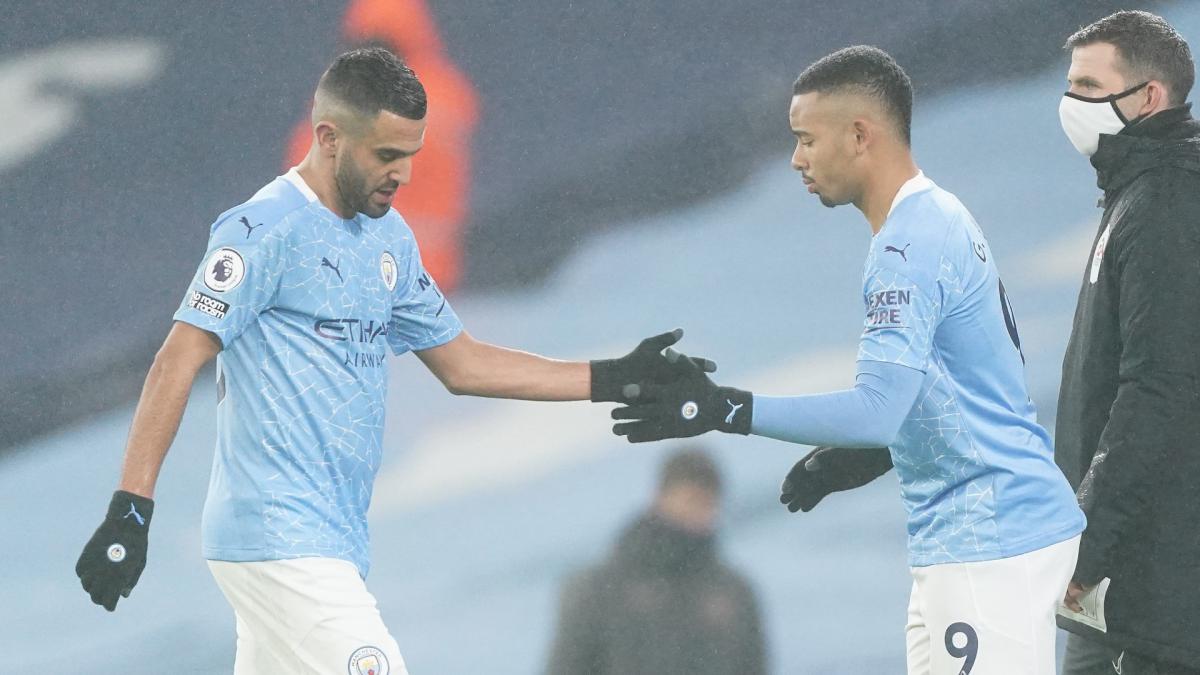 Pep Guardiola insists it makes "no sense" for players who will have to quarantine upon their return to the UK to go on international duty later this month – stating Manchester City will not release such players.
In light of on-going coronavirus travel restrictions, FIFA has made the unprecedented move of giving clubs the right to prevent players from joining up with their national teams if the fixtures in question mean a quarantine period of five days or more upon their return.
In the UK, anyone travelling to 'red list' countries must isolate for 10 days when they come back, with no exemptions granted for elite sportspeople.
The list features all of South America and parts of Africa. Portugal, the only European country on the list, have sought to mitigate the impact by moving their World Cup qualifier against Azerbaijan on March 24 to Turin.
Although that seemingly frees up City trio Bernardo Silva, Joao Cancelo and Ruben Dias, Guardiola will be able to put his foot down when it comes to Argentina striker Sergio Aguero, Algeria winger Riyad Mahrez and Brazil contingent Ederson, Fernandinho and Gabriel Jesus.
Guardiola: "It makes no sense"
"We didn't speak. We will wait until after this game against United and I am pretty sure that next week we'll talk about that," Guardiola told a news conference ahead of Sunday's Manchester derby.
"But I think it makes no sense if the players go to the national team and then have to isolate for 10 days when they come back. It makes no sense.
"We've worked incredibly hard for seven, eight or nine months and after the international break comes the real part of the season, and important players cannot play for 10 days? It makes no sense.
"They are not going to fly. That's for sure. If they can fly, play with the national team and come straight back to training, they'll fly.
"We invest a lot of time and money for the important part of the season and if six, seven, eight players cannot play with us, it makes no sense, honestly. No sense."
Guardiola's stance means the runaway Premier League leaders are aligned with the reigning champions after Jurgen Klopp also said Liverpool players from affected countries would not be released.
The City boss, who famously went against Barcelona's stance during his time as head coach and allowed Lionel Messi to win a gold medal at the 2008 Olympic Games, insists he is not acting to devalue international football – just merely reacting to the realities of these times.
"We want to let them go to the national team. I know how important it is for them. I'd never say don't go to represent your country and to prepare for the European Cup or American Cup," he added.
"But it's no sense to do it and not play for 10 days, no training session, be at home, when we are playing for the league.
"If we go through, we will still be in the Champions League and we don't play with these players.
"They are not going to fly. I don't know what is going to happen but they are not going to fly, for sure.
"We've followed the protocols for eight, nine months. No restaurants, closed. The people are here - home, home, here, in the bubble, don't do it [break protocols], protect them, test them every two days.
"And after, in an important part of the season in the league, we don't have the players because the government has decided it is in a red zone and they cannot play when we are playing every three or four days?
"They are not going to fly, sure. I'm pretty sure that UEFA or FIFA will understand this argument."