Denver Broncos: Stay locked on Drew or hand keys to a rookie QB?
After a disappointing 5-11 season, the Broncos face a choice over whether to stick with Drew Lock or find a replacement at quarterback.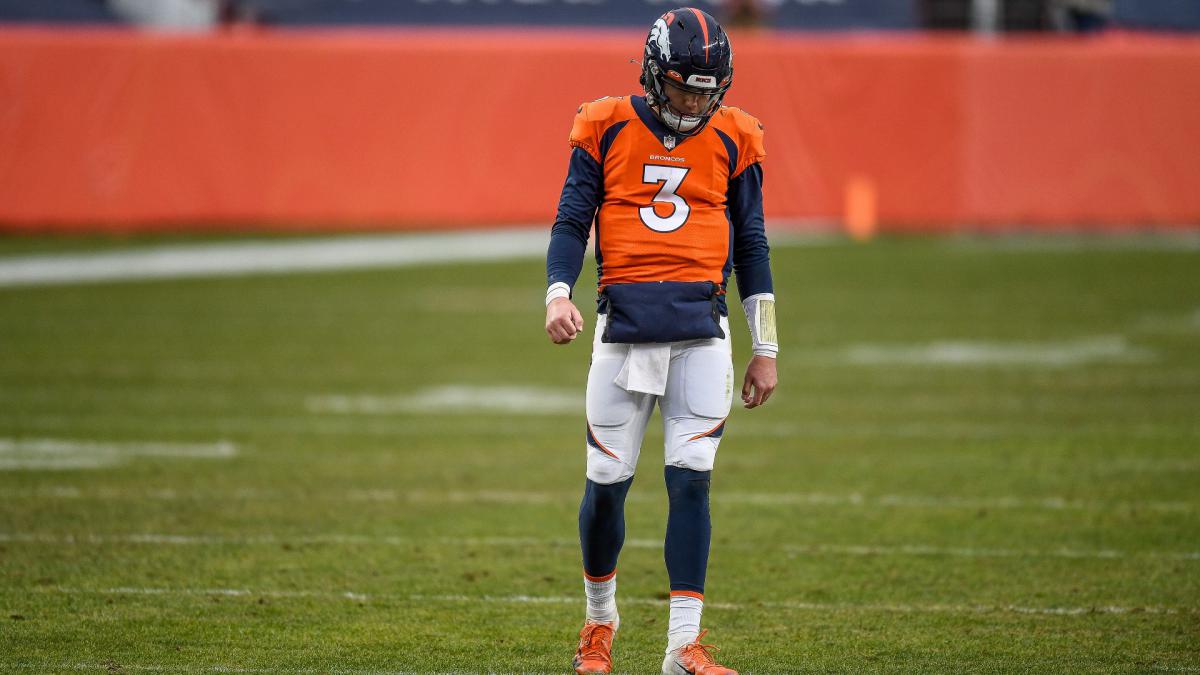 The Denver Broncos enter the offseason surely casting envious glances at the rest of the AFC West.
Still searching for the solution at quarterback, an uneven season for Drew Lock did not provide satisfactory answers about their second-round pick from 2019.
Denver endured a 5-11 season with Lock in and out of the line-up as Patrick Mahomes led the Kansas City Chiefs to another Super Bowl appearance, Justin Herbert surged to Offensive Rookie of the Year honours with the Los Angeles Chargers and Derek Carr made strides for the Las Vegas Raiders.
This offseason will therefore be defined by what the Broncos decide to do at quarterback, with the heat set to turn up on head coach Vic Fangio as he heads into year three after two successive seasons without a playoff berth.
Using Stats Perform data we look back at another year of disappointment in Denver and assess what they can do this offseason to ensure a five-season exile from the postseason comes to an end in 2021.
Denver Broncos Offense
A switch at offensive coordinator from Rich Scangarello to Pat Shurmur did not yield the desired results for the Broncos, who ran one of the least efficient offenses in football.
Denver averaged 5.21 yards per play, putting the Broncos 25th in the NFL. The Broncos' paltry 5.87 yards per pass play illustrated the lack of progress made by Lock, who missed three games last season, with Denver also ranking 25th in that metric.
For a player who came out of college with a reputation for having an elite arm, Lock's tally of 38 completions of 20 yards or more was disappointing. He ranked 19th in that regard but his average distance on such completions of 32.9 yards was ninth among quarterbacks to have completed at least 10.
More worrying for Denver were Lock's numbers on throws of at least 21 air yards. He completed 15 of 63 such attempts for 597 yards, three touchdowns and five interceptions for a passer rating of 49.4 that ranked second last among quarterbacks with at least 25 attempts of 21 air yards or more.
Lock did not provide the downfield upside some expected of him when he was drafted in 2019 and a tendency to commit turnovers that was all too evident in college has remained in the NFL. His 15 interceptions in 2020 were tied for the most in the NFL.
The absence of Courtland Sutton, who suffered a torn ACL in Week 1, did not help Lock's cause, with first-round rookie Jerry Jeudy committing the second-most drops (nine) in the NFL.
However, 23 incomplete targets thrown Jeudy's way were deemed poor throws - only three receivers were on the end of more - that number pointing to below-par play under center as the primary reason for Denver's passing game struggles.
Denver's running game fared slightly better, finishing the year tied-14th for rushes of 10 yards or more with 51. The Broncos were tied for sixth with 13 runs of at least 20 yards.
Melvin Gordon proved a useful addition as he contributed 26 rushes of at least 10 yards. Philip Lindsay had 13, with six of those going for 20 yards or more.
Denver Broncos Defense
The Broncos' talent on defense paired with Fangio's acumen on that side of the ball should have theoretically produced a strong season on defense.
However, Denver finished the year a disappointing 20th in the NFL with 5.64 yards per play allowed.
They were 13th against the pass (6.25) but 29th against the run (4.79), with their efforts in stopping opposing attacks not helped by Lock's propensity for turnovers.
A freak injury to Von Miller before the season robbed Denver of one of the most dominant pass rushers of his generation, but the Broncos still finished tied-10th in sacks (39) and 10th in total negative pass plays forced (50).
By contrast, they only forced 83 negative run plays, that total putting them 23rd in the NFL.
Stefon Diggs took advantage of the Broncos off coverage (5+ yards of pre-snap cushion), which he faced on 33 of 40 routes (83%).

Stefon Diggs vs Off Coverage
 10 receptions (T-3rd most in a game this season)
 131 yards (4th-most)#BUFvsDEN | #BillsMafia pic.twitter.com/xUjJ5HSKiP

— Next Gen Stats (@NextGenStats) December 20, 2020
The pressure the Broncos created last season did not translate to takeaways, with just three teams producing fewer than Denver's 16.
A lack of a settled line-up at cornerback was a significant reason for their struggles stopping the pass and taking away the football.
Kareem Jackson and Michael Ojemudia were the only Broncos cornerbacks to play in all 16 games, with the latter enduring a difficult rookie year.
Ojemudia had a burn percentage of 63 in 2020. A burn occurs when the receiver is open for a number of yards that take up a certain percentage of yards to go for a first down, depending on the down, with the defender credited with giving up burn yardage regardless of whether the ball is caught.
No Denver cornerback allowed more yards per burn than Ojemudia's 18.1, with corner featuring prominently on a long list of offseason issues the Broncos must fix.
Denver Broncos Offseason
New general manager George Paton has a lot of significant decisions to make to try to inspire a turnaround in fortunes.
The Broncos' future at quarterback casts a large shadow over their plans for the rest of the roster. Picking ninth in the draft, they are in a decent spot to land one of Justin Fields, Zach Wilson or Trey Lance, the three quarterbacks seen as the cream of the crop after presumptive number one overall pick Trevor Lawrence.
Denver must decide whether to stick with Lock or cut him loose in favour of one of that trio, with a possible trade for Deshaun Watson appearing unlikely at this point.
There is a similarly significant decision to make concerning Miller, who will be 32 come the 2021 season and has a contract option the Broncos could decline, eschewing a salary cap hit of $22.25million and making him a free agent.
The Broncos are projected to have $48m in cap space, assuming a cap of $185m, even with Miller on the roster, and a large portion of that may go towards re-signing Pro Bowl free safety Justin Simmons, who played on the franchise tag in 2020.
If they can keep hold of Simmons and find dependable reinforcements at corner, the Broncos defense will be well-placed to make a return to the top half of the league in 2021.
Yet the fate of next season's Broncos likely rests on Paton's ability to succeed where predecessor John Elway consistently failed, and come to a definitive and correct answer under center.