Jovic: "Returning to Eintracht was the right move, things fit in for me here"
Bild interviewed Luka Jovic, who is on loan from Real Madrid. The striker has not ruled out returning to the Bernabéu: "Anything is possible".
Luka Jovic is enjoying his second spell with Eintracht Frankfurt, who he joined on loan from Real Madrid in the winter transfer window. While he never really showed his potential at Madrid, in Germany, he is flourishing and feels at home. In an interview for Bild, Jovic reflected on his return to the Bundesliga, rediscovering his form and spoke about what could lie ahead for him in the future.
Fitness: "I hadn't played very much during the past two years so the first thing I needed to do was work on my fitness. I've always trained as hard as I can, pushing myself to my limits. I am still not at the level I was before - I don't have the stamina to play the full 90 minutes. But I am trying to change that as soon as possible. Every day I feel a little better and I think I am on the right path".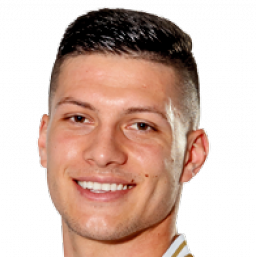 Returning to Eintracht: "I think going back can be seen as progression and there's no doubt that it was the right move for me because so many things fit in for me here. But the main thing is that the team is successful - if the team is doing well then that is also positive for me. Every time the team wins is a step forward for me. Of course I would love to play a part in that too and help the team".
The future: "I'll think about that when the season is over. Right now I am only thinking about Eintracht and working to play well in the next games. Basically, anything is possible, because you never know what might happen in professional football".
Struggle to break into the starting XI: "When I arrived here, it was clear right from the start that they were keen to build back my fitness. I am in constant contact with the coach in that respect. The team is having success with a system of play and so it's understandable that the style won't change much. But I think I can find a role to play in the team. We have a lot of games left to play until the end of the season. Right now, I have every reason to feel happy with how it is working out".