International Women's Day: meaning, origin and why it's celebrated today
The annual event to celebrate the achievements, challenges and struggles of women around the world will be marked with a live event from the United Nations.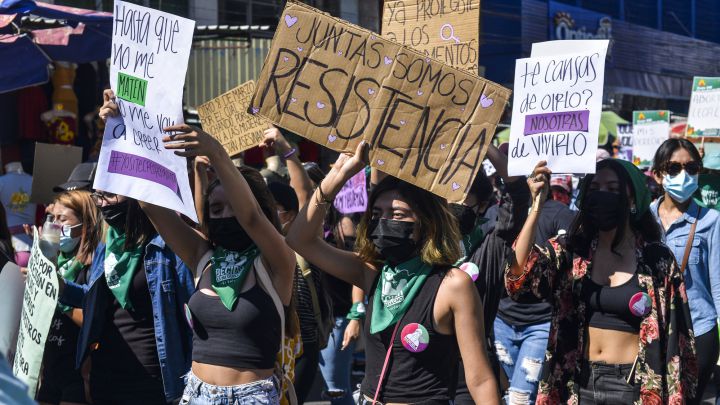 International Women's Day is a global day of celebration for the social, economic, cultural and political achievements of women. Marked annually on 8 March, IWD is also an opportunity to reflect on and further the push towards gender parity.
Each year IWD is given a theme, which often relates to contemporary events, trends and struggles. This year the theme is based on the challenges brought about by the pandemic, and is titled "Women in leadership: Achieving an equal future in a Covid-19 world".
What is the origin of International Women's Day?
The earliest form of IWD began in 1908 when 15,000 women took part in a New York City march, calling for shorter working hours, better pay and the vote. A year later, the Socialist Party of America marked the anniversary of the march by declaring it the first National Woman's Day.
At this stage is was only an American celebration but in 1910 Clara Zetkin addressed the International Conference of Working Women in Copenhagen and suggested that they make the event international.
The 100 women in attendance unanimously supported the idea and in 1911 the first International Women's Day was celebrated in Austria, Denmark, Germany and Switzerland, as well as in the United States.
IWD remained a stand-alone event until 1975, when the United Nations began marking the day and organised celebrations. In 1996 the UN began issuing a theme for each year's celebration, the first of which was "Celebrating the past, Planning for the Future".
What to expect from International Women's Day 2021
Of course the 110th International Women's Day will be unlike previous iterations due to the pandemic and resultant restrictions, but efforts are still being made to mark the day.
Virtual events are being held online, such as the United Nations Observance of International Women's Day 2021, which is an online conference featuring speakers such as António Guterres, Secretary General of the United Nations, and Phumzile Mlambo-Ngcuka, Executive Director of UN Women.
The international event is marked in different ways in different countries: Russia has a national holiday; Italy celebrates the occasion with an exchange of mimosa blossom; while the US has named the month of March as Women's History Month.
Mlambo-Ngcuka said of the importance of this year's IWD: "We need women's representation that reflects all women and girls in all their diversity and abilities, and across all cultural, social, economic and political situations.
"This is the only way we will get real societal change that incorporates women in decision-making as equals and benefits us all."