Messi penalty against PSG should have been retaken
As Messi struck the penalty late in the first half against PSG, Verratti had stepped into the penalty arc. The penalty was reviewed by VAR but not retaken.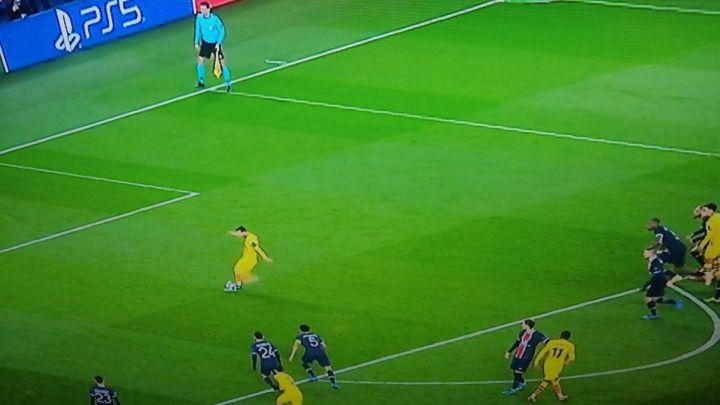 Leo Messi stepped up to take the penalty at the end of the first half of Barcelona's Champions League last 16 second leg match against PSG, which if he had scored would have left Barcelona needing only two goals in the second 45 to take the tie to extra time.
Messi penalty saved by Navas
Messi hit the penalty hard, but Navas managed to get his foot to the ball and deflected it onto the crossbar. However, VAR decided to review the penalty to ensure no rules had been breached, with most focusing on Navas' placement as the penalty was struck. (Last night, Haaland for Dortmund retook a penalty saved by Sevilla's Bono after the VAR spotted he had had his feet off the line).
The VAR check for Messi's penalty failed to spot any issue with the penalty and the save from Navas stood. However the review had failed to spot that at the moment Messi struck the ball Verrati had illegally entered the penalty arc, the 'D' at the top of the box that marks 10 yards away from the penalty spot. The PSG player got the ball as it rebounded off the wood work and cleared it for a corner.
Just rewound the penalty missed by Messi to see what they were checking & Verrati who gets the next touch after it hits the bar was well inside the semi circle when Messi took it! If VAR is checking everything how did they not see that🤷🏻‍♂️

— Terry Gibson (@TerryGibson88) March 10, 2021
According to our resident referee Iturralde González: "The penalty needs to be retaken because Verrati runs in, he encroaches from the centre before the shot is taken, he gets to the rebound and clears it for a corner. It's one of VAR's biggest mistakes so far. They have to see Verrati's encroachment, he's a metre and a half inside and he clears it. And they've only looked at the goalkeeper."