Watson, Wilson and the best QBs potentially still to move this NFL offseason
Two of the best quarterbacks in the NFL could be among those to move in the coming weeks and months.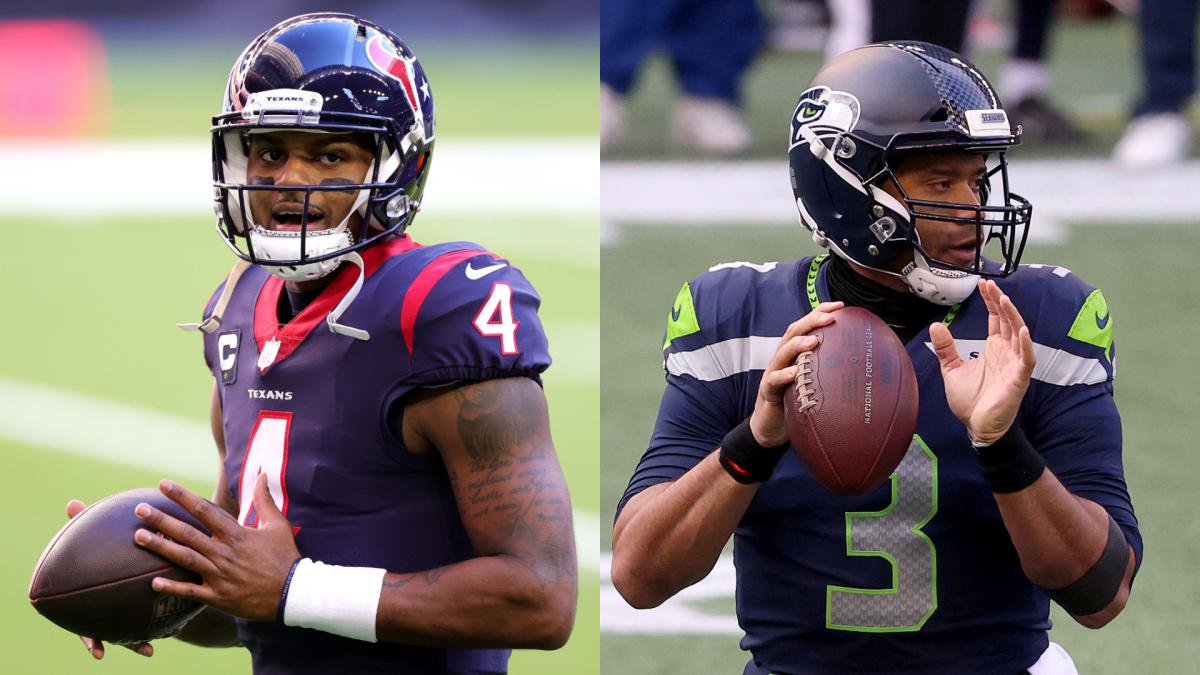 Another offseason sees another scramble for quarterbacks in the NFL.
Last year, Tom Brady was among those on the move and he ended the 2020 season with his first Super Bowl title in Tampa Bay and seventh in total.
Already in 2021 there have been significant deals at the position again, including the Los Angeles Rams' big play for Matthew Stafford, deeming him a significant upgrade on the expensive, underperforming Jared Goff.
There are big names remaining on the board, though, and we take a look at the state of play.
DESHAUN WATSON
It is not every day a QB of Watson's quality becomes available – and the Houston Texans might still argue he is not. But the 25-year-old was bogged down by a poor team last year, finishing 4-12 despite leading the league in overall passing yards (4,823).
Watson wants out, and the Texans would be well advised to listen to any serious offers if the alternative is to let one of the league's top talents sit on a massive contract.
The asking price will surely be high. Stafford, 33, threw for 4,084 yards, 26 touchdowns and 10 interceptions in 2020 – beaten by Watson across the board – and set a precedent when he went to the Rams for Goff, two first-round picks and a third.
Loyalty is everything. Don't you EVER forget it.

— Deshaun Watson (@deshaunwatson) February 25, 2021
What does that make Watson worth? Well, his desire to depart might bring the value down slightly, but Houston would surely expect picks as well as a QB prospect.
TUA TAGOVAILOA
Tagovailoa was the fifth pick just a year ago, but the Miami Dolphins might already be interested in moving on, especially if that means a trade for Watson.
Although there were signs of Tagovailoa's promise as he won his first three NFL starts, 2020 ended with his benching in a Week 16 comeback win and then three costly picks in a Week 17 defeat that saw the Dolphins miss the playoffs.
Miami might feel a move for Watson would make them contenders, while the Texans could use a talent like Tagovailoa in their rebuild.
There is a complication, however. The draft picks Houston would receive alongside Tagovailoa in return for Watson would be the same selections they spent themselves in a deal for offensive tackle Laremy Tunsil. In order to save face, an alternative package might appeal.
SAM DARNOLD
Such an offer may well materialise elsewhere in the AFC East. The New York Jets are likely to have an interest in Watson if they move on from Darnold and do not want to try again in the draft with the second pick.
That would have been the first selection had the Jets not inexplicably rallied to two wins, gifting Trevor Lawrence to the Jacksonville Jaguars.
The signing of Watson would significantly soften that blow, but it would most likely mean the Texans taking on Darnold, who has played for two more years than Tagovailoa and is still to show he is really up to the task. A career tally of 45 TDs and 39 interceptions for a passer rating of 78.6 does not compare favourably.
His team even failed when apparently tanking. Houston would hope a Darnold-led rebuild would fare better.
JIMMY GAROPPOLO
This busy market might have piqued the interest of San Francisco 49ers fans looking for a more reliable option at QB, where Garoppolo has started only 30 games in four years. It could be time for him to move on.
The landing spot for the 29-year-old would seemingly be New England, a place he knows well having previously served as Brady's understudy on the Patriots.
Brady stuck around longer than expected, so Garoppolo moved to San Francisco and performed well in 2019, starting all 16 games for the only time in his career and throwing 27 TDs before making the Super Bowl.
That proved the peak, however, with defeat in the big game, although the Pats look to be interested again having failed to properly replace - yes – Brady.
CAM NEWTON
Newton was the man Bill Belichick initially turned to, agreeing a one-year deal with the former MVP that makes him a free agent again this year.
A return to New England cannot be entirely ruled out, although a team and coach used to Brady's brilliance never really adjusted to a QB who threw only eight TDs.
Newton might have other options. Washington head coach Ron Rivera knows the player well from their time together with the Carolina Panthers and could be more appreciative of his other talents, notably a running game that brought 592 yards and 12 TDs on 137 carries in 2020.
JAMEIS WINSTON
Winston, once a number one overall pick, is another man heading for free agency. He spent last season with the New Orleans Saints but found himself third choice, behind utility player Taysom Hill, and participated in only 51 plays.
It was a far cry from the previous year when Winston was Tampa Bay's starter and involved in just about everything, remarkably throwing 33 TDs and 30 interceptions.
That 2019 campaign encapsulated how chaotic the 27-year-old can be, but he would argue he deserves to at least be competing for a start somewhere. If not back to New Orleans, Winston could be headed for somewhere like Washington and a team looking to change things on the cheap.
RUSSELL WILSON
Wilson certainly would not come cheap. And it seems improbable he would come at all, regardless of the suitor.
But noises of unhappiness in Seattle, where the Seahawks failed to give their superstar quarterback the help he needed, were followed by Wilson's agent saying only moves to the Saints, Dallas Cowboys, Las Vegas Raiders or Chicago Bears would appeal.
Dak Prescott's new deal in Dallas closed that avenue, while the Saints and Bears are already set to be way over the cap. Any blockbuster move for Seattle's most prized asset could change the entire complexion of this offseason, though.