Buccaneers thrilled as Brady agrees new deal with Super Bowl champions
Tom Brady has signed a one-year contract extension with the Tampa Bay Buccaneers, keeping him with the Super Bowl champions through 2022.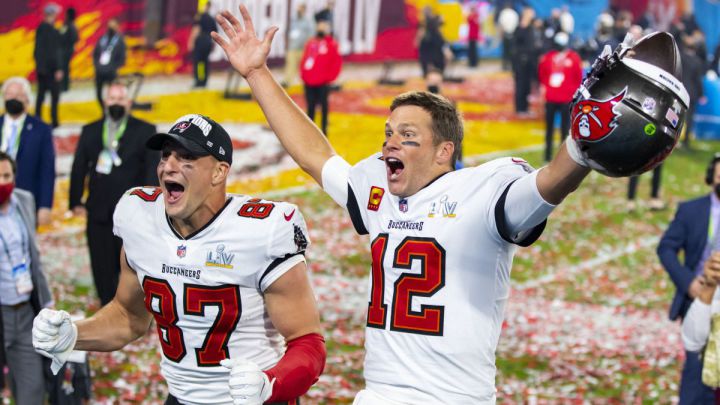 Tom Brady is staying with the Tampa Bay Buccaneers for the next two seasons, and in the front office of the Super Bowl champions they "couldn't be happier".
It emerged on Friday that 43-year-old Brady has agreed to stay with the Buccaneers through the 2022 season, after a stellar first year with the team.
The former New England Patriots quarterback landed a seventh Super Bowl ring when the Bucs became the first team in NFL history to lift the Lombardi Trophy at their home stadium, courtesy of a crushing 31-9 win over the Kansas City Chiefs.
Brady had 12 months remaining on the deal he signed in March 2020 and has officially signed a four-year extension to that, although three years of the deal are voidable ones included to help spread the cost of the contract.
Bucs general manager Jason Licht said: "When we acquired Tom a year ago, we were extremely excited about the leadership, poise and winning track record that he would bring to our locker room.
Delight as Brady stays on in Tampa Bay
"Since that time, he has proven himself to be the ultimate competitor and delivered in every way we had imagined, helping us capture the Lombardi Trophy.
"Year after year, Tom proves that he remains one of the elite quarterbacks in this game and we couldn't be happier to keep him in Tampa Bay as we continue to pursue our goals together."
Brady threw for 4,633 yards and 40 touchdowns with 12 interceptions last season. Only Aaron Rodgers of the Green Bay Packers, with 48 TD passes, threw for more than Brady, who will be 45 when the 2022 season begins.