Real Madrid: Pérez sounded Cristiano Ronaldo out over return in 2019
During their first face-to-face meeting since his move to Juventus, Real Madrid chief Florentino Pérez floated the idea of a move back to the Bernabéu.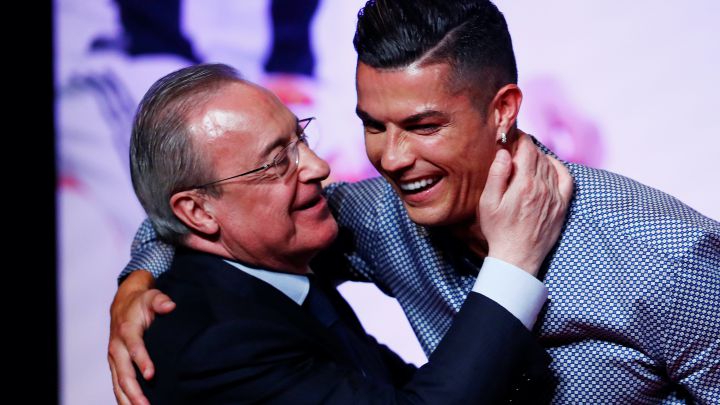 On 29 July 2019, Cristiano Ronaldo and Florentino Pérez came face to face for the first time since the forward's blockbuster move from Real Madrid to Juventus the previous summer.
The Portuguese had returned to the Spanish capital to pick up an award, and the Madrid president was among the attendees at the ceremony, where the pair had the chance to have a chat.
Ronaldo rejects Pérez overtures during awards ceremony
Amid hugs and jokes, Pérez didn't pass up the opportunity to float a possible Madrid return to Cristiano - who, without hesitation, rebuffed the Bernabéu chief's advances. A chuckling Pérez told the player there was no rush over a decision, noting there was still plenty of time to go until the close of the transfer window on 31 August.
Star does want a move back to Real Madrid now...
Two years on, things have changed dramatically. Cristiano does now want to rejoin Los Blancos, but on this occasion it is Pérez who has to respond…
Juve deal hasn't worked out for Cristiano or Real Madrid

Since the 36-year-old's departure from Madrid, things haven't gone as planned for either club or player. Cristiano arrived in Turin to great fanfare but hasn't become the idol he was at the Bernabéu, because Juve haven't come close to the goal his arrival was supposed to help them achieve: winning the Champions League.
Far from taking the next step in Europe's premier club competition with Cristiano in their ranks, the Vecchia Signora have gone backwards, following quarter-final elimination in 2018/19 with two straight last-16 exits.
Meanwhile, Madrid have had three different head coaches since the star left the club - Julen Lopetegui, Santiago Solari and Zinedine Zidane - and have relinquished their status as the team to beat in the Champions League. The signing of Eden Hazard, the man charged with filling the void left by Cristiano, has so far been an abject failure.
"Madrid and Cristiano, together again"
But life often throws up second chances, and Madrid and Cristiano now have the opportunity to resume an association that yielded four European titles. The ball is in Pérez's court; he has always said the club's doors would be open to the Portugal captain.
This summer, we're set to find out whether one remark uttered by Pérez during that 2019 reunion turns out to be prophetic: "Madrid and Cristiano, together again."