1
AC Milan vs Manchester United: result, summary, goals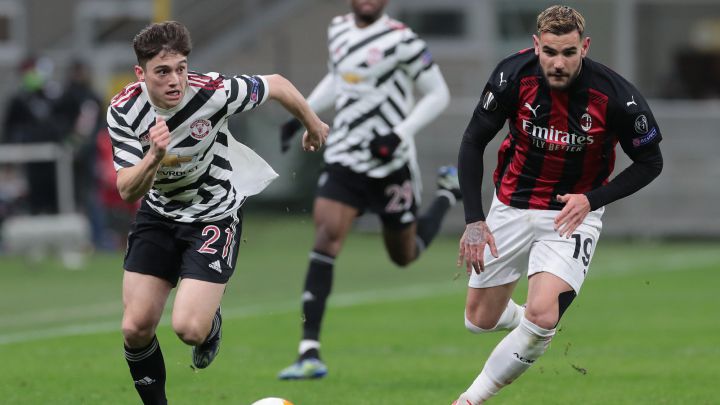 AC Milan vs Manchester United: match report; as it happened
Manchester United reached the Europa League quarter-finals after a brilliantly-taken Paul Pogba goal earned them a 1-0 win at AC Milan to secure a 2-1 aggregate victory in their last-16 tie on Thursday.
Pogba came off the bench at halftime to make his first appearance for United since Feb. 6, and the France midfielder had an immediate impact as he turned the tie in his side's favour three minutes after the break with a fine goal. Former United striker Zlatan Ibrahimovic came on as a substitute to try to drag Milan back into the match, and he almost equalised in the 74th minute but was denied by a good save from the visitors' goalkeeper Dean Henderson.
Milan applied plenty of late pressure but Ole Gunnar Solskjaer's side held on to remain in the hunt to win their first trophy since a Europa League success under Jose Mourinho in 2017. United's away record this season - they are unbeaten on the road in the Premier League in 2020-21 - will have given them confidence ahead of the Milan trip, but Solskjaer's team struggled to find that away goal they needed in the first half.
Milan's Belgian midfielder Alexis Saelemaekers went closest to breaking the deadlock, but was denied by a smart block from Henderson. Pogba replaced Marcus Rashford for United in a surprise switch, but his impact was immediate, as the Frenchman cleverly squeezed a strike in at the near post to score his first goal in European competition this season.
Ibrahimovic, Milan's top scorer this season, was also returning from injury against the club he scored 28 goals for from 2016-18, and the 39-year-old posed a threat, but Henderson's stop was the closest he came to finding the net. Pogba almost added a second when he headed just over late on, but one goal was enough for United. (Reuters)
Game over!
It's all over! Manchester United win 1-0 (2-1 on aggregate) to book their place in the quarter-finals. Super-sub Pogba came on at half-time and only took two minutes to find the goal that sends United through.
Milan have one minute to find a goal or they're out.
Fernandes shoots! But the ball takes a deflection and goes out for corner. United can do nothing with the corner. Five minutes of added time to be played.
James flies into the box before passing the ball wide to Wan Bissaka, whose low-and-hard cross ends in the hands of Donnarumma.
Pogba powers his way towards goal, fending off two iilegal challenges from Calhanoglu. The Frenchman eventually falls on the third challenge as the ref calls the play back for a free kick and issues a yellow card to Calhanoglu. Fernandes strikes the free-kick well but Dunnarumma saves.
What a chance for Milan! Stunnning header from Zlatan from close range forces an equally stunning save from Henderson.
Third change for Milan as Krunic makes way for Diaz.
Ibrahimovic has his first chance to attack as a ball comes over the top. Henderson rushes out of his box and heads away the danger.
Neither side has made a clear-cut chance since Pogba's goal 20 minutes ago now. Milan need one goal to bring this to game to extra time.
Kalulu goes off, as does Castillejo. Two fomer United men, Ibra and Dalot, come on for Milan.
The first booking of the game is issued to Kalalu.
Zlatan looks like he's prepping to come on for Milan, who are themselves now in need of an impact sub-a-la-Pogba.
Fernandes cynically fouled by Kessie and the Portuguese indicates to the referee that that's the second time. No card though for the Milan midfielder.
Pogba does well to win the ball around the edge of Milan's third before passing to Fernandes, who plays the ball wide to Fred. But the Brazilian can't find a team mate with his cross.
Pogba scores for United!
After a bit of a scramble for the ball inside the box, it falls loose to Pogba on the left corner of the six yard area, who drives the ball home. He's only on the pitch two minutes. What an impact!
Peep! AC Milan get the second half underway.
Pogba is coming on for the second half in place of ... Marcus Rashford. Strange one!
The teams are back on the field with the second half about to start.
Pogba warming up at half time. It may not be long before Solksjaer brings on the returing Frenchman.
Spurs are out and Manchester United could be following them if they don't find a goal in the second half. Tottenham's 2-0 lead against Dinamo Zagreb was overturned this evening as the Croatian side won 3-0 at home to book their place in the quarters.
Half time!
The ref calls time on the first half. United started well but after Milan got into the game, the homeside have been better overall and made more chances. United need to step up a gear or two in the second half or that vital goal will not come.
What a chance for AC Milan! After Milan break quickly down the right, Krunic has a chance to shoot from 10 yards out under very little pressure, but he drags his shot wide. That was the best chance of the game so far.
A nice passage of play from Milan ends with a decent strike on goal from Saelemaekers. Henderson does well to swat the ball away for a corner.
Things are not working for United here as they have yet to test Donnarumma. Greenwood and Rashford have been very quiet, while Fernandes has been poor. Solskjaer must be starting to think about how he can change things up.
Big error from Fernandes as his wayward pass backwards allows Saelemaekers to break. He slots a ball towards Kessie close to Henderson's area but Lindelof comes in with a well-timed sliding tackle to snuff out the danger.
Maguire has his first chance to get his head on the end of a corner delivery, but he's beaten in the duel in the air by Kjaer.
First real chance for Milan! Calhanoglu finds himself inside the box with acres of space as the ball comes in from a throw in. It was a great chance to score but he completely failed to make contact with the ball.
James goes down in the box as he chases the ball and the United players are roaring for a penalty. The ref says play on. Kalulu came in hard on the Welshman and didn't see much of the ball as he attempted a sliding tackle. Milan are lucky to get away with that one.
Lovely ball over the top from Maguire to pick out the run of Shaw, who takes the ball down well before winning a corner as he attempted the cross. Donnorumma deals with the corner taken by Fernandes.
First shot of the game from Fernandes! Shaw tees up Fernandes but the Portuguese drives his shot over the bar. Nice link-up play from the pair as they played a double one-two on the left.
Uncharacteristic from Bruno Fernandes as he overcooks a high ball into the box, and the ball sails wide. United in control here but yet to test Donnarumma.
Zlatan and Pogba both on the benches tonight following their return from respective injuries. We'll likely see both of them play a part at some point.
United pressing really high as Milan sit deep. With the Red Devils needing to score, they're not holding back. They've dominated possession in these opening five minutes.
United looking dangerous here as Greenwood on the right flank puts the perfect ball towards the penalty spot, but Rashford is too far ahead of it.
United get the game underway at San Siro!
The teams are on the field and ready to go!
AC Milan warming up ahead of the game, which gets underway in ten minutes (9pm CET, 8pm GMT, 4pm US ET, 1pm US PT).
Betting odds
United are favourites to progress at 2.15, according to Bet365, with AC Milan at 3.4, despite being at home.
Pioli's pre-match comments
The AC Milan is expecting a tough game tonight...
"There will be many difficulties tomorrow, they are very strong. They have not lost for a long time, we will have to play with quality, personality and rhythm to win."
"It's difficult to make predictions, in Manchester they were aggressive and we came out with good ball possession. The result of the first leg cannot affect our game, we can't manage anything but always be dangerous."
Pogba is back for United
Paul Pogba has made his return from injury. The Frenchman starts on the bench but is expected to feature at some point this evening...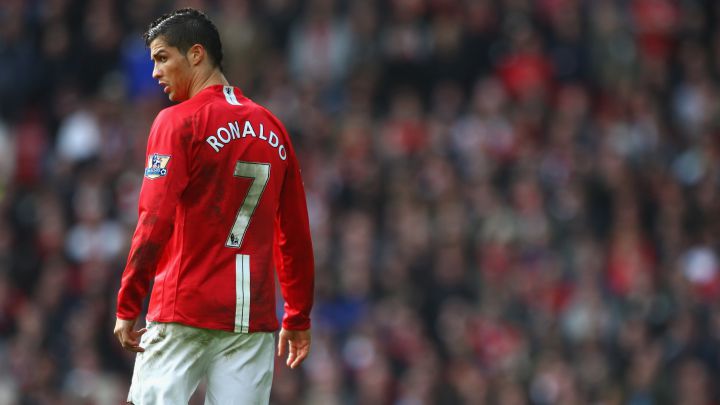 Manchester United rule themselves out of the race to sign Cristiano Ronaldo
United rule themselves out of the race to sign Cristiano Ronaldo
According to Express Sport, United won't be entering into the race to sign their former star. While Cristiano's return was a dream of CEO Ed Woodward, United now have other priorities, and are focused on signing younger players. Read more above.
Manchester United starting XI
No surprises with Solskjaer's team:
Henderson, Lindelof, Maguire, Wan-Bissaka, Shaw, Fred, McTominay, Fernandes, James, Grreenwood, Rashford
AC Milan starting XI
Here is the AC Milan teamsheet:
Donnaarumma, Kalulu, Kjaer, Tomori, Hernandez, Kessie, Meite, Saelemaekers, Calhanoglu, Krunic, Castillejo
Manchester United need to score
Ole Gunnar Solskjaer is still yet to win silverware and this season's Europa League is among his best hopes, along with the FA Cup.
United are already in the quarter-finals of the FA Cup and if they are to book their place in the last-8 of the Europa League, they know they have to score at least one tonight. With the aggregate score at 1-1 after the first leg at Old Trafford, the Red Devilsa are currently losing on away goals.
Welcome
Hello and welcome to our live coverage of the second leg of the biggest tie of the Europa League last 16, as AC Milan host Manchester United at the San Siro. The game gets underway shortly, in the meantime you can follow the build-up with us here.
.