Benzema sitting at top table with Lewandowski and Haaland
The Frenchman appears to be carrying Real Madrid on his shoulders and his current goalscoring numbers have him aligned to the Bundesliga pair.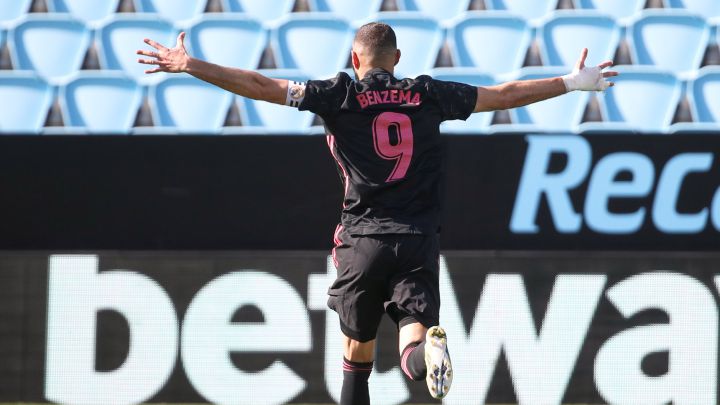 If he is not the complete striker, then he is very close to it. And his manager Zinedine Zidane is happy to wax lyrical about him whenever he gets the chance. Real Madrid's Karim Benzema continued his scoring streak in Vigo on Saturday afternoon and appears as clinical as ever.
Benzema, Lewandowski, Haaland: the goal machines
Since the turn of the year especially, the French striker has carried the scoring responsibility of Los Blancos on his back and he is now on a run of six games finding the back of the net at least once. That has taken him to a rate of a goal every 97 minutes of play. And those statistics put him at the same table as two of the headline-grabbing strikers of the moment: the evergreen Robert Lewandowski and young star Erling Haaland, the latter a potential candidate to succeed him in the Spanish capital. Between the three of them, they scored seven goals on Saturday…and we're getting used to those sort of figures.

That's now eight goals in six games for Benzema and in each of those games he has opened the scoring. At 33 years of age, he is ageing like a fine Cabernet Sauvignon from his homeland. Only Lewandowski of the five big leagues has been able to score in his last six games, and is actually on a run of seven, with a hat-trick against Stuttgart this weekend. Haaland, meanwhile, knocked in two against Cologne.
Just like Benzema, the thirties are proving fruitful for the big Pole, and with a goal every 97 minutes Karim has now surpassed the likes of Kylian Mbappé (116') and also Luis Suárez (127'), Atlético's leading marksman.
Goal records in 2021:
| | | | |
| --- | --- | --- | --- |
| Player | Games | Goals | Goals per min |
| Lewandowski | 15 | 20 | 63 |
| Haaland | 15 | 15 | 87 |
| Benzema | 11 | 10 | 97 |
| Mbappé | 13 | 10 | 116 |
| Luis Suárez | 15 | 10 | 127 |
| | | | |
This goalscoring run is not unique for Benzema, but it has been a while since we last saw it. The other was in 2016, with the team still hugely influenced by Cristiano Ronaldo, in the transition between Rafa Benítez's final game (the first goal) and Zidane's debut season in the dugout. He went on to sore in Zizou's opening five games.
Benzema and nobody else
Mayoral and Jovic (who has gone eight games without a goal after a blistering return to the Bundesliga) are no longer challenging Benzema for a striking place. Mariano and the youth player Hugo Duro are making just the occasional cameo appearance. This leaves Madrid reliant on the Frenchman to lead them on their charge to retain their LaLiga title and reclaim their Champions League crown after two years without it.
Vinicius and Marco Asensio bring their own skills to the pitch but with four goals apiece, neither is proving a suitable substitute. Zidane needs to wrap Benzema in cotton wool and unleash him when required. In the summer, reinforcements will arrive.