Indianapolis Colts: Wentz gets chance to start again with Reich
If Carson Wentz can rediscover a steady level of performance after leaving Philly, the Colts should return to the playoffs. That's a big if.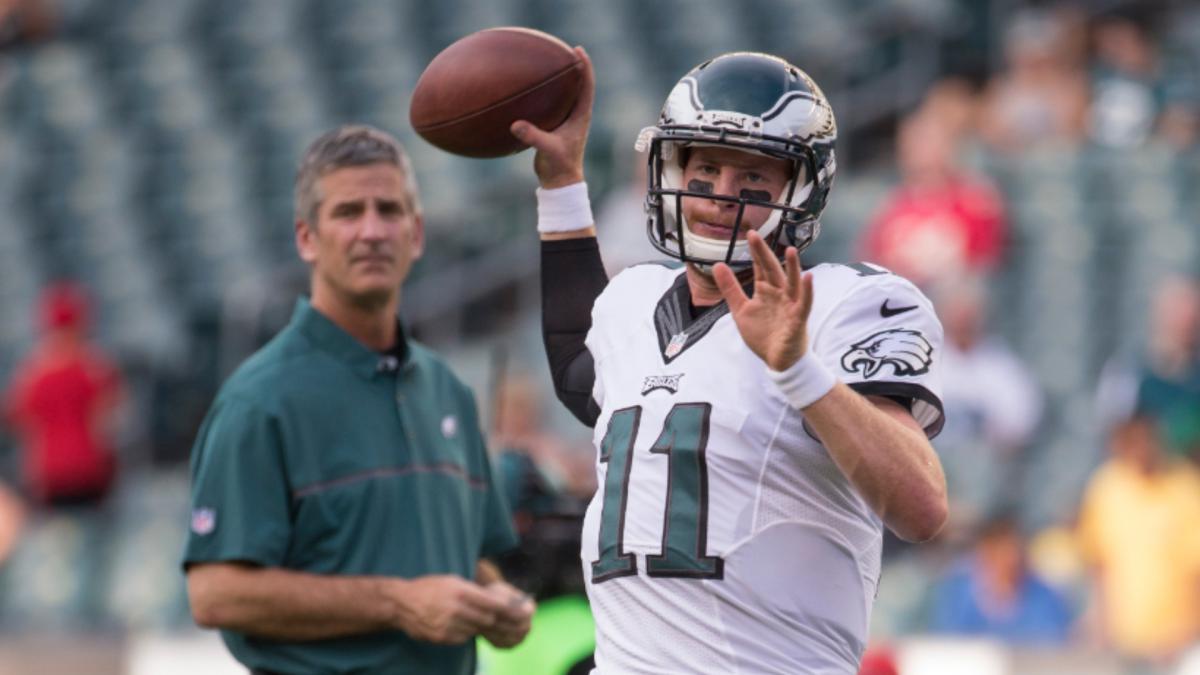 For a second season running, Frank Reich is turning to a quarterback he knows well.
There has been no shortage of churn in the Indianapolis Colts QB room since Reich became head coach in 2018.
Andrew Luck retired before the start of Reich's second season, having won the NFL Comeback Player of the Year award, Jacoby Brissett stepping into the breach only to miss out on the playoffs. That prompted a move for Philip Rivers, who worked with Reich when the pair were together at the Chargers.
But Rivers also retired after leading the Colts to an 11-5 record in 2020.
Having coaxed a relatively impressive final year out of Rivers, Reich backed himself to get a former star firing again. Indy will have Carson Wentz starting under center this year.
Wentz's performance level has badly tailed off in recent seasons for the Philadelphia Eagles, but his impressive early-career displays came when Reich was the team's offensive coordinator in 2016 and 2017.
He will now head to the Colts confident he can rediscover his best form and help a team that competed last season even without significant star power, as Stats Perform data shows.
Offense
Wentz has never been better than he was under Reich.
Boosted by the experience of starting from the outset in his rookie season, Wentz was flying by the time year two rolled around. He threw 33 touchdowns and just seven interceptions for a passer rating of 101.9 in 2017, earning Pro Bowl and second-team All-Pro recognition, but a devastating knee injury kept him from playing a part in the Eagles' Super Bowl success, which came via an improbable run with backup Nick Foles.
There has been a steady decline since Reich departed following that triumph, though, and Wentz led the league in picks (15) and sacks (50) in 2020 despite playing just 12 games.
While the Colts will hope Wentz improves, they do not need the former second overall pick to be an elite QB to maintain last season's standard.
The Colts were unspectacular but comfortably in the top half of the NFL for yards per play (5.86, ranked ninth), yards per game (378.1, 10th) and net passing yards (253.3, 11th) last time out.
The Colts had the second-fewest sacks for negative yardage (19), losing only 133 yards, as the Eagles ranked worst in both regards (61 for 401 yards). Wentz will hope to prove he can perform much better when helped by a superior offensive line.
Rivers was asked only to be solid, though, as Reich preferred a run-heavy approach. Indianapolis kept 44.5 per cent of their plays on the ground last season, compared to Philadelphia's 37.8 per cent.
Rookie running back Jonathan Taylor – with 232 carries (ranking eighth) for 1,169 yards (third) and 11 rushing TDs (joint-seventh) – was relied on consistently in high-leverage situations. Malcolm Brown (28) and Dalvin Cook (27) were the only RBs in the NFL trusted more often on third down (24 carries).
Even the passing offense found a running back – in this case, Nyheim Hines (63 catches) – more often than any other individual receiver.
Defense
Where the 2020 recruitment of Rivers was a low-risk call that ultimately paid off, tiding the team over until the move for Wentz, the Colts went all-in on their big defensive signing.
Happily, that deal has so far been an even greater success.
DeForest Buckner signed a four-year, $84million contract after his trade from San Francisco, where he had been a second-team All-Pro selection and starred in the 49ers' run to the Super Bowl in 2019.
Just realized on this day last year I was traded from SF to INDY. This day changed my life and I will never forget that feeling. Can't believe it's already been a full year!

— DeForest Buckner (@DeForestBuckner) March 16, 2021
Those standards did not slip in Indianapolis as the defensive tackle led the Colts in sacks (9.5), QB hits (26) and tackles for loss (10).
Buckner's reward was a first-team All-Pro selection for the first time and he was joined in that regard by linebacker Darius Leonard (86 tackles), who is still on his rookie contract. The pair contributed to the Colts allowing the eighth-fewest total yards per game (332.1) and the second-fewest rushing yards (90.5), beaten only by champions the Tampa Bay Buccaneers in the latter category.
They should be set to excel defending on the ground again this coming season, but the Colts might be a little more vulnerable through the air, even with Buckner's all-round talents.
Denico Autry, Justin Houston and Al-Quadin Muhammad - their leading three edge rushers, who combined for 17.5 sacks and 22 QB hits – all entered free agency, Autry signing with division rivals the Tennessee Titans.
Offseason
Free agency has been quiet thus far for Indianapolis, but for good reason.
While the Colts have more than $38m of cap space remaining, the team appear to be wisely saving money to pay Leonard, who will otherwise be an unrestricted free agent in 2022.
On the offensive line, Quenton Nelson and Braden Smith are also due a pay day.
The Colts have already looked after two of their own by bringing back cornerback Xavier Rhodes, who defensed 12 passes on his way to two interceptions and a defensive touchdown, and Marlon Mack, the running back who had eight TDs in 2019 but played only once last year before rupturing his Achilles.
If spending remains as modest as suggested, the Colts will have some gaps heading towards a draft where their first-round pick is at 21.
The potential free agency departures of wideout T.Y. Hilton and tight end Trey Burton mean Wentz's receiving corps needs reinforcements, although the second-round tender placed on Mo Alie-Cox helped in that department.
It remains to be seen what the team will do to replace their edge rushers in the wake of Autry's $21.5m deal in Tennessee.
Should the Colts fail to address that issue and leave the onus predominantly on Buckner to pressure opposing quarterbacks, Indianapolis might be back where they started and it will be down to Wentz to ensure they are competitive again.