Odegaard on Real Madrid return: "We'll see what happens in summer"
Odegaard has demonstrated his impressive talents in a game as demanding as the English, and is enjoying the coach's confidence that he was denied by Zidane at Real Madrid.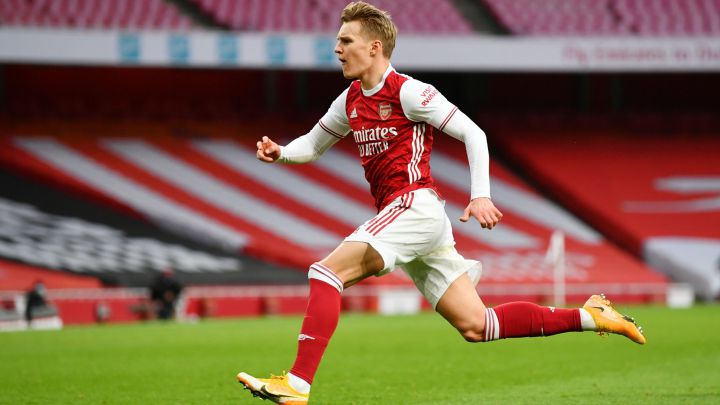 Martin Odegaard continues to improve with each passing game at Arsenal. While it is clearly evident that the Norwegian made the right decision for his career when he asked to leave Real Madrid on loan in January, it is difficult to understand why Zinedine Zidane had given him so few opportunities.
Even in a game as demanding as the English, Odegaard has demonstrated the impressive performance levels he showed on loan at Real Sociedad last season.
He has become the standout performer in Mikel Arteta's midfield, which was particularly noticeable in last weekend's game against West Ham. With the Gunners 3-0 down, the Madridista stepped forward and led his team's 3-3 comeback. The 22-year-old midfielder did not score or provided an assist, but the rest of the team played at the pace he set. After his man-of-the-match performance, former England striker and TV pundit, Alan Shearer, named the young Norwegian in his Premier League Team of the Week.
Odegaard's excellent performances carry extra merit considering how fast he overcame the obstacles that were presented to him. He arrived in London without sufficient match-fitness due to his lack of game time under Zidane; to a new type of football and battling for a place in a first team that had recently discovered the talents of U23 graduate Emile Smith Rowe, one of the sensations of the season.
But none of that has stopped Odegaard: it only took him a few weeks to reach top form, the Premier League suits him well, and he has built up a good understanding with Smith Rowe, whom Arteta has moved out to the wing in order to allow the pair to play together.
Martin Odegaard news:
Odegaard's future at Real Madrid
The level shown by Odegaard in England has only helped to further convince Real Madrid's top brass that he is a fundamental piece in the club's future. However, the one person who is not so clear about his future at Madrid is Odegaard himself.
Asked about his future on Tuesday, the Norway international responded: "I have not thought about what will happen in the summer. The deal with Arsenal is until the end of the season. We will see what happens this summer. I have already said things before that I continue to defend: stability and development are keywords."
Odegaard also went on to laud Arteta, reaffirming his excellent relationship with the Arsenal boss. "I get along very well with him. He is incredible," he said. "I have a lot to learn from him. I just need to 'sharpen my ears' and pay attention."