Morata: "I see Cristiano staying at Juventus"
The Juventus striker spoke to 'El Larguero' and explained that it is perfectly normal that Cristiano is frustrated "because he is so used to winning".
Álvaro Morata is back with the national team and told Cadena SER's El Larguero programme that he is delighted to be back. During an atypical season by Juventus' standards, he spoke about club team mate Cristiano, who has looked increasingly frustrated by the team's results. However, Morata doesn't see the Portuguese ace leaving Turin. As for his own future, he doesn't know whether he will return to Atlético or stay with Andrea Pirlo's side.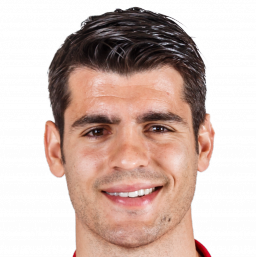 Recovered from coronavirus: "Yes, it was fairly normal. People talk a lot about it without really knowing. A lot of people have it, my doctor told me. You might have a fever for a couple of days, which is what happened with my son, when you are older, you usually get it when your defences are low. I didn't feel well. I felt dizzy out on the pitch. I wasn't well for two or three games. I asked to be taken to hospital, I had a problems with one of my toes, my spleen and liver. I had to treat my recovery as though it was the pre-season".
Atypical season: "Yes, it's been quite strange and tough. Sometimes I only get to go home once a week. Before, I would go everywhere with my family but now we have to do other things. I've even started painting. The kids enjoy playing and they are growing up so quickly".
Thrilled to be back with Spain: "I'm comfortable living in Italy, I feel at home, but coming home is always a happy moment. Right now I can't see many of the people I love but I am enjoying being with the lads in the squad, we have a lot of fun".
Young players with the national team: "There are a lot of new faces, a lot of younger players. You see Pedri and you can chat to him. At his age I was quite clueless. They seem very mature. It's great to see them with the national team and watch how they react to it. When I first was called up, I didn't even see the ball because I was so nervous".
What level is Spain at compared to other countries? "There's France, Italy, who are always difficult to play against... Holland, who I like a lot… and not forgetting Belgium... Portugal are always up there… We shouldn't think that we are below any team although we still haven't hit our peak. We have to keep a positive outlook and stay upbeat. We are no worse than any other team. Just look at how we beat Germany - a side with an attack valued at 300 million euros".
Tough season for Juve: "Small details were what decided the Porto game. We are all to blame. If I had scored that header in the first half we would be in the quarter finals. But you have to look on the positive side. We won the Super Cup, we have another Cup final against Atalanta. We have to look at this season as one of change. Some things can be improved and that all there is to it".
Cristiano bore the brunt of much of the criticism: "We have all been criticised but no one in the team has won as many trophies as he has. It has affected all of us and whoever says it hasn't is lying. I am the first to know when I receive criticsim. I'm sure he will know when he is critcised too. I don't have to explain who Cristiano is because we all know".
Relationship with Cristiano and thoughts on his future: "We talk about everything apart from football. We spend a lot of time together and when we aren't playing we talk about all kinds of subjects, life, the world we live in. We talk about the pandemic situation in Spain, in Portugal…"
Cristiano's frustration for the team's situation: "He gives that sensation because he is so used to being at the top. It's nothing to do with Juve because he would be the same at any other club. He seems happy to me but the thing is, he is so used to winning that it's understandable he feels disappointed - as we all do, but he's happy at Juve".
Chances of Cristiano returning to Real Madrid? "I've never thought about that. A few years ago a friend asked me the same question but you know I am not going to answer. I want Cristiano to stay at Juve because I want Juve to have the best players. I hope to have him near but I'll be pleased with whatever he decides to do that makes him happy".
Your future: "When you are out on loan, your opinion counts for little. I was happy at Atleti and I am happy at Juventus. I'll know by the summer. I'm happy here. It's the start of a new project".
Best wishes for Atlético: "I hope Atleti win the league for what it will mean to them. I talk to all of them a lot. I wish the best for Koke, a Saúl, Marcos, Jan… When you are there, inside the club, you realise what it means, what they represent".
Mbappé or Haaland: "Mbappé has shown what he can do more than Haaland but Haaland is flying. They are very different players. Haaland will become the world's top centre-forward. I think Mbappé will succeed at every level because he has so many facets to his game - he can dribble, he's strong, he has quality and whenever I have chatted to him when we have faced each other, he comes across as a really nice guy".