INTERNATIONAL FOOTBALL
Mbappé, Neymar, Félix, Kane... most valuable national team XI
French newspaper L'Equipe has analysed the player transfer valuations provided by CIES and pulled together a list of the most expensive international teams.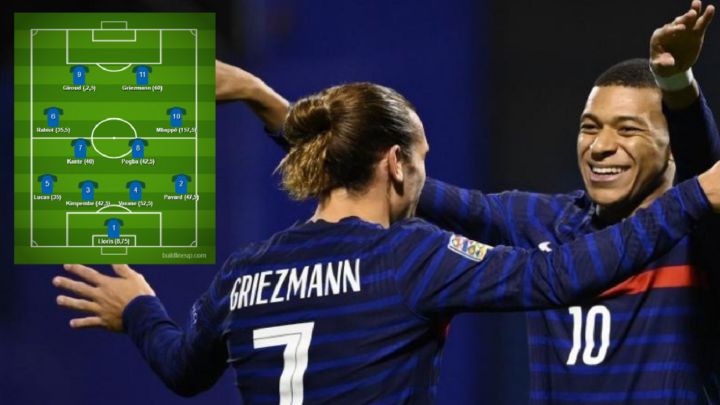 Despite being the current World Cup champions, the French national team does not have the most expensively valued starting XI. According to French newspaper L'Equipe, who has analysed the numbers put forward by the CIES Observatory, their national heroes are currently fourth in the list. (Clearly, some of the valuation could be challenged as to what would happen in an actual transfer market).
England national team: most valuable XI
The table is headed by England with a market value of $742.95 million (€628.3m). Gareth Southgate's side have an attack that boasts Harry Kane $133m (€112.5m) and Rashford $138.9m (€117.5m) as well as a host of young stars that bode well for the nation's future. As stated, L'Equipe estimates are taken from CIES which are based on the latest squad information.
The France XI chosen by L'Equipe has the following valuation: Lloris $10.6m (€9m), Pavard $56.8m (€48m), Varane $62.7m (€53m), Kimpembe $50.9m (€43m), Lucas Hernandez $41.4m (€35m); Pogba $50.9m (€43m), Kanté $47.3m (€40m), Rabiot $46.1m (€39m), Griezmann $71 (€60m), Mbappé $186.8m (€158m) and Giroud $3.6 (€3m). It's worth noting that Kylian Mbappé's market value has dropped - as recent as a year ago the PSG star was worth $236.5m (€200m) - not due to any downturn in form, but because his contract in Paris is running out.
Second in the ranking is Portugal, with a market value of $669m (€565.8m). According to CIES, Cristiano Ronaldo is worth $50.25m (€42.5m), while the values of João Félix and Bernardo Silva are $127.1m (€107.5m) and $103.5m (€87.5m) respectively. The third XI on the list take us away from Europe, although many of Brazil's talent is showcased in UEFA leagues. Neymar, valued at $96.4m (€81.5m), is backed up with the likes of Firmino, Coutinho, Fabinho, Alisson, Jesus and others.
Interestingly, Spain is sixth in the table, with Man City's young Ferrán Torres deemed the most valuable in the first XI at $91.6m (€77.5m).