USA U23 vs Mexico U23: what does USA need to do to qualify for the Olympics?
Eight countries from the CONCACAF confederation are battling for the two remaining places at the Men's Olympic Football Tournament Tokyo 2020.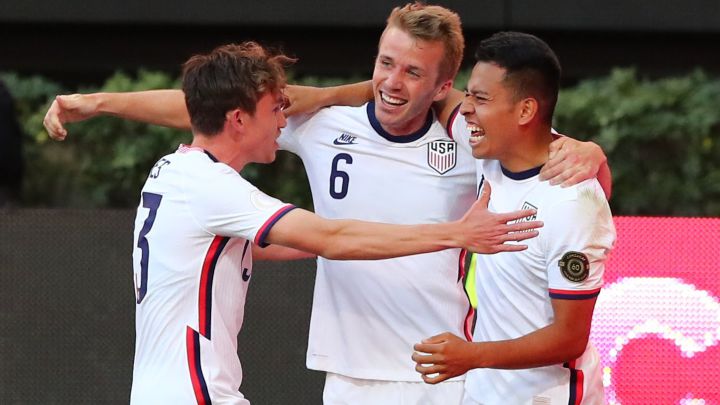 Mexico U-23 vs USA U-23 live: Concacaf Olympic Qualifying Game
The US Under-23 side are still on course to book a place at the Olympics, with the CONCACAF qualifying round continuing in Mexico with eight teams battling it out to secure the final two outstanding berths in the men's football competition at the forthcoming Tokyo 2020 Olympics, taking place in the summer of 2021 due to the covid-19 pandemic.
Guadalajara and Zapopan are the two Mexican cities hosting matches from the group stage to the final. The eight sides that qualified for this final stage are placed in two groups of four. Group A features: Mexico, Dominican Republic, Costa Rica and the United States with Haiti, Honduras, Canada and El Salvador in Group B.
USYNT need to reach the final to book their place at Tokyo 2020
The USA U-23 side started their campaign well with Jesús Ferreira hitting the only goal in the 1-0 win over Costa Rica. They followed that with a comprehensive 0-4 win over the Dominican Republic with goals from Jackson Yueill, Hassani Dotson and Djordje Mihailovic.
That leaves them level with Mexico on six points at the top of Group A, with the US in second place due to a slightly inferior goal difference (+5). So top spot in the group will be in play when Mexico and the US meet in Guadalajara later this evening. Both have already done enough to merit their place in the semi-finals – the team who finishes top of Group A will face the team that finishes second in Group B and vice versa. The semi-finals will be played at the Jalisco stadium in Guadalajara on 28 March.
As things stand, Honduras and Canada are expected to progress from Group B; they are tied on four points in their qualifying section with Honduras top on goal difference. They will contest top spot when they meet tomorrow.
Mexico U23 vs USA U23 : how and where to watch
The winners from both semi-finals will progress to the final, which will be played in Zapopan on 30 March. Both finalists will be among the 16 nations taking part in the Men's Olympic Football Tournament Tokyo 2020 which will take place in six cities from 23 July to 8 August 2021. Along with tournament hosts Japan, the other qualified teams are: Argentina, Australia, Brazil, Ivory Coast, Egypt, France, Germany, Korea Republic, New Zealand, Romania, Saudi Arabia, South Africa and Spain.