F1 2021: how to watch on TV and online all season in the US
F1 is back. The 2021 F1 season got underway in Bahrain this weekend – the first of 23 races programmed. Here is how you can follow each one on television or online.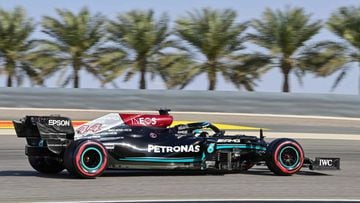 F1 is back. Max Verstappen put Red Bull on pole position for Formula One's season-opening Bahrain Grand Prix on Saturday, with seven times world champion Lewis Hamilton alongside on the front row for Mercedes. It was the first time in the sport's V6 turbo hybrid era that began in 2013 that Mercedes, winners of the drivers' and constructors' championships for the past seven years, had not taken pole for the first race.
The FIA have made a number of changes to the regulations for the 2021 season, and the calendar has also been modified and extended with 23 races and will end in Abu Dhabi on 12 December. The Australian and Chinese Grands Prix have been switched to later in the year while two new Grands Prix have been added - the Dutch Grand Prix at Zandvoort and Saudi Arabia GP in Jeddah.
How can I watch the 2021 F1 season on television in the US?
In the United States, ESPN and ABC acquired the broadcasting rights to provide live television coverage of the 2021 F1 season either through pay TV channels or free-to-air. ESPN+ will broadcast all practice and qualifying races across their network, which includes their Spanish language channel, ESPN Deportes.
F1 2021 season dates, venue and TV coverage
26-28 March Bahrain GP (ESPN2)
16-18 April Emilia Romagna GP (tbc)
30 April-2 May Portuguese GP (ESPN)
7-9 May Spanish GP (ESPN)
20-23 May Monaco GP (ESPN2)
4-6 June Azerbaijan GP (ESPN)
11-13 June Canadian GP (ESPN2)
25-27 June French GP (ESPN)
2-4 July Austrian GP (ESPN)
16-18 July British GP (ESPN)
30 July-1 August Hungarian GP (ESPN)
27-29 August Belgian GP (ESPN2)
3-5 September Dutch GP (ESPN2)
10-12 September Italian GP (ESPN2)
24-26 September Russian GP (ESPN2)
1-3 October Singapore GP (ESPN2)
8-10 October Japanese GP (ESPN2)
22-24 October United States GP (ABC)
29-31 October Mexico City GP (ABC)
5-7 November Brazilian GP (ESPN2)
19-21 November Australian GP (ESPN News)
3-5 December Saudi Arabian GP (ESPN2)
10-12 December Abu Dhabi GP (ESPN2)
Follow F1 2021 online
In the US, ESPN+ will offer a live streaming service available on multiple devices through its ESPN+ Ios/Android app. Other broadcasters providing streaming coverage include F1 TV, the Official F1 App and Sky Sports. Most are free but some will include charges.