LaMelo Ball: Once-in-a-generation star taking the NBA by storm with the Hornets
LaMelo Ball's former coach Matt Flinn spoke to Stats Perform News about the 19-year-old point guard's first year in the NBA.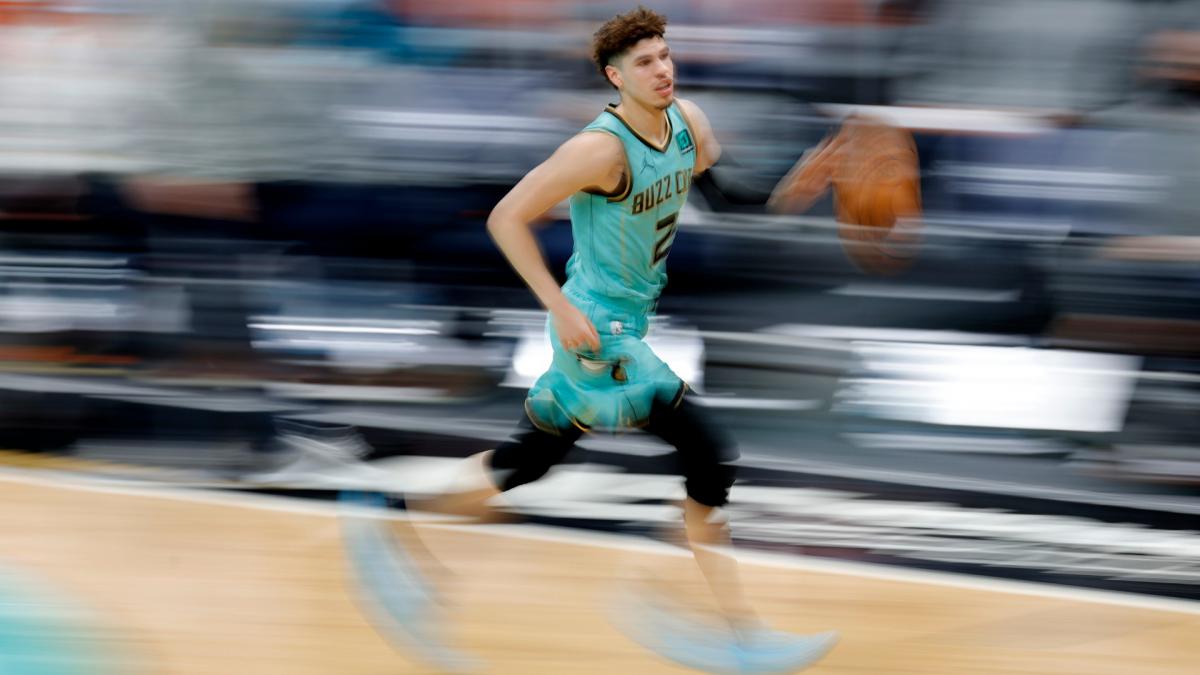 It is safe to say LaMelo Ball has hit the ground running in the NBA. The hype has long followed Ball and his rise in the basketball world, dating back to his high school days. His outspoken father tipped him to be a future number one draft pick – LaVar talking up his son at every turn.
While he was not the first name called on Draft night last year, LaMelo – the younger brother of New Orleans Pelicans guard Lonzo – has lived up to his billing since the Charlotte Hornets used the third pick on the 19-year-old sensation.
Prior to suffering a wrist fracture in March, Rookie of the Year favourite Ball ranked first in assists and steals among rookies, second in scoring and is tied for second in rebounds. The face of an emerging and exciting franchise boasting Gordon Hayward, Terry Rozier, DeVonte Graham and Miles Bridges, Ball was the only player over the last 60 years to lead all rookies in total points, rebounds, assists and steals at the All-Star break.
Ball in good company
Last month, Ball joined Stephen Curry (2010) and Jason Kidd (1995) as the only rookies with seven-plus threes and 10-plus assists in a game and was the youngest to do so. He also became the youngest player in NBA history to record a triple-double in January.
"I'm really pleased for LaMelo that, not only has he gone to a situation that allows him to showcase what he can do, but the people around him from top to bottom really care about his development as a player and a person," Matt Flinn, who coached Ball during his time with the Illawarra Hawks in Australia's NBL prior to the draft, told Stats Perform News. "We keep forgetting he's only 19. Can you imagine in three years when he's 22? Doing what he's doing now is quite special. In three or four years' time, he's going to be a superstar of the NBA."
Ball's playmaking ability has been on show throughout the 2020-21 campaign, right up until he hurt his wrist against the Los Angeles Clippers and underwent surgery – the fracture was reported to be potentially season-ending, though the Hornets have not ruled out a return. By 25 March, he had featured in the top 20 for assist percentage (33.4), a list including experienced stars, champions and former MVPs like Russell Westbrook, Luka Doncic, James Harden, Trae Young, LeBron James, Nikola Jokic, Chris Paul, Jimmy Butler, Damian Lillard, Draymond Green, John Wall, DeMar DeRozan, Curry, Ben Simmons and Kyle Lowry. His assists/turnover ratio stands at 2.18 – better than Los Angeles Lakers legend James.
Ball's numbers
"You just look at his numbers – possessions plus assists, if you look at the guys with more than 800 possessions, he's sitting in the top 25 in the NBA. When you go through the list, the guys on that list, it's quite incredible for a 19-year-old," Flinn said, having tipped Ball to flourish in the NBA during a pre-draft interview with Stats Perform News. "When we recruit guys, we look at assist/turnover ratio. Again, that's testament he's hitting the positive column for his usage rate. The ride for LaMelo is just beginning."
Through 41 games, Ball is averaging 15.9 points, 5.9 rebounds and 6.1 assists this season in just 28.6 minutes per game. He would be the first player in NBA history to average 15/5/5 in less than 30 minutes per game in a season (minimum 40 games played), per Stats Perform. When you compare his first 41 games to some of the past and current greats at the same stage, Ball ranks well.
His points-per-game average is better than five-time champion and Lakers great Kobe Bryant (7.0 in 1996-97), former MVP Harden (9.8 in 2009-10), Curry (13.4 in 2009-10), Steve Nash (4.5 in 1996-97) and Jason Kidd (9.4 in 1994-95). When it comes to his assists numbers, Hall of Famer Michael Jordan (5.1 in 1984-85) – the owner of the Hornets – Nash (2.9), Dwyane Wade (4.3), Harden (2.1), Curry (4.6) and Kyrie Irving (5.7 in 2011-12) did not fare as good as Ball.
Rebounds
Highlighting his versatility, Ball's rebound average is better than Irving (3.8), Curry (3.8), Harden (3.2), Wade (4.4), Bryant (2.0), Nash (1.3), Kidd (5.7) and Allen Iversen (4.2 in 1996-97). "It really doesn't surprise me," Flinn said when asked about some of the record-breaking numbers. "I'm not just saying it because the level of belief is probably the first thing that struck me about LaMelo. This kid was just born to play. You get a lot of players who are manufactured and they do an incredible amount of work, we put them in boxes in their roles they fulfill in teams. LaMelo really has no ceiling. You just have to look at him in transition and some of the passes he executes in the game.
"In transition, to be able to thread a needle and put the exact amount of spin on it so it holds up to hit a guy running at speed, you can't coach or teach that. Prior to him coming to me and going to Charlotte, he copped a lot of criticism, his family copped a lot of criticism for the show, whatever he did within his journey etc, but they've done an incredible job in the point leading up to me," he added. "Having allowed him to fail at times in some of the games he played. You look at the old mainstream coaching, 'Well we put accountability on our players and if you turn it over or don't stick to the system, we're dragging you'. That never happened with him during his pathway. They're certainly seeing the benefits of that now because when you strip it back now, he is a disciplined, great kid, who genuinely cares about his team-mates and makes people better around him. I'm so happy that he appears to have found his feet."
Flinn – who believes the Jordan-led Hornets have the potential to be a powerhouse in the next five years – added: "What I tried to do with him and what [Charlotte head coach] James [Borrego] is doing as well, even though you might be in a half-court situation, you try to get him downhill. When he gets downhill, he has so many escape routes when he commits. He will contest at the rim, he will leave his feet and have three escape routes. For me, that's the real special nature of his play. Always the question mark was his ability to shoot the ball [Ball is shooting at 45.1 per cent]. He will continue to get better shooting the ball no question. That will bring in a whole new dimension on how you defend him out of the pick and roll. He's still good enough to work in tight spaces. The first time I saw him throw a full-court baseball pass to hit a guy straight in the chest, I'll be honest, I thought 'what are you doing?'. But he rarely fails with those kinds of plays. He just has that unwavering belief. I said to him one time, 'if you weren't playing basketball, you'd probably be a quarterback given your arm and ability to read a player'. It's unique."
Ball was the favourite to be crowned the 2020-21 Rookie of the Year before he was struck down by injury. Does he still deserve the award? "I might be biased but I really hope so. He is a once-in-a-generation player for the NBA," added Flinn, who said Ball would be devastated following the wrist injury as he "lives, eats and sleeps basketball". I believe he'd take winning over anything, but it would be something he'd deserve given the body of work he's been able to produce so far. I don't think you'd have too many arguments."