Benzema aiming for first Pichichi trophy
The French forward is aiming for his first Pichichi trophy in LaLiga. Last season, he came close to winning. When at Lyon, he finished top scorer in Ligue 1 on one occasion.
To be Pichichi (top scorer) in LaLiga: this is the challenge that Karim Benzema has to face coming into the business end of the season. The French forward was the top scorer in Ligue 1 in the 2007-08 campaign, when playing for Lyon, scoring 20 goals in 36 games. However, since he landed in Madrid, he has not managed clinch the equivalent title in Spain. The main factor that prevented him from achieving it was the presence of Cristiano Ronaldo. The Portuguese star, his teammate between 2009 and 2018, was top scorer in three seasons: 2010-11, 2013-14 and 2014-15, with good help from the French forward, who assisted him in a good number of goals.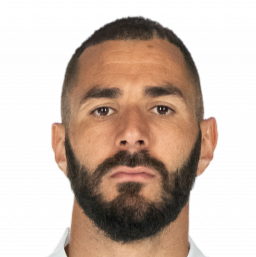 So far this season, Karim has 17 goals. Ahead of him in the goalscoring charts are Leo Messi (23 goals) and Luis Suárez (19). He has 10 games left to climb above his two rivals. Looking at his scoring records in the last ten days of the previous two seasons, in the 18-19 campaign, Benzema scored eight goals in the final stretch of the season, while a year later notched seven in the campaign, the one in which he come closest to being proclaimed top scorer, reaching 21 goals to Messi's 25, the top scorer in the league.
Benzema in rich vein of form
But there are reasons for optimism, with the two goals he scored against Celta in the last league match, Benzema has matched his best streak of matches for consecutive goals. He has taken advantage of Madrid's good spell, scoring in the last six games he has played (both in the league and in the Champions League). During this run, he has scored eight of his 23 goals this season (34.78%). The 33-year-old scored against Getafe, Valencia, Atlético de Madrid, Elche and Celta (two goals in the last two games).
On Saturday, Madrid's number one forward has a new challenge ahead: scoring versus Eibar. It may seem like a no-brainer, but if he does, the Frenchman will have scored in six league games in a row. Up until now, he has gone on runs of scoring in five games in a row, but only once with six games. It happened in the 2015-16 campaign, when he scored eight goals against Valencia, Deportivo (two), Sporting (two), Betis, Espanyol and Granada, something he did between January and February 2016, in Rafael Benítez's last game and the first few under Zinedine Zidane.