De Jong integral part of Koeman's systems at Barcelona
The Dutch player's versatility allows Koeman to change systems during games, from the new 3-4-2-1 to 4-3-3, without making substitutions.
Frenkie de Jong place in the Barcelona starting eleven has become indisputable, something that can be backed up by his numbers in the 2020/21 campaign. He is the player who has played the most minutes in the Barça squad (3,610 in 41 games), even ahead of Leo Messi (3,252). De Jong has also made the most passes in LaLiga. With 2,129, he is ahead of Pedri (2,000), Sergio Busquets (1,880) and Toni Kroos (1,895).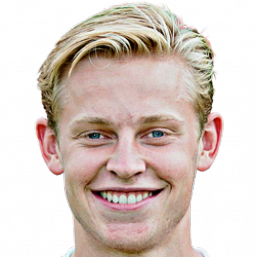 Koeman has been key in the 23-year-old's second season for the Blaugrana. After the 4-1 defeat to PSG and the 1-1 draw against Cádiz, the Barça coach began to turn his head. Against Elche (3-0), Barça were not good either. Something had to be done, and it occurred to Koeman to focus on wide play with a 3-4-1-2 formation. The three central defenders were usually from the list of Piqué, Mingueza, Lenglet, Umtiti and Araújo. But Koeman took another step. It was in Paris. To fit Griezmann into the starting eleven, he took out a centre-back and placed De Jong as the sweeper. The experiment, despite the fact that the Dutchman sometimes suffers in defence due to his lack of aggression, has worked. It has an added value.

The presence of De Jong allows Koeman to be tactically flexible mid-game and to go to a 4-3-3, pulling back the wing-backs and moving De Jong forward to play with Pedri in a three-man midfield with two wide forwards and a nine. De Jong has played as a sweeper, but the change the role has a bittersweet taste. When Koeman went from 4-2-3-1 to 4-3-3, De Jong played his best games for Barça. In a more advanced role he became a proper threat, already scoring six goals, tripling his figures from last season and even bettering his record at Ajax. De Jong was outstanding in the Copa del Rey matches against Rayo Vallecano and Granada, in LaLiga and in the Super Cup against Real Sociedad.
De Jong becoming the complete midfielder
Koeman has given him the licence to get forward, arriving on the end of crosses and being in a position to score, but the coach has also deployed him in defensive postions to add to his all-round game. There are pros and cons to having him in the various positions, however, he is becoming an integral part of the setup that enables Koeman to work with two systems over 90 minutes. Between his club (3,610 minutes) and the Netherlands (765 minutes), he has already amassed 4,375 minutes of football this season.