Third stimulus check: can I track my payment by mail?
According to the latest data from the IRS, 15 million paper stimulus checks were sent out by mail last week with another batch set to go out before the weekend.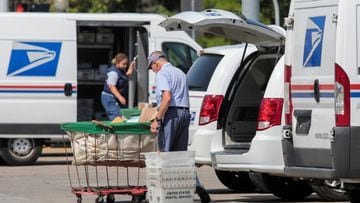 It is estimated that around 127 million Americans have now received their stimulus check, most of those payments were issued straight into individuals' bank account by direct deposit. Around 107 million payments were sent out in this way but the remainder have been mailed out through the post – either as a paper check or on a prepaid EIP debit card. Over 15 million paper stimulus checks (with a total value of nearly $34 billion) were mailed out by the United States Postal Service (USPS) and approximately 5 million prepaid EIP debit cards (with a total value of around $11 billion) have also been sent through the post to individuals' home addresses – the address that is on file at the IRS.
SSI recipients should get their checks next week
Stimulus payments to Social Security (SSI) recipients and other federal beneficiaries who do not normally file a tax return have suffered delays but are expected to go out this week and should be received on Wednesday 7 April.
If you haven't signed up for direct deposit with the IRS, the quickest and easiest way to make sure they have your contact details is by filing your 2020 tax return with your current home address. If your payment can't be delivered to you for any reason, it will be returned to the IRS.
If that happens, you must request that your payment is reissued into your bank account by direct deposit. This can be done through the Get My Payment tool on the IRS website. Get My Payment is the only option available to get your payment status – the Where's My Refund and Online Account tools will not provide the status of your Economic Impact Payments.
How to set up direct deposit with the IRS
If your payment was sent but not delivered and returned to the IRS, consult the Get My Payment tool. You may see the message: "Need More Information,". Click on the button that says "Direct Deposit," then answer the series of security questions before completing the direct deposit form. At this point, you can enter a routing and account number for your current bank account, prepaid debit card or alternative financial product that has a routing and account number associated with it.
If your bank information is invalid or the account has been closed, the bank will return your payment to the IRS and it will be mailed to you by paper check at the address which the IRS has on file.
In some cases, you may be sent your stimulus payment on a prepaid EIP Card debit card sent by US Mail. This will arrive in a white envelope marked with the US Department of the Treasury seal and a return address from "Economic Impact Payment Card." The blue debit card has the VISA name on the front and the issuing bank, MetaBank®, N.A., on the back. Information included with the EIP Card explains that this is your Economic Impact Payment. If you receive an EIP Card, you will need to activate it; visit EIPcard.com for more information.
The only way you can track your stimulus check is through the Get My Payment tool. The tool will let you know how and when you will receive your payment. The IRS only updates the Get My Payment tool information once per day, usually overnight. If for some reason you have been locked out or cannot access the Get My Payment tool, you must wait 24 hours and try again. Another way of finding out what has happened to your stimulus check is by consulting the USPS free service Informed Delivery which provides information about all of the letters and parcels that have been posted to your address.