AFCON 2021: 23 participating teams now determined, Benin vs Sierra Leone game cancelled by covid-19
23 national teams participating in the upcoming 2021 AFCON in Cameroon have been determined following the last round's fixtures held on Tuesday, with only one spot left.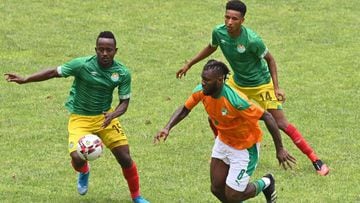 The remaining games of the AFCON qualifiers sixth round were held on Tuesday and 23 of the teams participating in the forthcoming event to be held in Cameroon have now been determined with Mauritania, Ethiopia, and Malawi, and Cape Verde being added to the list. Second spot of the last group hasn't been decided yet due to the cancellation of the encounter between Benin and Sierra Leone.
AFCON confirmed participating teams
The list of participating teams now comprises Egypt- Guinea- Burkina Faso- Mali- Algeria- Tunisia- Cameroon- Senegal- Gambia- Comoros- Equatorial Guinea- Zimbabwe- Gabon- Gambia- Sudan- Nigeria- Ivory Coast- Morocco- Malawi- Mauritania- Ethiopia- Guinea Bissau- Cape Verde.
Mali and Guinea have secured their berths in the competition with the former having earned 13 points out of the six qualifying games while Guinea came as second in Group A on 11 points. In group B Burkina Faso secured the top spot with their 12 points, 2 clear of the second place occupant Malawi who guaranteed their qualification in the last round's game.
Ghana qualified on top of Group C having gained 13 points, while Sudan came in second on 12 points, whereas Gambia and Gabon booked Group D qualifying spots as both managed to claim 10 points, one point ahead of Democratic Congo who came in third and lost their chances of qualification.
Morocco top Group E
Morocco finish top of Group E on 14 points followed by Mauritania who determined their qualification on the last matchday of the qualifiers by reaching their 9th point to secure their participation in the competition for the second time in history.
The host country Cameroon finished as Group F winner with 11 points earned while Cape Verde came in second one point behind after their win over Mozambique in their last qualifier's game.
The record seven-time champions Egypt qualified as Group G leaders having finished their campaign with a thrilling 4-0 victory over Comoros who qualified as second of the group. In Group, H Algeria have racked up 14 points to qualify as the group winner whereas Zimbabwe finished second despite their 2-0 defeat to Zambia in the last round.
Senegal and Guinea Bissau secured the spots of Group I, while Tunisia and Equatorial Guinea booked the qualifying spots for Group J.
Despite losing to Ivory Coast in the last round of qualifiers Ethiopia remained in second place of Group K while Ivory Coast secured the top spot on 13 points.
Last participant still unknown:
The game-deciding the second qualification ticket of group L between Benin and Sierra Leone was  postponed as health authorities in Sierra Leone declared that six of Benin players have tested positive for covid-19.
Benin expedition condemned the test results labeling it a conspiracy aiming at granting Sierra Leone the second qualifying spot of the group behind Nigerians who sit top of the group on 14 points. Benin are currently in second place with 7 points earned followed by Sierra Leone who have only 4 points.