Harden, Durant, Irving, Griffin and Aldridge: Brooklyn Nets dubbed 'the Monstars' in NBA title bid
Former Brooklyn Nets centre Jason Collins spoke to Stats Perform News about the star-studded franchise and their title aspirations.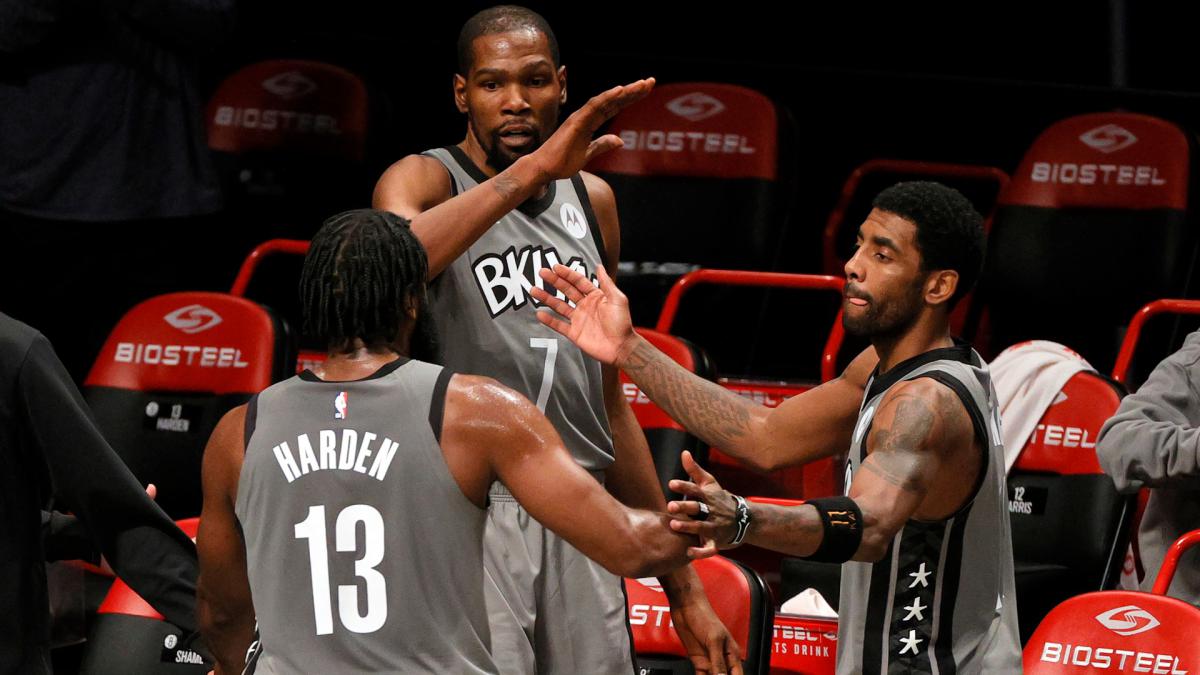 The Brooklyn Nets are well and truly stacked for a championship run. If superstars James Harden, Kevin Durant and Kyrie Irving were not enough, the Nets turned to the buyout market and acquired former All-Stars Blake Griffin and LaMarcus Aldridge.
The Nets now boast a combined 41 All-Star appearances on their roster – Durant (11), Harden (nine), Aldridge (seven), Irving (seven), Griffin (six) and DeAndre Jordan (one). On the all-time list, only the Boston Celtics have managed more, across three different teams in 1977-78 (42), 2011-12 (43) and 2010-11 (56).
Jason Collins was part of the franchise, then known as the New Jersey Nets, that reached back-to-back NBA Finals in 2002 and 2003, and he told Stats Perform News: "I know KD and James have played together in the past [with the Oklahoma City Thunder]. Kyrie, at this point, realises this team is something special, especially when you're adding Blake and LaMarcus, and already have DeAndre Jordan.
"All of these guys recognise they are playing for a championship. They might only get one shot, these newer guys who haven't already won. This team reminds of me of the Houston Rockets from a few years ago when they had Chris Paul, who was clicking on all cylinders, and Harden. Then Chris got injured. They had a shot to beat the Golden [State] Warriors that season.
Booklyn's Monstars tipped for NBA Space Jam
"I'm not here to be an All-Star, that's not what I'm trying to do. I'm trying to bring value, bring the things I'm good at, and try and help the team win."

Watch @aldridge_12's full first media session as a Brooklyn Net 

— Brooklyn Nets (@BrooklynNets) March 30, 2021
"Now, you see with the Nets – you have these tremendous playmakers. If one goes down or has an off night, oh by the way, you have two other guys who can make plays and for team-mates who are former All-Stars. They have a squad right now. I know Space Jam is coming out soon, maybe we're getting a glimpse at the Monstars."
The foundations were set last season, when Durant – recovering from an Achilles injury that meant he sat out the entire 2019-20 campaign – and Irving made the move to Brooklyn via the Golden State Warriors and Celtics respectively. But the Nets cemented 'superteam' status after trading for former MVP Harden in January.
There were question marks when first-year head coach Steve Nash and the Nets acquired Harden from the Rockets, with the three-time NBA scoring champion, Durant and Irving predominately ballhandlers.
Harden, Durant and Irving, however, have managed to make it work in the small time spent on court together – Durant has been absent since February due to a hamstring injury, having also sat out because of health and safety protocols, while Irving has also missed time this season.
Per 100 possessions, Harden – who has a franchise record-equalling 12 triple-doubles this season – has been averaging 21.1 points, 15.1 assists, 9.4 rebounds and 13.9 field-goal attempts when sharing the court with Durant and Irving.
Durant's numbers read 32.8, 3.5, 9.2 and 23.8, while Irving is averaging 31.3, 5.5, 6.7 and 21.3 at the same time.
Despite the continued absence of former MVP and two-time NBA champion Durant, the Nets have won 19 of their past 22 games to top the Eastern Conference.
Prior to Wednesday's win over the Houston Rockets, the Nets have been leading the NBA in points per game and field goal percentage this season – only the Stephen Curry-led Warriors (2015, 2016, 2017 and 2018) and the Nash-led Suns (2006, 2007, 2009 and 2010) have managed to do that in the last 30 years. As of March 30, the Nets were also leading the league in points.
In terms of effective field-goal percentage, the Nets (57.6 as of March 30) are on pace to set an NBA record, which would eclipse the 2017-18 Warriors (56.9).
Collins: "The coaches are doing an excellent job"
"For all the injuries and the games that have been missed by one or all of those superstars, they have been doing great. Especially when you have new talent coming in, new pieces," said Collins, who spent his first seven years in the NBA with the Nets before leaving in 2008 and returning briefly in 2014. "It takes a while. Sometimes it can take half a season and in this shortened season, they're doing great. You have to tip your cap to the players, but the coaches, they are doing an excellent job making sure all the pieces are fitting.
"You're still adding the mix with LaMarcus and Blake. It seems he has found his ability to jump and dunk, it's glad to see his body is responding well. It's pretty obvious to see with this team that they're not necessarily playing for positioning in the regular season, this team is built for the postseason. That is why I think they're being so cautious with KD and his return. My hats off to Kyrie Irving for recognising that he needs to step away from time to time.
"With Harden, in his mind he is the MVP. A lot of people who follow the NBA are recognising the James Harden who started the season with the Houston Rockets, that guy is no longer in the building. The guy in the building in Brooklyn is the guy we have seen for the past several years, who is an MVP candidate."
Harden's 11.2 assists per game this season is on pace to be the most by a player averaging 25.0-plus points since Tiny Archibald averaged 11.4 in 1972-73 (as of March 30). He, Irving and Durant dominate the headlines, but the likes of Joe Harris, Nicolas Claxton, Bruce Brown and Landry Shamet have proved to be an effective support cast in a further sign of frightening depth.
"When you're going to go up against them [Durant, Harden and Irving], you're going to have to leave someone open and it's going to be those other guys. I think Shamet will be huge in the playoffs, Harris also," Collins, the 42-year-old former center, said.
"Just because of reputation, you're going to be hesitant to leave DeAndre Jordan, if you're the center, you know you can't let him get behind because you know it will be a dunk. So, you're afraid to step up and help. With those big three, you're not going to leave them either so it's going to be the others on the guard – a shooter or somebody who is going to get a lot of good looks."
Steve Nash putting the pieces together in Brooklyn
Eyebrows were raised when the Nets appointed two-time MVP Nash to replace Kenny Atkinson ahead of the season, despite his lack of coaching experience.
The Nets were coming off a first-round playoff exit inside the Orlando bubble last season when they handed Hall of Famer Nash his first head coaching role.
But Nash – supported by veteran Mike D'Antoni in Brooklyn – has impressed from the outset, juggling a superstar trio, injuries and the coronavirus pandemic in the pursuit of NBA glory.
An NBA ring eluded Nash during his stellar playing career, but a championship in his first season as head coach would see him follow in the footsteps of Toronto Raptors coach Nick Nurse (2019), Los Angeles Clippers coach Tyronn Lue (Cleveland Cavaliers in 2016), Warriors counterpart Steve Kerr (2015), Pat Riley (Los Angeles Lakers in 1982) and Paul Westhead (Lakers in 1980) – who are the last five men since 1977 to achieve the feat.
"I think he was thrown into the deep end but as athletes and competitors, you kind of like being thrown into the deep end because that's what you work hard for," Collins said. "He isn't alone, he has great staff and players who have played at the highest level. It's definitely a group effort.
"I have to add, nothing would be possible without ownership. Ownership in the NBA is so important. Joe Lacob has done a phenomenal job with the Golden State Warriors. Also now Joseph Tsai with the Brooklyn Nets. He has told [general manager] Sean Marks, do what you need to do to create this culture and you'll have support. It's just great to see when an organisation, from ownership, to general manager, to team president, head coach, assistant coach and it all falls in line. You're setting yourself up for success."
The Nets have never won a championship since their first NBA season in 1976-77 – a run of 44 consecutive seasons. Byron Scott's team – featuring Jason Kidd, Kenyon Martin and Collins – came close in the early 2000s, but in two appearances in the Finals they were swept by the Lakers and beaten 4-2 by the San Antonio Spurs.
Among active streaks in the league, the Nets have the eighth-longest drought alongside the Denver Nuggets and Indiana Pacers, behind the Sacramento Kings (69). Their rivals, the New York Knicks, have been waiting 47 years.
"The elephant in the room that we're all dealing with [the pandemic]," Collins said. "I can't think of any other part of our country hit harder than New York City. To end this year in the pandemic, if they were to win a championship, it would give so much hope to a lot of people. I lost one of my uncles to COVID recently and he lives in New York. People are still being affected and dying. It would mean a lot just to see the Nets win a championship for the city of New York.
"I think it will be huge if the Nets are able to win. It's all set up because they now have the target on their back with all the All-Stars on their team. Even if they don't get the number one seed, even if they finish at number three or four, which I doubt they will, they will still have the target on their back because they have all those names.
"If they are playing at all cylinders, they have the best chance out of the east. I love what Doc Rivers is doing in Philadelphia and I love the season Joel Embiid was having before injury.
"I'm really looking forward to that Eastern Conference championship between the Nets and 76ers, no disrespect to the others. I think the Nets just have more horses than the other squads."