US Capitol on lockdown: Officer and suspect killed in attack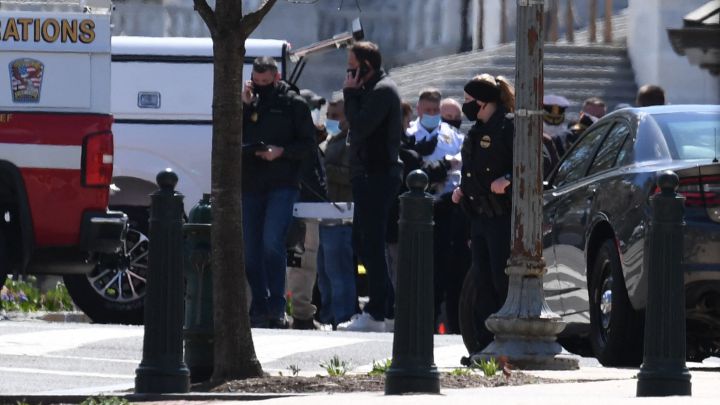 US Capitol lockdown - live updates
Headlines:
- More than 130 million stimulus checks now sent out, according to IRS
- Social Security recipients should get check by 7 April, IRS says (more info)
- Over 75 Democratic lawmakers pushing for recurring fourth check (full details)
- President Biden unveiled $2tn infrastructure plan on Wednesday
- More than half of Americans have used their stimulus check to pay off debt
- Track the status of your stimulus check using the IRS' Get My Payment tool
- US covid-19 cases/deaths: 30.54 million/553,140 (live updates from Johns Hopkins University)
Related news stories:

Caution over states quickly re-opening
The Biden administration remains cautious on whether states should be reopening as aggressively as they have been, warning governors that a spike in covid-19 cases could ultimately derail the economy and the response to a pandemic that has killed more than half a million Americans.

National Guard at the scene after a vehicle rammed a barricade outside the US Capitol in Washington, DC.
According to US Capitol Police one police officer was killed and another injured after a vehicle rammed into the North Barricade at the US Capitol. The officer was identified as William Evans, an 18-year veteran of the USCP.
A man was shot after exiting the vehicle wielding a knife, he later succumbed to his injuries, the USCP confirmed.
Photo: EFE/EPA/WILL OLIVER
USCP confirms identity of officer killed in vehicle attack
The officer killed in a violent incident near the Capitol on Friday was William Evans, who has been on the force for 18 years, Acting US Capitol Police Chief Yogananda Pittman said in a statement.

Police investigate the suspect's vehicle after it rammed a barricade outside the US Capitol and shots were fired according to reports in Washington, DC, 02 April 2021. EFE/EPA/JIM LO SCALZO
USCP "has cleared the external security threat"
The USCP says the security threat at the Capitol has been cleared but has warned employees and residents to remain clear of the area.
USCP gives rundown of events
USCP chief Yogananda Pittman said during a briefing that one officer had been killed and another taken to hospital as a result of the attack. Meanwhile, reports are coming in that the suspect has no known links to any members of Congress and was not on the USCP's database.
Capitol to fly flags at half mast
Nancy Pelosi has announced that flags at the US Capitol will fly at half mast in honor of the USCP officer killed in Friday's attack.
USCP officer reported dead
A Capitol Police officer has died from injuries suffered in Friday's vehicle attack at the Capitol complex, police said.
The suspect also has died, police said at a briefing.
Suspect armed with knife - reports
Reports are now coming in that the suspect exited his vehicle after ramming the barricade and ran towards USCP officers with a knife, resulting in the officers opening fire.
"This has been an extremely difficult time for us after January 6," a USCP spokesman said.
The suspect in the vehicle attack outside the US Capitol on Friday has died, CNN and the Associated Press reported, citing multiple sources.
CNN also reported that at least one of two injured Capitol Police officers was stabbed, citing a law enforcement official.
NY Times reports suspect shot by police
The New York Times is reporting that the suspect, who was originally said to have been detained by police, was in fact shot and killed after ramming a barricade at the Capitol.
Capitol police to hold briefing at 14:45 EST
The United States Capitol Police, the law enforcement arm responsible for security at the Capitol, has said it will brief the press at 14:45 EST.
Suspect dead, according to CNN and AP
CNN and AP are reporting that the suspect in the vehicle attack, who was earlier reported to be in custody, has been declared dead. It remains unclear whether the reported gunfire was directed at the alleged assailant.
National Guard deployed in Washington
According to a report from Washington-based NBC reporter Mark Segraves, the National Guard have been called out in the capital after a reported shooting outside the Capitol.
Capitol staff told not to enter or exit
Reports are still coming in of gunfire in the vicinity of the US Capitol, prompting law enforecent agencies to tell people to neither attempt to enter nor leave Capitol Hill.
Breaking news: US Capitol lockdown
News outlets across the US are reporting on the incident at the US Capitol, which has resulted in a huge security cordon being set up around Congress. Some reports have stated gunfire was heard in the area and there are also reports that a person has been shot.
US Capitol on lockdown
Streets surrounding the US Capitol and congressional office buildings were locked down, with a heavy police presence, on Friday, a Reuters eyewitness said, while Capitol police said they were responding to reports that a motorist had tried to run down two officers.
Capitol police said they were responding to reports that someone rammed a vehicle into two officers and a suspect was in custody. "Both officers are injured. All three have been transported to the hospital," their statement said.
Dozens of police cars, marked and unmarked, raced toward the Capitol building. All roads leading to the complex were blocked by police or police officers.
A helicopter was seen hovering overhead and observers were ordered to leave the area. Videos from the scene showed what looked like two people on stretchers being loaded into ambulances.
Authorities have begun only in the past couple of weeks to remove the outer ring of high, razor-wire-topped fencing erected around the sprawling Capitol complex after an attack on January 6 by thousands of supporters of then-President Donald Trump.
.