Juventus considering returning Morata to Atlético Madrid
The Italian club needs to cut costs and don't think it will be possible to exercise their option of buying Morata, and won't pay €10M to extend the loan.
Saturday's 2-2 draw with Torino was the latest blow in what is turning out to be a woeful season for Juventus. For the Vecchia Signora, it's now impossible that they could lift what would have been their tenth consecutive scudetto; they were ridiculed after being dumped out of the Champions League and now run the risk of failing to qualify for next year's edition. Wednesday's rescheduled meeting with Napoli, which both teams go into level on 56 points, could be decisive. The poor run of results has come just as the club is experiencing economic difficulties due to the pandemic. Juve need to cut costs, which is why they would be willing to let Cristiano leave if they receive an offer for 25 million euros, as this newspaper recently reported.
Finding a new club for Cristiano - one capable of paying his wages, (30 million euros after tax) won't be easy. So the Italians are looking into other areas where they can reduce costs. And that includes Álvaro Morata. The Spanish striker, with 16 goals and 12 assists in 35 games, has been one of the few success stories of the season, but Diario AS understands that the current situation even puts his continuity in doubt.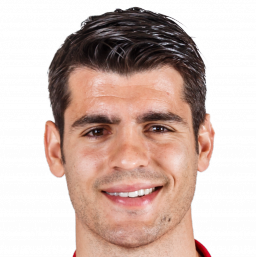 Juventus with the option to buy Morata for 45 million euros
Juventus have ruled out exercising their option to buy Morata at the end of the season, for 45 million euros. The club has already spent 10 million euros to pay for his loan this season, and are weighing up whether to extend the loan to 2022, but that would cost another 10 million, and right at this moment, that is just not possible.
As things stand, it is looking more likely that Álvaro Morata will return to Atlético Madrid in July. Juve are delighted with his commitment and performance but the economic crisis has hit them hard and even if they do find an outlet for Cristiano, they might be forced to make more cuts.
Corriere dello Sport reports that the club has asked if they can delay part of the players' wages corresponding to March, April, May and June, and that management are looking to raise 100 million euros in capital gains from sales. So spending 10 million on a loan, under such circumstances looks unlikely.