Baylor win 2021 NCAA Championship Game vs Gonzaga result, score, summary
Baylor vs Gonzaga live online
The Baylor Bears are National Champions for the first time in program history. The Bears downed the Gonzaga Bulldogs 86-70 in a wire to wire win that caps one of the most dominant Final Four weekends we have ever in college basketball.
Beating teams at their own game
On Saturday everyone was talking about Houston's stingy defense, but the Bears came out and played stifling D to start. Tonight Scott Drews team came out sizzling, jumping out to a 9-0 against the top scoring team in the country. Davion Mitchell scored seven of the first 11 points, and Gonzaga went to the first media timeout having only scored a free throw.
Did the OT semi-final wear out the Zags?
Gonzaga looked fatigued from the get go. Perhaps they were still reeling from the overtime thriller on Saturday, but Timme and company seemed out of sorts from start to finish against the relentless Baylor defense.
Baylor used turnovers and offensive rebounds to mount a 19 point lead in the opening ten minutes of the game. By halftime those boards and turnovers gave the Bears 16 more field goal attempts going into the halftime break.
It was the perfect game plan for Baylor, who beat Gonzaga at their own game. They forced giveaways and got easy basketball in transition. Jonathan Tchamwa Tchatchoua and Mo Thama overshadowed Drew Timme and Cory Krispet down low, and Jalen Suggs picking up two quick fouls in the opening minutes threw Mark Few's game plan out the window.
Jared Butler the star of the show
Jared Butler was locked in from downtown all night. He finished with 22 points and 7 assists, becoming the first player to score at least 20 and dish 7 assists in a final since Carmelo Anthony did it in 2003.
In the second half, Gonzaga got the lead down to nine points, but for every punch the Bulldogs threw Baylor had a counter. The Bears controlled the game from start to finish, much like they did they entire tournament, and will fly back to Waco, Texas as National Champions for the first time in school history.
Baylor had one of the most dominant Final Four Weekends in the history of college basketball
Jared Butler with 20 points and 7 rebounds led the Bears tonight
Baylor beat Gonzaga 86-70 to win their first ever National Championship
THE BAYLOR BEARS ARE NATIONAL CHAMPIONS!!!!
Under a minute to go Butler goes to the line and hits two
Suggs with the steal and the score
Mitchell with a strong drive, The lead is 19
Tchatchoua fouled and wil go to the line after our last tv timeout
Gonzaga are going to need to play their best basketball of the season in the next 3 minutes if they want to keep their undefeated season alive
3 and some change to go in Indy and Baylor are starting to smell the title
Kispert a quick bucket on the other end
Mitchell with a quick dribble to the baseline
Teague going to the line, hits one of two, he's got 19
Baylor break the press, and Teague hits the floater
Butler with a flagrent 1, after Suggs gets a steal and had an open path to the basket. Hits 1 of 2
Flagler to the line, hits both
Vital has 7 offensive rebounds tongiht
Kispert with a quick trigger 3
Butler is the first player with 20 pts and 7 assists in a final since Carmelo Anthony in 03
Under 8 minutes to go in Indy. Baylor are in command
Nembhard to the line, but misses both
Thamba with another foul. He's night is done after picking up his 5th
Suggs with another 3. He needs some help though
Thamba hits both free throws
Thamba tried a highlight reel dunk, but fouled by Watson
Suggs with a three answering back.
Mitchell at the line for a 1 and 1. Hits both
Mayer with a short range j
Timme picks up his fourth foul, on a charge and Baylor are really in trouble now
Butler hit two of two, and he's at 20 points on the night
It seems like Bayor has a counter for every punch Gonzaga throw
Butler going to the line after a big block from Kispert, and a scramble, Baylor end up with the lose ball and Timme commints the foul. Free throws to come for Baylor out of the time out
`Ayayi with a tough shot over Mayer off the time out
Gonzaga have no answer to Baylor on the defensive end
Flagler with ANOTHER three pointer. Timeout Gonzaga
Teague going at the big boys down low
Timme around Butler, and the lead back to 11
Butler at the line, hits two of two
Vital with a bucket right under the rim
Tchatchoua with 4 fouls. Both Baylors big men with 4 fouls on the bench
Watson at the line for the first time tonight. Hits 2 of 2
Ally oop off the time out for Tchatchoua
1st media timeout of the second half. Gonzaga looking better, but Baylor are still keeping them at a distance.
Suggs and 1!!!! Last game's hero is heating up. Thamba with his 4th foul. Suggs misses the ft
Suggs in the paint with a lay up
Thamba to the line after getting fouled by Kispert. Thamba sinks one of two
Mitchell in transition, Baylor looking strong out of the gate
Ayayi with a finger roll down the lane
Butler with a 3 to start the second half
Foul trouble may come into play in this second half. Tchatchoua has 3, Thamba 2 and Gonzaga's Suggs has 2
Let's see what adjustments on the defensive side of the ball Mark Few makes for Gonzaga coming out of halftime
20 minutes to go in Indy... who will be walking off the court at Lucan Oil Stadium as kings of college basketball
Can Gonzaga compete with Baylor's physicality on the boards
If Gonzaga are going to come back in this game they will have to figure out a way to slow Baylor's scoring down
Baylor have 16 more fg attempts. They have created turnovers and been hitting the offensive boards hard
`Baylor coach Scott Drew said at the halftime break he wants to see his team commiting fewer fouls and his side go to the line more in the second half
Can Baylor keep up the defensive intensity in the second half?
If Gonzaga are going to comeback in this game they will need someone other then Suggs and Timme to step up in the second half... Joel Ayayi???
You had to know Gonzaga was going to have a run in that first half. It came at the right time, can they keep the momentum up in the second half?
9-2 for Gonzaga to end the half
Timme hits a layup and cuts this Baylor lead to 10 going into halft time
Last 30 seconds of the half
Suggs goes strong to the rack, gets fouled and 1! Free throw good
Vital off the feed from Butler
Timme hits both free throws
Timme fouled down low, and will go to the line for 2 shots
Nembhard goes to the line, Tchatchoua to the bench with 3 fouls. Nembhard hits both
Teague finding soft spots in the 2-3 zone
Teague with a free throw line jumper. It looks easy on the offensive end for Baylor
The Gonzaga defense is starting to step of, and as a result they are getting better looks off those fast breaks
Little run for Gonzaga after a steal leads to and Ayayi dunk in transition.
Thamba with his second foul. Both he and Tchatchoua have two. Ayayi to the line hits both
Suggs starting to find his groove on offense
Timme is the only one for the Zags finding good looks
Vital on the scramble down low gets a close range bucket
Suggs with a dash to the rack, fouled, and will hit both free throws
Teague off the turnover takes it to the iron and a goaltending call against the Zags
Big stretch of the game for Gonzaga right now. Can they get a run before the end of the half to close this gap?
Baylor miss their first three pointer of the game! Foul of Mayer that takes us to a timeout in Indy
Teague with the floater out side the lane
Suggs finds Timme in transition and that what Gonzaga need to see more of
Timme starting to warm up
Teague adds on another three pointer!!! 5-5 from down town
Butler with another triple
Timme can find much space down low agains Thamba and Tchatchoua
Nembhard with two free throws out of the TV timeout
Commentator Grant Hill with a great point. Gonzaga look fatigued after Saturday night
Gonzaga are down by 15. That's their largest deficit all season long.
Under 12 minutes to go and Baylor are all over the Bulldogs
Another turnover by Gonzaga. That's 5 already
Mayer drains his first bucket of the night
Nembhard with a mid range jumper
Flagler with a three hes got 5 quick points
Flagler hits two from the stripe
Timme finally gets his first points off the timeout
Butler with a three and Mark Few needs a time out for Gonzaga
Tchatchoua with a close range bucket and points continue to flow for Baylor
Kispert out of the timeout with a three
Gonzaga need to find their way on the offensive end. The easiest way they will do that is creating turnovers and getting easy points in transition
We are at the first TV timeout in Indiana, and the nation's top scoring team has just 1 points over four minutes in
Mitchell looks on the money early on. 7 points for the Baylor guard
Nembhard goes to the line, gives Gonzaga their first point of the game, splitting the free throws
4 offensive rebounds for Baylor already
Suggs picks up his second foul just three minutes into the game.
Butler again down the middle with a finger roll. This is the most Gonzaga has trailed all tournament.
Gonzaga seem out of sorts on offense
Mitchell with a triple try! He's got a quick 5
Butler on the second chance points. Baylor looking strong on the boards early on
MItchell with the opening bucket of the game
Baylor with the opening possestion
Gonzaga in their white jerseys and Baylor in their dark green jerseys
The Starters have been announced and we are just moments away from tipping of the NCAA Basketball National Championship
Gonzaga's Starting 5:
1 Jalen Suggs
2 Drew Timme
3 Andrew Nembhard
11 Joel Ayayi
24 Corey Kispert
Starting 5 for Baylor
0 Flo Mamba
11 Mark Vital
12 Jared Butler
31 MaCio Teague
45 Davion Mitchell
Betting line according to Bet365.com
Gonzaga -4.5
Over/Under 158.5
The National Anthem is being sung as we continue the countdown to tip off
Message from President Joe Biden and his wife Jill, who take the chance to ask people to mask up and get the vaccine against covid-19 when they get the opportunity.
Lucas Oil Stadium is home to the Indianapolis Colts, and has also hosted a Chelsea and Inter match in the International Champions Cup
This is the third title game played at Lucas Oil Stadium:
2010, 2015, 2021
The venue has a 70,000 capacity, but there will only be 17,500 fans here tonight, due to coronavirus restrictions. There'll be plenty of cardboard cuts too though!
Teams are out and warming up at the Lucas Oil stadium
Just 20 mintues to tip-off from Lucas Oil Stadium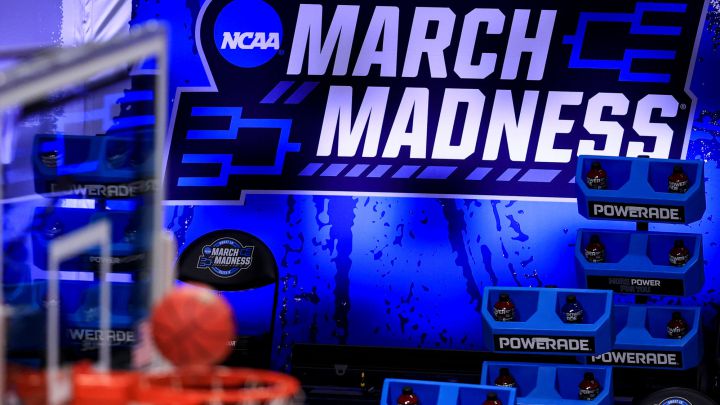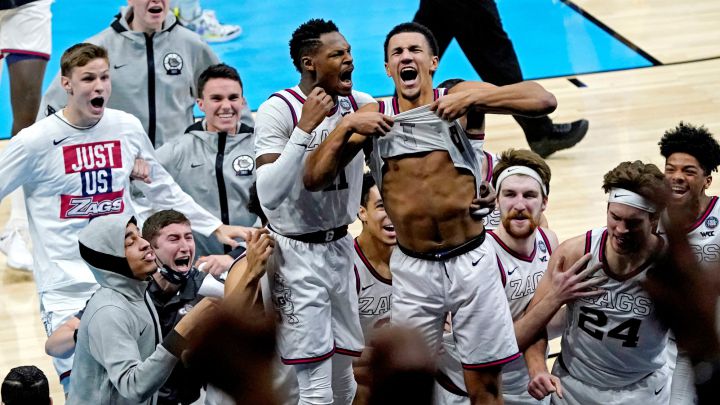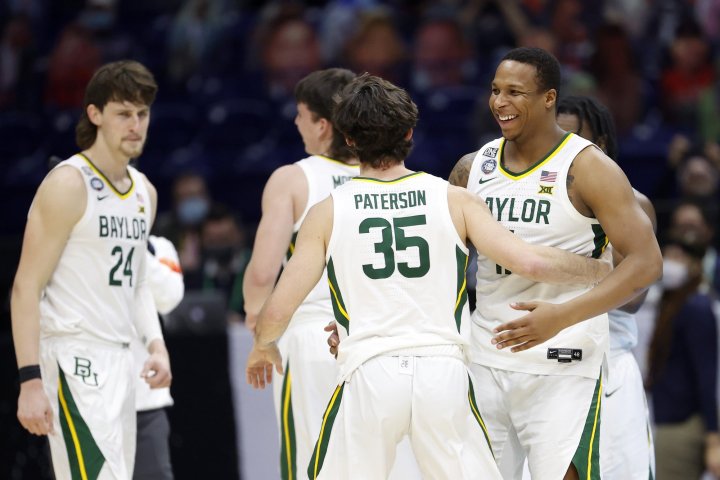 Baylor's Roster for the Final
0 Flo Thamba
4 LJ Cryer
5 Jordan Turner
10 Adam Flagler
11 Mark Vital
12 Jared Butler
13J ackson Moffatt
23 Jonathan Tchamwa Tchatchoua
24 Matthew Mayer
31 MaCio Teague
32 Zach Loveday
35 Mark Paterson
42 Dain Dainja
45 Davion Mitchell
Head Coach Scott Drew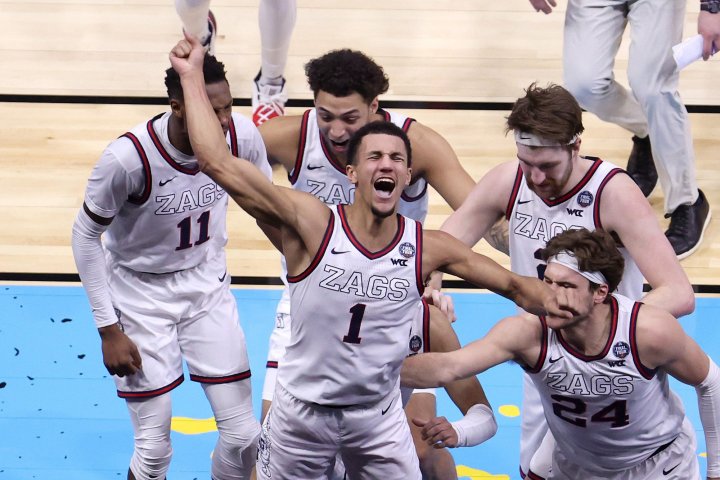 Gonzaga's Roster for the Final Four
0 Julian Strawther
1 Jalen Suggs
2 Drew Timme
3 Andrew Nembhard
5 Martynas Arlauskas
10 Pavel Zakharov
11 Joel Ayayi
20 Colby Brooks
21 Oumar Ballo
22 Anton Watson
23 Matthew Lang
24 Corey Kispert
30 Abe Eagle
32 Evan Inglesby
33 Ben Gregg
35 Will Graves
55 Dominick Harris
Head Coach Mark Few
BAYLOR: How did they get here?
1-seed Baylor are 27-2 and have a chance to win the first National Championship in program history.
The Bears got off to a flying 17-0 start but missed six games in February due to covid-19. When they got back to the court things didn't quite click and they lost to Kansas on the road and then got knocked out of the Big 12 by Oklahoma State.

They have thumped their opponents in the tournament, winning all five of their games by nine points or more.

In the semi-final against Houston, Baylor's defense looked as good as it has all year long. They held the Cougars to a Final Four low 20 first half points and cruised to victory in the second half.

Baylor are led by Jared Butler, who dropped 17 points in the first half of the semi-final and Davion Mitchell who had a double-double against Houston
GONZAGA: How did they get here?

Widely considered the favorite by most experts and non experts in the basketball world, the Gonzaga Bulldogs have rolled through their opponents all year long, all except the semi-final against UCLA on Saturday.

They are undefeated this year, and have won 28 of their 30 games by double digit margins. They have steam rolled through the tournament, defeating Norfolk State in the first round, then Oklahoma, and then Creighton and USC to stamp their ticket to the Final Four. UCLA gave them their toughest test of the year on Tuesday, forcing the Bulldogs to overtime.

Jalen Suggs and Drew Timme will be the two to keep and eye on tonight. How will Suggs follow up his game winning performance last game? Timme will need to continue to make headlines, the Bulldog big man is averaging 22 points and 6.8 rebounds a game.

Gonzaga have a chance to win their first title in program history.
NCAA National Championship: Gonzaga vs Baylor
Hello and welcome to our live coverage of the NCAA Basketball National Championship, live from Lucas Oil Stadium in Indianapolis where the Gonzaga Bulldogs square off against the Baylor Bears.
Tip-off is at 8:20 ET (5:20 PT and 3:20 Tuesday morning in CET) and we'll have coverage of all the build-up and then play-by-play commentary.