2

1
Manchester City 2-1 Borussia Dortmund: result, goals, summary, Champions League 2020/21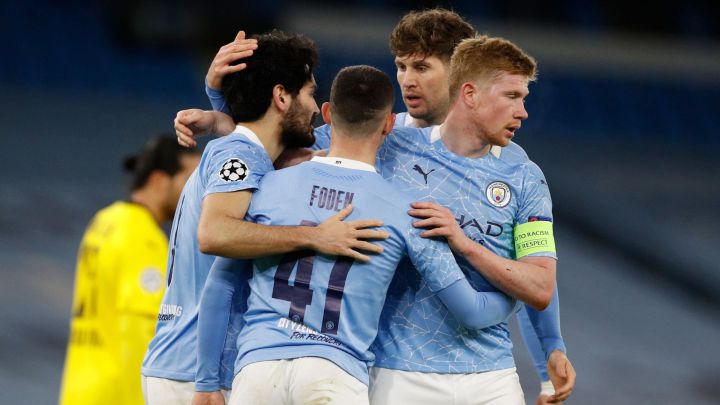 Manchester City vs Borussia Dortmund: match report; as it happened
Match report by Simon Evans
Manchester City's Phil Foden grabbed a last-minute winner as they beat Borussia Dortmund 2-1 in their Champions League quarter-final first leg on Tuesday after Marco Reus had netted a late equaliser for the German visitors.
City took a 19th minute lead with a classic counter-attacking move finished off by Kevin De Bruyne after Dortmund's former Liverpool midfielder Emre Can had given the ball away on the halfway line.
Pep Guardiola's City side then had a penalty awarded but correctly overturned by VAR after a challenge by Can on Rodri and Dortmund, buoyed by the reprieve, found some attacking verve.
Romanian referee Ovidiu Hategan was at the centre of things again when City keeper Ederson hesitated and Dortmund's Jude Bellingham nipped in and slotted the ball into the net but the 17-year-old was harshly ruled to have fouled the Brazilian.
Ederson came to City's rescue early in the second half, saving from Erling Haaland with an outstretched foot as the German side continued to cause City problems.
City had several chances to extend their lead and paid the price for their uncharacteristic lack of precision in front of goal when Dortmund struck six minutes before the end.
Haaland's clever pass on the half-turn found Marco Reus, who had timed his run perfectly and beat Ederson with a composed finish. But then Foden, who had been wasteful twice in the second half, made amends with a clinical finish from close range after being set up by Ilkay Gundogan.
Peep, peep, peep! It's all over. Dortmund were close to going back to Germany with a 1-1 draw after Reus scored in the 83rd minute. They will be kicking themselves that they left Foden in to score as the clock struck 90 minutes. Still a precious away goal for the Germans which could prove vital next week.
Foden scores for City!
Foden's had a few chances at this point and he finally puts one away. Gundogan does very well to take down the long ball delivery by the edge of the six-yard area. Having done the hard work, the German tees up Foden, who doesn't miss this time, rolling the ball in from six-yards out. 2-1 City!
Dortmund have equalised!
That is a huge away goal and it's probably deserved based on their second half display. Bellingham passes to Haaland, who slots the first-time ball into the path of Reus which rips open the City defence. Reus looks up before coolly slotting the ball into the bottom right corner with the side of his boot with just Ederson to beat. 1-1!
Foden is in again but he's dragged his shot across goal. He did very well to engineer the shooting position for himself, but again the finishing touch lets him down.
Chance for De Bruyne! The Belgian skips around two challenges before launching a low shot towards the left corner. But the effort is two yards wide. Foden has a chance a minute later but drives the ball straight at Hitz after he was teed up by De Bruyne. City are anxious for that second goal.
City have been enjoying some possession in the Dortmund half, which they have had very little of in the second half up to this point.
The teams switching possession as the ball goes back and forth. But neither his has created an opportunity since Foden's gimme seven minutes ago.
What a chance for City!
Brilliant play from De Bruyne as he turns Hummels, comes deep inside he box before teeing up an unmarked Foden by the penalty spot. But Foden can only hit the ball straight at Hitz. He won't get a much better chance than that to score.
First change for Dortmund: Gio Reyna comes on for Knauff, who had a fine game in the first half.
Reus takes the direct free kick for Dortmund from a central area just outside the City box after Haaland was fouled. But the German veteran can't get the ball over the wall.
Gabriel Jesus immediately gets involved but is flagged for offside as he took the ball down with his chest inside the box.
First change for City as Gabriel Jesus comes on for Bernardo Silva.
Dortmund do well to build things from the back, before Morey has a chance to have a shot at the edge of the box. But the Spanish full back is dispossessed just before he connects with the ball.
Dortmund holding possession trying to build something patiently here.
Dortmund have started brightly here and look dangerous.
Peep! City get the second half underway.
The teams are emerging from the tunnel with the second half about to get underway.
Bellingham's disallowed goal
Many on Twitter are ourtraged that Bellingham's goal was disallowed on the 36th minute for an apparent foul on Ederson. "Embarrassing that this isn't a goal by Bellingham. Just embarrassing. Struggling to understand so many decisions in the sport today. This is just not fair or right or even remotely an infringement," tweets former England and Liverpool striker Stan Collymore.
Peep, peep! Half time at the Etihad, with City 1-0 up thanks to Kevin De Bruyne's goal in the 18th minute. But Dortmund have looked dangerous through youngsters Haaland, Knauff and Bellingham and are still very much in this game.
Late effort from Dortmund as Reus' shot is blocked from the edge of the box. Knauff worked the ball well down the right to tee him up.
Bellingham has put the ball into the net for Dortmund! But the ref blows up the play a second earlier for Bellingham's apparent foul on Ederson as he tried to win the ball from the City keeper, who had come out of his box to collect. Ederson got lucky there after making a massive blunder with the clearance effort, as replays appear to show that Bellingham won the ball fairly before slotting it home.
After a check on the pitch-side TV, the ref has decided to reverse his own decision on the penalty. It did look like Can was unaware of the on-rushing Rodri coming from behind when he raised his leg to try to clear the ball.
Penalty for City as Emre Can makes contact with the head of Rodri as a free kick delivery comes in.
Dortmund look to respond quickly as Knauff releases Reus with a little dink into the box. But Reus fouls Ederson as he goes in for the 50-50 battle with the City keeper.
GOAL MAN CITY!
Dortmund have looked more dangerous up to this point, but it's only taken City one chance to score their first goal. De Bruyne, Foden and Mahrez link up in a quick counter attack initiated by De Bruyne, who also puts the finishing touch on the move by slotting the ball passed Hitz from eight yards.
Dortmund teenagers Knauff and Bellingham look primed to give City all sorts of problems tonight.
City win their first corner of the game as De Bruyne takes from the right. But it's headed out for a second corner by a Dortmund defender. As the second delivery comes in the ref blows for a foul by a City player. The homeside have yet to test the Dortmund keeper.
Ederson saves! Bellingham cuts to the outside of Walker to beat the City defender before blasting a shot at Ederson. Decent effort from the English teenager, who becomes the second youngest player to appear in a Champions League quarter final.
First moment of danger from Dortmund as Haaland realeses Knauff inside the box, but the German forward's shot is blocked down.
The teams are on the field and ready to go...

Erling Haaland's incredible Champions League record
Since bursting on to the Champions League scene with an incredible hat-trick for Salzburg in September 2019, Erling Haaland has scored an incredible 20 goals in 14 games in Europe's premier competition. Who would bet against him scoring another one this evening?
Dortmund get to grips with the Etihad pitch ahead of the game, which gets underway in 20 minutes at 3pm E.T.
City's dominance over German opposition
City have won 10 of their last 11 Champions League games against German opponents, drawing once. The last two wins of course came against Monchengladbach in the last round of this season's edition, with City winning both legs 2-0.
City and Dortmund have only met once before
City and Dortmund have only met once before in the Champions League, back in the group stages in 2012-2013. The first game ended in a 1-1 draw at the Etihad, while Dortmund one the second game 1-0 at Signal Iduna Park.
Jude Bellingham
17-year-old English midfielder Jude Bellingham will become the second-youngest starter in Champions League final history. Dortmund's other English midfielder, Jadon Sancho, will miss tonight's game due to injury...

Dortmund coach Edin Terzic on City
"Manchester City are currently the strongest team in the world, with incredible quality. It will be an exciting task in which we have to show our best performance in both games."
Guardiola discusses Erling Haaland's quality and City speculation
Guardiola appreciates Haaland is a fine talent, though he would not be lured into making any grand statements about a potential future for him at City.
When asked if Haaland was the sort of player who could command a transfer few of over £100million, Guardiola said: "I don't know, it's a question for Dortmund, his agent.
"I understand completely why people ask about Haaland, of course he's an exceptional striker, but it's not appropriate for me to talk about a player for another club.
"All I can say is he's an exceptional striker. The numbers speak for themselves. A fantastic player, that's all."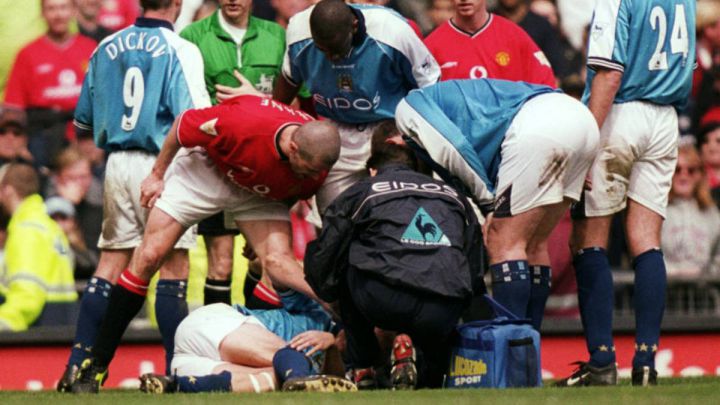 City starting XI
Ederson, Walker, Dias, Stones, Cancelo, Rodrigo, Gundogan, Bernardo, Foden, Mahrez, De Bruyne
Dortmund team is named
Hitz, Guerreiro, Hummels, Akanji, Morey, Can, Dahoud, Bellingham, Knauff, Reus, Haaland
Nobody can stop City
City, who could win a quartet of trophies this season, are untouchable in the Premier League, with nine consecutive wins away. With their 2-0 win at Leicester City on Saturday they are almost touching the trophy. They have 74 points, 14 more than neighbors Manchester United, who are sitting second in the standings.
Pep Guardiola will try to bring their dominance in the domestic competition to the most important European competition and avoid being knocked out of the tournament in the quarter-finals for a fourth consecutive season.
Hello and welcome to our coverage of the first leg of the Champions League last-16 tie between Manchester City and Borussia Dortmund. The game gets underway in an hour. In the meantime you can follow the build-up with us here.
.