Athletic Club fan who threw himself off a lamp post in Bilbao in hospital with punctured lung
It was one of the most shocking images in the build up to the Copa del Rey final against Real Sociedad. A young fan dived into the crowd, hoping to be caught.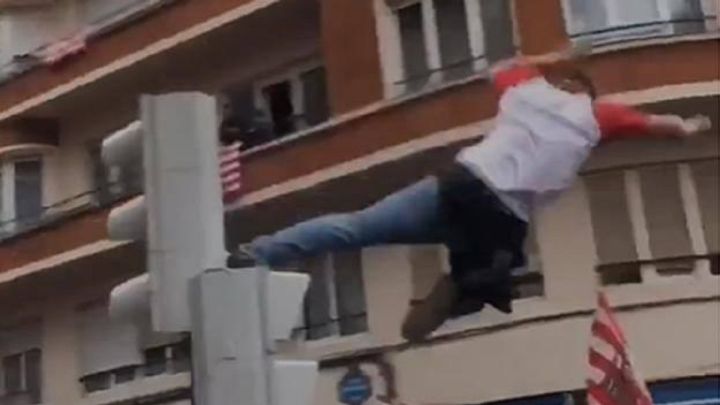 Last Saturday's Copa del Rey final between Athletic Club and Real Sociedad at La Cartuja in Seville didn't pass without incident. It had been hoped that fans from both clubs would be able to attend the 2020 final, which was rescheduled because of the coronavirus pandemic. But playing the game with public in the stands was later ruled out by the Spanish government.
One of the most shocking images during the hours building up to the game occurred in Bilbao, where a large number of fans congregated in Calle Poza. Local police were forced to intervene after flares and fireworks were set off. One of the videos posted on social media showed a young man perched on top of a lamp post, who decided to launch himself into the crowd, presumably hoping that he would be caught by the people below. Unfortunately, he thought wrong - they moved out of his way, leaving him to land directly on the hard concrete pavement.
🔴Miles de aficionados del Athletic se aglomeran en las inmediaciones de San Mamés. Una chica ha resultado herida después de que un grupo de jóvenes recibiera a la Ertzaintza con lanzamiento de botellas antes de la final de la Copa del Rey https://t.co/c8Gmsyj29W pic.twitter.com/R9addQKqGq

— EL PAÍS (@el_pais) April 3, 2021
He was admitted to Galdakao hospital with a punctured lung, a result of the broken ribs he sustained from the impact of hitting the floor, Diario Vasco reports. The incident happened at around 17:00 hours local time.
After hitting the ground, the young fan was seen to get up as if nothing had happened and continued with the pre-match partying. It was only later that he started to feel pain and was taken to hospital.
Bilbao mayor criticises fans' behaviour
Bilbao mayor Juan María Aburto was highly critical of the events which happened in the city during the build up to the game. He described the fans' behaviour as "absolutely incomprehensible and unacceptable". He added that those who took to the streets without respecting coronavirus health measures, "don't represent anybody. This isn't a game. Here, we have been struggling between life and death, a lot of people have died or are suffering in intensive care".