BASEBALL
Kershaw outduels Scherzer as Dodgers sweep Nats, Phillies prevail in controversial fashion
Clayton Kershaw and the Los Angeles Dodgers trumped Max Scherzer's Washington Nationals.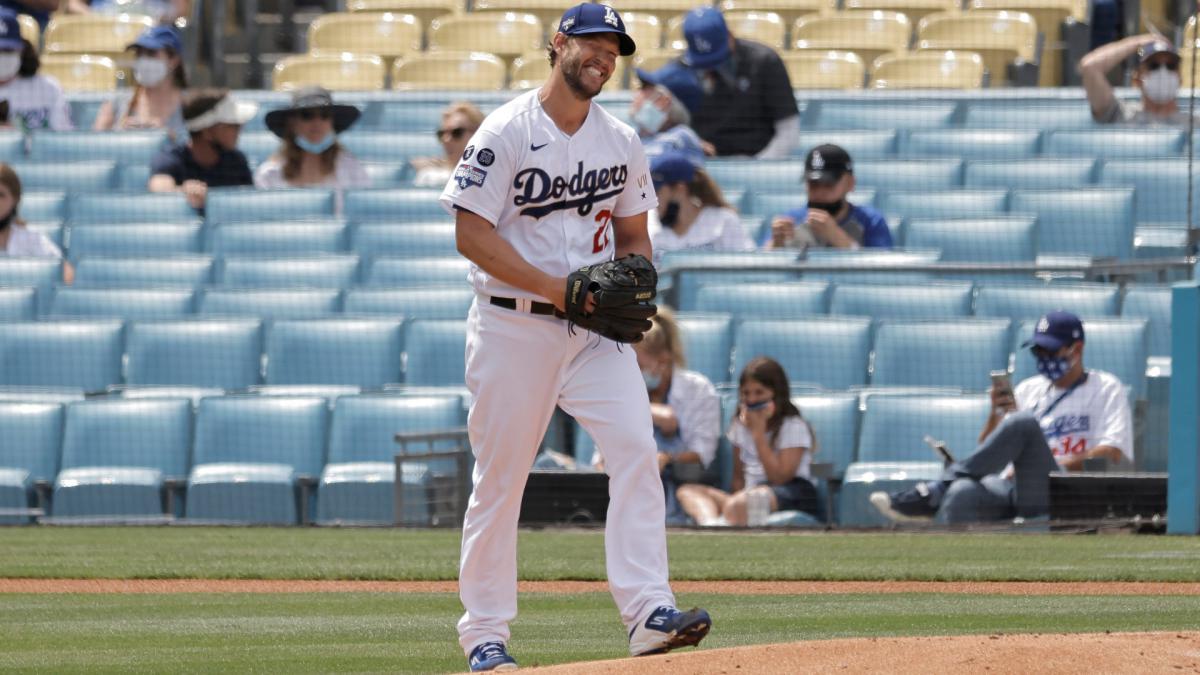 World Series champions the Los Angeles Dodgers swept the Washington Nationals with a 3-0 shutout on Sunday as Clayton Kershaw outduelled Max Scherzer in a pitching showdown.
In his first home start as a World Series winner, Dodgers ace Kershaw struck out six batters over six scoreless innings without a walk against the struggling Nationals, while Zach McKinstry drove in all three runs.
Kershaw – a future Hall of Famer and three-time National League (NL) Cy Young Award winner – has now allowed just one run across his last two starts, striking out 14 over 13 innings.
Scherzer – also a three-time NL Cy Young winner and World Series champion – pitched six innings of three-hit ball with five strikeouts and a walk.
"Max has obviously had an unbelievable run with what he's done over there in Washington. I have a ton of respect for him and everything he's done in this game," Kershaw said after the Dodgers improved to 8-2 for the season.
"You try not to attack it any differently. You always try to put up zeroes on the board. But after we got that early run there, you try and make it stand as best you can, knowing that Max probably isn't going to give up many himself. [We're] fortunate today that it worked out."
The Philadelphia Phillies, meanwhile, snapped the Atlanta Braves' four-game winning streak following a narrow 7-6 victory.
Didi Gregorius fuelled the Phillies with a three-run home in a four-run fourth inning, while he had the go-ahead sacrifice fly in the ninth.
It was a controversial finish after Alec Bohm managed a double off Will Smith at the start of the ninth before advancing to third on a bunt and scoring to make it 7-6.
Bohm was initially called safe following Marcell Ozuna's throw, and the decision was upheld, despite replays appearing to show the former's foot missing the plate as the Phillies avoided a sweep.
Debutant Odor lifts Yankees
Rougned Odor – acquired from the Texas Rangers – capped his New York Yankees debut with a go-ahead single at the top of the 10th inning in an 8-4 victory over the Tampa Bay Rays. According to Stats Perform, it was the fourth time since 1974 a player's first hit with the Yankees delivered the game-winning RBI in extra innings, following Chase Headley (2014), Alfonso Soriano (1999) and Alex Johnson (1974).
The Seattle Mariners rallied past the Minnesota Twins 8-6. Seattle came back from being six-plus runs down and won for the first time since 2016.
De Leon and Reds put to the sword
It was a rough outing for Jose De Leon and the Cincinnati Reds, who were blanked 7-0 by the Arizona Diamondbacks. De Leon allowed six runs over a little more than four innings, walking three and fiving up eight hits, including two home runs.
Martinez delivers a masterclass
Boston Red Sox star J.D. Martinez already has 12 extra-base hits in eight games this season. It is the most by any player in their first eight games of a campaign in American League (AL) history. The Red Sox beat the Baltimore Orioles 14-9 on the back of his three homers.
Sunday's results
Boston Red Sox 14-9 Baltimore Orioles
Pittsburgh Pirates 7-1 Chicago Cubs
Cleveland Indians 5-2 Detroit Tigers
New York Yankees 8-4 Tampa Bay Rays
Kansas City Royals 4-3 Chicago White Sox
Seattle Mariners 8-6 Minnesota Twins
Milwaukee Brewers 9-3 St Louis Cardinals
San Diego Padres 2-0 Texas Rangers
Arizona Diamondbacks 7-0 Cincinnati Reds
San Francisco Giants 4-0 Colorado Rockies
Los Angeles Dodgers 3-0 Washington Nationals
Philadelphia Phillies 7-6 Atlanta Braves
Miami Marlins 0-0 New York Mets (suspended, to resume August 31)
Los Angeles Angels-Toronto Blue Jays (postponed)
Yankees at Blue Jays
After their series finale against the Angels was postponed, the Blue Jays will welcome AL East rivals the Yankees to Dunedin for Monday's series opener.