Diakhaby: "I don't know Cala, I can't say if he's racist"
Valencia defender Mouctar Diakhaby speaks to AS to give his version of the events that led to his side leaving the pitch against Cádiz amid allegations of racist abuse.
Valencia defender Mouctar Diakhaby spoke to AS to give his version of the events that unfolded in Cádiz during the latter's 2-1 win on April 4. Valencia left the pitch in the Ramón de Carranza in the first half after Diakhaby said he had been racially abused by Cádiz player Juan Cala, an allegation the Spanish defender denies.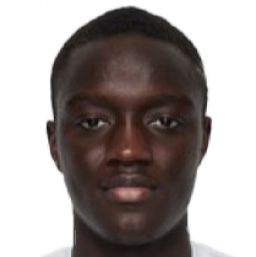 Play was suspended for 20 minutes before Valencia returned to the pitch, with Diakhaby remaining in the changing room. Cala subsequently held a press conference to deny he had used any racially insulting language towards the Frenchman and a Liga investigation found no evidence that Cala had done so. Diakhaby though insists he was subjected to racial abuse by the Cádiz player and in an exclusive interview with AS the defender lays out what happened in the Ramón de Carranza.
How are you feeling?
I'm fine. Last week was difficult for me. The media attention was difficult, but I'm OK now. I trained as usual during the week, trying to forget about everything. During the game [against Real Sociedad] as well. I'm a professional. But now I want to explain what happened and I won't speak again until after the investigation.
You said you heard the words "black shit." When was that?
It was said to me when we were in the penalty area, when I was protecting the ball. When [Valencia keeper] Jaume had the ball, he insulted me.
Run through it for me…
He insulted me and then turned around. I didn't hear the "leave me alone thing" because he had his back to me. I shouted "ref, ref!" My reaction was odd. It was the first time that had happened to me and I forgot everything that was happening on the pitch. I only had his words in my head.
Did he say it quietly, or so you'd hear it?
He said it when he got up. I think maybe he was hurt, I don't know, but he got up and then said that. You can see in the replay he turns a bit towards me and the last word that comes out is "shit." But when he said it (Diakhaby doesn't repeat the full phrase because his son appears in the room) he's closer to the ground.
Cala looked as though he was making a gesture of apology
Yes, he tried to say sorry but I didn't want to know anything about it or listen to what he had to say because I was furious.
Gameiro and Fali spoke to you after the incident and moved you away from Cala. Did the Cádiz player [Fali] say anything to you?
Yes, he tried to calm me down. He was trying to get me to listen to him. He was talking about the badge, but I wasn't interested. He said: "Don't worry, think about your badge." I said it wasn't something to do with thinking about football or about money. It was a matter of racism. All sorts of stuff happens on the pitch, a lot of words, a lot of insults… that's football. But there are things you can't say. There are things that shouldn't be said on a football pitch and the racial issue is one of them.
Did any of your teammates hear what you and Cala said?
Thierry [Correia] and Jaume were the closest but they were concentrated on the game and he said it quietly. It was difficult for them to hear. Nobody else heard it. If they had, they would have said so.
What did the referee say?
First he showed me a yellow card but he didn't know why I was so agitated and angry. Then he asked me and I told him.
Who made the decision to leave the pitch? You or your teammates who were nearby?
Gabi [Paulista] saw my reaction. He could see my mind wasn't on the game, that I was going to go. He knew, because he knows me, that I don't react like that over nothing. Gabi and me talked and we made the decision to leave the pitch.
It was the first time a team had walked off the pitch in Spain, I guess you appreciated the support of your teammates?
Of course. They know what I'm like. I never get angry and if I do it is because something has happened. They know it is not a lie. They know me and they know how I am. They knew immediately that Cala had said what he said.
You said you wouldn't accept an apology from Cala but you told your teammates to carry on the game. Why was that?
The match officials explained that if we didn't go back out we'd lose points because of the rules. I didn't want my team to pay the price for someone who was in the wrong and who isn't one of our team. It wouldn't be fair. That's why I said they should go back out. I can't get my head around that. That has to change. I think if this happened in another country nobody would lose points. My teammates didn't want to go back out. They were with me. If I asked them to stay in the dressing room, they would have stayed. But I'm not selfish, I didn't want us to be punished for something that wasn't our fault.
What did you think when the game restarted with you in the stands and Cala on the pitch?
A lot of things. It's something I don't understand. It has to be said and it's true, I think the rules would be different in another country.
What has been the most hurtful aspect of the complaint you made about what happened?
After the insult? What Mr Tebas said. I saw it and I laughed. I don't know how to explain it. If he had said that there was no proof that Cala said that then fine, but he said I must have misunderstood… it's pretty strange to say something like that.
Would you be willing to speak in front of the judge with Cala present?
Of course, of course. I'm not afraid. I'll reiterate what I understood, because I understood it only too well. I've been in Spain almost three years now and I understand almost everything. And those types of words, even more so. They are not difficult words to understand. If no proof of what happened is found in the investigation it's my word against his. I understand that. Without proof I don't think he'll be punished. That's logical. But we'll see. I hope that proof is found and everything possible is done to find that proof.
I imagine in the heat of a game people have said lots of things to you. How would you explain the difference between an insult as part of the game and someone using racial slurs to someone who maybe doesn't understand the distinction?
On the pitch everyone wants to win and sometimes we get angry. There are always insults during games and what happens on the pitch stays on the pitch… but not in every case. People can insult me, but never about racial issues. You should never hurt someone because of the colour of their skin. That shouldn't occur to anyone to say. Football is a game but you can't play with racial issues because there is a social history behind it. I've heard people say these are things between men but a man should respect another man's race. We can't let this be overlooked.
Do you think that the kind of insult you've denounced is racism or that in some cases it may be a lack of social understanding or education?
It's both things and that's why it can't be tolerated. There is racism in society and in every country. It's not just Spain. It happens in Spain, in England, in France. It's everywhere. That's why it's something we have to stop. People have to think before they say something, we are all human and we're all equal. I don't know Cala personally, I can't say if he's racist, I don't know him, but he used a racist word and he should be punished because if we let these things go, we'll never stamp out racism in society. I'll say it again, I don't know Cala personally and I can't say he is racist. But he has said a word that he has to account for, in the same way I should pay if I made a mistake like that. If there is no punishment it's as good as saying we can say whatever we like and we can't fight to eradicate racism like that. There's a lot of talk about stopping racism, but not much is done about it.