"I can reach Haaland's level": Vlahovic's unstoppable rise
With six goals in his last four games, the 21-year-old Fiorentina striker believes he can emulate contemporary Erling Haaland, as hype in Italy continues to grow.
Dusan Vlahovic has been the one of major revelations of 2021, with the 21-year-old having become a goalscorer of reference in Serie A, and a leading light in a Fiorentina side currently suffering amid a period of instability and managerial changes at the club.
Fifteenth-placed La Viola's latest defeat came at the hands of Atalanta in a frenzied game that finished 3-2. But despite the loss, Vlahovic's immense quality was on display once again. There is clearly nothing stopping the young forward's stellar rise, which has even led to him taking the place of Luka Jovic himself in the Serbia's starting XI.
Vlahovic has now scored six goals in his last four games and is increasingly fine-tuning his movements and shooting. In the last three months the market value of the Fiorentina forward has skyrocketed from €9 million to €25 million, according to transfermarkt.com.
Vlahovic aims to emulate Haaland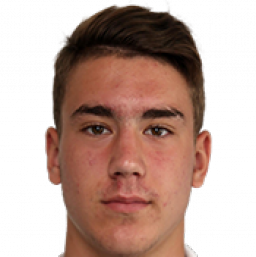 With his voracity for goal, the Serbian forward has naturally drawn comparisons with his contemporary Erling Haaland, whose level Vlahovic himself has openly admitted he is aiming to emulate. And that is something he is confident he can achieve.
"I watch him. I try to understand his completion and how he moves. Then I focus on my strengths and weaknesses. Maybe it's presumptuous, but with commitment, I can get to his level as well," he said in an interview published with La Repubblica on Sunday. Vlahovic is barely a couple of months older than the Norwegian.
Were it not for his 15 goals in 29 games, Fiorentina would already be facing relegation but thanks to him they have a small eight-point cushion on Cagliari in 18th place. Despite the hype and expectations surrounding him, the mature-minded 21-year-old says he will sensibly try to keep his feet on the ground.
Vlahovic: Ronaldo and Ibrahimovic among his idols
"I feel the responsibility. You are a first-rate player when you score two goals at my age, but you immediately become a failure if you don't score in two games. I know how this works, I'm focused and down to earth. I don't know where I will get to. But I don't want to regret anything," he told La Republicca.
"I try to improve every day. I always try different things in training. The trick is to repeat the same movements over and over again. Ronaldo always wants to improve. That is the secret of champions," adds the Serbian striker, who also counts Zlatan Ibrahimovic among his great idols. "He (Zlatan) wrote me a message: 'Good luck with everything, I wish you the best'. He wrote it in Serbian, my language. He was the only one who did so," he added, excitedly recalling the well-wishes of one of his footballing heroes.
Vlahovic ends his contract in 2023, but with Italy's big clubs already circling, it's very possible that he could be snapped from Fiorentina before then. Juventus, of course, is among those interested. A tall (1.90m) and commanding striker who boasts speed and spectacular instinct among his qualities, he already counts a hat-trick against Benevento among his 15 goals this season, during which he has so far averaged 0.57 goals per game.