Liverpool 0-0 Real Madrid (1-3 agg) result, goals, summary: Champions League quarter-final second leg
Liverpool 0-0 Real Madrid (1-3 agg): Champions League live updates
Peeep peeep peeeep! It finishes goalless at Anfield and Real Madrid are into the Champions League semi-finals!
Thibaut Courtois had to be at his best to prevent Liverpool from scoring on a couple of occasions in the first half, but although Madrid had to withstand some sustained periods of pressure throughout the evening, it's hard to remember a particularly clear chance for the hosts in the second 45.
Indeed, had Karim Benzema got his header right when Éder Militao found him with that superb cross with 10 minutes to go, Madrid might have won not only on aggregate, but also on the night.
Los Blancos are deservedly into the last four, where they'll meet Chelsea.
That's all from me - thanks for reading!
Again Courtois is there when Real Madrid need him! Mendy gives the ball away stupidly to Thiago just outside the box, the Spaniard in turn feeding it to Salah to dart into the box. However, the Real Madrid keeper is quickly off his line to narrow the angle and parry Salah's shot! Courtois gives Mendy a stern, and richly deserved, ticking-off for his carelessness.
Four minutes of time added on separate Real Madrid and a semi-final against Chelsea.
It's all in the Real Madrid half at the moment, but Liverpool are struggling to find a way through a wall of white on the edge of the visiting box.
Thiago dinks a ball into Roberton's run into the box, but the Scot lets it run rather than chesting it down, and it bounces behind. Moments later, Alexander-Arnold tries to buy a corner off Mendy, but the Frenchman is alive to the right-back's intentions and clears.
Liverpool bring on Alex Oxlade-Chamberlain and Xherdan Shaqiri for Firmino and Mané.
A minute later, Real Madrid replace Asensio with Isco.
Phillips heads a Liverpool corner wide. At the other end, Asensio produces a sublime piece of control to bring down a high ball on the edge of the box, before slipping it wide to Mendy to cross. Liverpool clear, but moments later Benzema should score!
Militao it is who, for some reason, pops up on the right flank to wrap his foot around a Beckham-esque cross right to Benzema six yards out, but in his attempts to direct his header downwards, the striker overdoes and his effort over! What a chance. Given the scoring form Benzema's in, you'd expect him to gobble that up.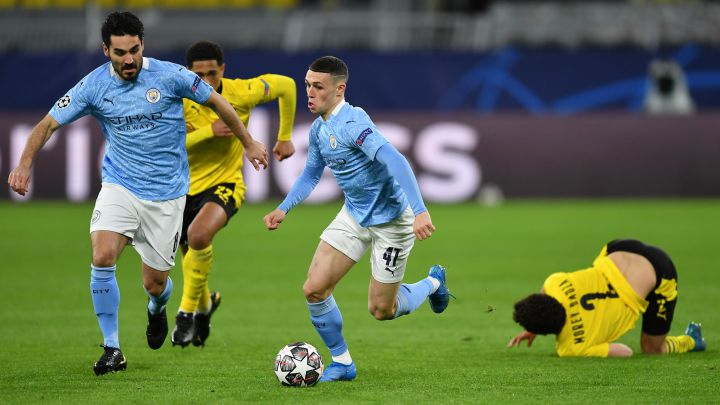 Benzema leads a Real Madrid break before feeding the ball wide to substitute Odriozola, whose attempted return into the box is too high and drifts out for a Liverpool throw-in.
A minute later, Asensio controls and shoots on the edge of the Liverpool area, but sees his strike deflected wide for a corner, which the hosts clear.
Real Madrid make a double change, introducing Álvaro Odriozola and Rodrygo Goes for Vinicius and Kroos. Valverde steps forward into the midfield to replace the void left by Kroos.
"Real Madrid are in survival mode right now," says former Real Madrid player Álvaro Benito on Movistar+, as Liverpool create two more shooting chances.
First, Firmino controls and strikes at the back post, but Militao blocks. Moments later, Jota drives into the box, but sends his shot into the side-netting.
There's a chance for Vinicius, but his touch is heavy! Real Madrid get the Brazilian scuttling in behind Phillips and in on Alisson with what is essentially a hoof forward, but his touch is too long and the Liverpool keeper is quickly off his line to deny first his compatriot, then Benzema on the follow-up.
At the other end, Liverpool work it to Salah in a great shooting position inside the area, but the Egyptian wants an eternity to set himself and get his strike away, and Militao deflects his effort wide.
Mané picks Mendy's pocket on the right-hand side of the box, before floating a cross to the far post that Asensio has to put behind for a Liverpool corner. It comes to nought, however.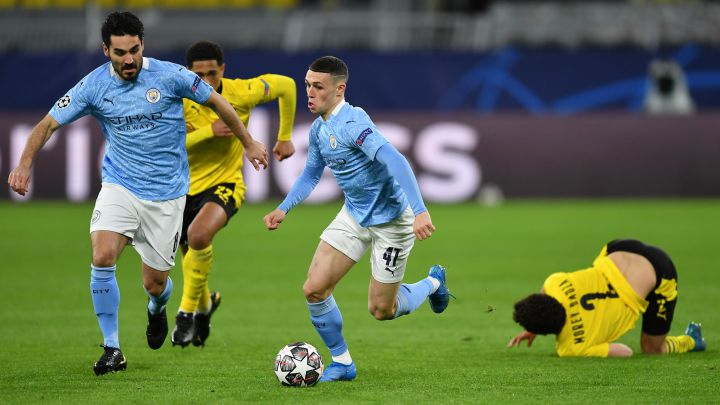 On come Thiago and Jota, with Milner and Kabak making way. Klopp is going for it, with all four of Salah, Mané, Firmino and Jota on the field. Fabinho will drop back into central defence.
Phillips is booked for bringing down Casemiro and putting the kybosh on a Real Madrid break.
Firmino advances towards the Real Madrid box and strikes at goal with his left, but fires well over.
Thiago Alcántara and Diogo Jota are preparing to come on for Liverpool.
That's a crucial intervention from Milner. Mendy gets to the left-hand byline and fizzes a cut-back into the six-yard box towards Benzema - but just as the striker is getting ready to turn it home from close range, the Liverpool captain is there to clear.
Valverde gets forward once more to deliver a cross into the box to Benzema, who chests it down and scoops it over Kabak's head before skipping around the Turk and looking to collect the dropping ball. He can't bring it back under his spell, however, and the chance is lost.
Asensio controls Casemiro's glorious cross-field pass, before slipping it outside to Valverde in crossing space on the right. The Uruguayan sidefoots a low ball into the Liverpool box first-time, but Phillips is there to boot it clear.
It's been a strong start to the second half by Liverpool, who again find Firmino at the near post with a cross from the right. The Brazilian heads off target, though.
Again Courtois has to look alive in the early moments of the half! Alexander-Arnold clips in a neat ball into Firmino, who turns Miltao and shoots powerfully towards the near post, where Courtois is in position to get his body in the way and keep the ball out.
Peeeeep! We are back underway in Liverpool.
Benzema denied by the post again
According to football stats specialists Opta, Real Madrid's Karim Benzema has now hit the woodwork 12 times in all competitions so far this season, more than any other LaLiga player.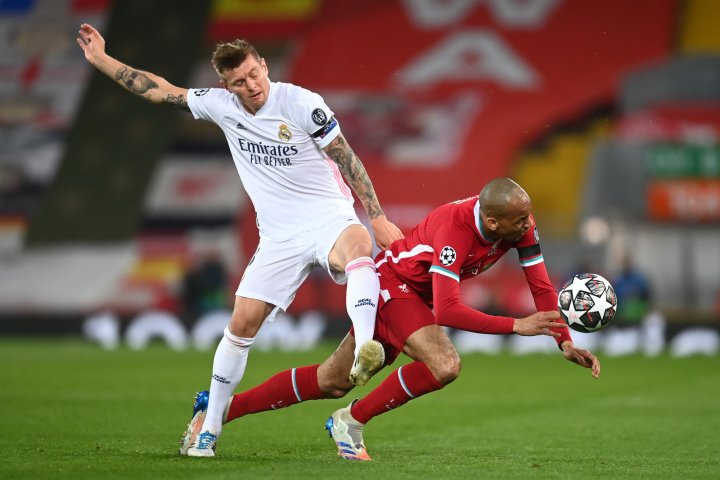 Real Madrid midfielder Toni Kroos battles for possession with Liverpool counterpart Fabinho.
(Photo: Michael Regan/Getty Images)
Peeep peeep peeep! That's half time.
Liverpool have created most of the chances, and who knows what this second leg would look like right now if Mohamed Salah had converted that gilt-edged opportunity right at the start. Thibaut Courtois saved well then, and later denied James Milner with an equally fine stop.
All that being said, it's Real Madrid who have arguably come the closest to scoring, when that Karim Benzema pass deflected off Ozan Kabak and onto the post, with Alisson beaten.
Liverpool want a penalty when Mané controls Alexander-Arnold's dink into the box and, as he looks to turn Valverde and shoot, loses his footing. Nothing doing, says Kuipers, and he's right. Mané clearly just slipped.
Two minutes of time added on at Anfield.
Twice Liverpool shoot over when well placed! First, Mané cuts the ball across goal from the left for Salah, who controls on the penalty spot but fires just over Courtois' crossbar. Moments later, Alexander-Arnold touches it back to Wijnaldum from the right-hand byline, but the Dutchman also blazes over!
What a cross that is from Alexander-Arnold. With his left foot, the right-back digs out an absolute beauty of an inswinger that drifts right down the corridor of uncertainty between goalkeeper and defence - but Mané can't quite reach it at the back post. If he had, it would most likely be 1-0 right now.
Milner curls a cross into the Real Madrid box, but it's too close to Courtois and the Belgian claims with ease.
Up the other end, Vinicius skins Kabak with a sumptuous dink over the Turk's head, but with men waiting in the Liverpool box, the Brazilian overruns the ball and it's out for a goal-kick.
Just as I say Real Madrid have settled down, they're lucky that Firmino dallies on the ball despite having Alexander-Arnold in space to his right. The Brazilian carries the ball over the halfway line and into the Madrid half at pace, but with the away defence back-pedalling furiously and Alexander-Arnold bombing forward into a promising shooting position, Firmino finally plays a wayward pass right to Militao.
Madrid look to have settled down after that early flurry of Liverpool attacks. Los Blancos again keep the ball for a good minute or so, albeit it's a spell of possession with little in the way of end product.
Casemiro is the first man to go into referee Björn Kuipers' notebook after a very late lunge on Milner, prompting a furious reaction from the Liverpool bench.
The Brazilian gives Milner a sorry-mate pat on the arm.
Robertson also appears to have been booked, presumably for being a little too enthusiastic in his complaints to Kuipers in the wake of that Casemiro challenge.
Benzema hits the post! That's the closest Real Madrid have come so far.
Benzema turns Kabak inside-out with a lovely change of direction, before advancing into the box and attempting to play the ball across to Vinicius. However, it deflects off the Liverpool defender's leg and looks for a moment like it's going to squirm in at Alisson's near post... but bounces back off the woodwork.
Real would join Barcelona in Anfield history books with win
If they beat Liverpool in tonight's second leg, Real Madrid will become only the second club ever to win two games at Anfield in the Champions League, following in the footsteps of LaLiga arch rivals Barcelona.
Vinicius brings down Mané on the right wing, giving Alexander-Arnold or Robertson an opportunity to whip a ball into the box from a very dangerous position just outside the penalty box.
Robertson it is, but Kabak heads well off target.
Real Madrid enjoy their first sustained period of possession, albeit without creating much of any note.
Fine save from Courtois! It's been a very watchable first 10 minutes or so at Anfield.
Milner controls 25 yards out and curls in a lovely effort that looks to be arrowing into the top corner, but Madrid's goalkeeper gets one of those long arms to it and beats it out!
The first signs of life from Real Madrid. First, Marco Asensio's shot is blocked, the loose ball falling to Luka Modric on the edge of the box. The Croat doesn't need a second invitation to fire the bouncing ball towards Alisson's goal, but sends his effort a yard or two over.
A minute later, Kroos takes a corner short to Modric, whose curling cross is right on Benzema's head - but Nacho gets in his way, and the striker was offside anyway.
Liverpool remain on the front foot, winning a corner that is fizzed dangerously into the six-yard box, only for Phillips to barrel over Militao - and a couple of other Real Madrid players, to boot - and give away a free-kick to the visitors.
Liverpool are well on top in these opening few minutes. Mané again causes Madrid's makeshift defence all sorts of problems, running at Fede Valverde and curling a low ball across the face of goal towards Roberto Firmino, who can't quite reach it.
"Real Madrid need to wake up," says commentator Carlos Martínez on Movistar+.
James Milner absolutely cleans out Karim Benzema, leaving the Frenchman in some pain and, it seems, damaging his boots to such an extent that he needs to change them. Milner seems very fortunate indeed not to get booked for that.
And moments later, Liverpool are so close to taking an early lead! Sadio Mané touches a high ball down on the volley to Mohamed Salah, who's arriving at pace at the top of the box.
Salah hits his first-time effort firmly enough, but can't direct it far enough into the corner and Thibaut Courtois saves! What a chance for the Egyptian.
Peeeep! We're underway at Anfield.
Minute's silence ahead of Hillsborough anniversary
The teams are out at Anfield, and before we kick off there is a minute's silence for the 96 Liverpool fans who lost their lives in the Hillsborough disaster, which occurred 32 years ago tomorrow.
Real Madrid bus damaged; Liverpool condemn "unacceptable and shameful behaviour of a few individuals"
A window on Real Madrid's team bus has been smashed after being hit by a projectile as it made its way to Anfield.
In a statement, Liverpool said: "We condemn unequivocally the actions that led to Real Madrid's team bus being damaged during its arrival to Anfield this evening. It is totally unacceptable and shameful behaviour of a few individuals. We sincerely apologise to our visitors for any distress caused. We will work together with Merseyside Police to establish the facts and identify those responsible."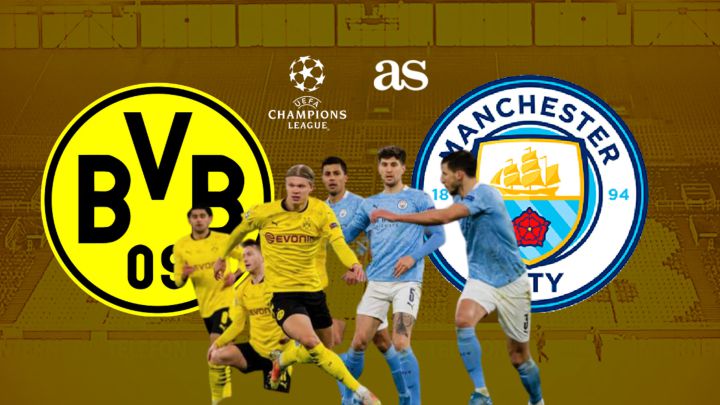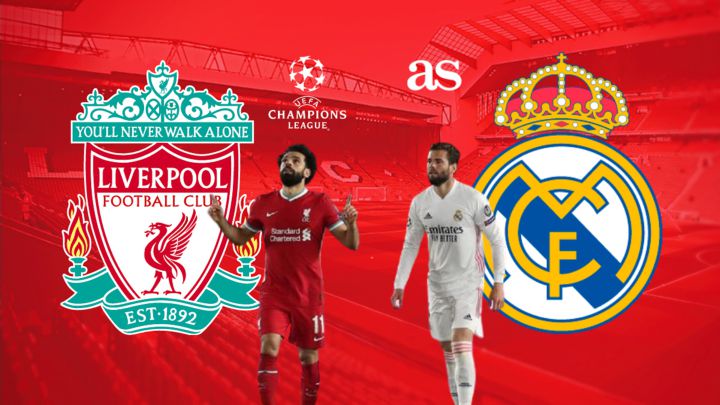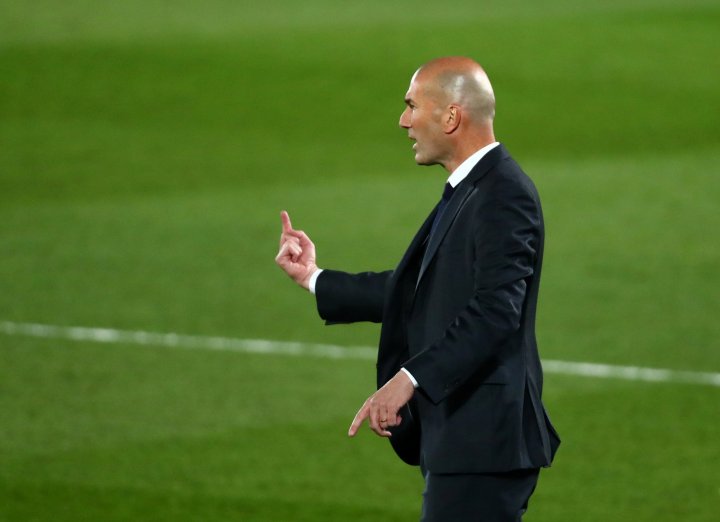 What the coaches said: Zinedine Zidane, Real Madrid
Refusing to protect first-leg lead at Anfield:
"We won't be holding back. When Real Madrid take to the pitch, we do so to win. After the effort we've put in over our last two games, what with the first leg and the Barcelona match, it's more of the same tomorrow, but we're used to that. It'll be an extremely tough game and we can progress to the semi-finals and we'll have to go all out. We've had a lot of players out, but we have to keep going. We're ready."
(Photo: REUTERS/Sergio Perez/File Photo)
Klopp apologises for remarks about Real Madrid's training ground
Speaking ahead of tonight's second leg, Klopp also said sorry (albeit a dollop or two of sarcasm could be detected in his voice) for any offence caused by his comments last week about the Estadio Alfredo di Stéfano, the far smaller stadium Real Madrid are currently using while they revamp the Bernabéu.
"This is a training ground. It's as if we visited Manchester United and played at their training ground," Klopp was heard to say before the first leg in Madrid. After the game, he then said: "Anfield is at least a proper stadium and it will be good for us."
"I didn't want to be disrespectful," Klopp said this week. "If they [Madrid] think that is the stadium they should play in, that's completely fine for me. I know the situation [...]. It's all fine but making a story about what I said is a real joke. If somebody thought I was disrespectful, sorry."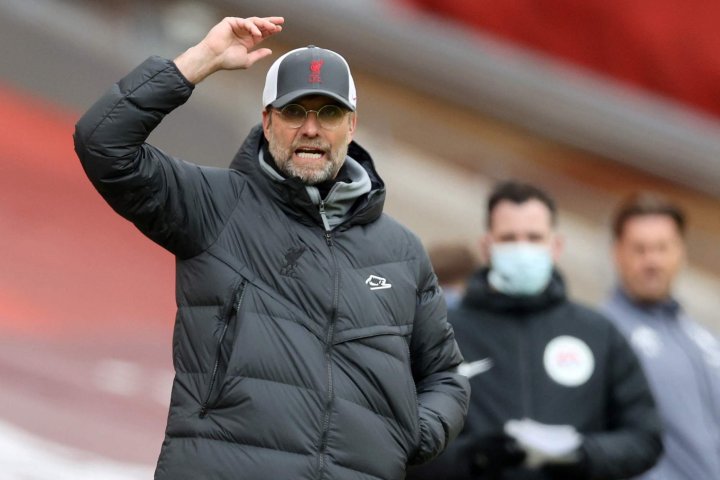 What the coaches said: Jürgen Klopp, Liverpool
Overturning first-leg deficit
"When you're 3-1 down it looks like you are already out, that means you have not a lot to lose, let me say it like this. We will give it a try, I think that's the job we have to do and that's exactly how we will go for it, if you want. It's a result of the performances on the night [in the first leg]: they were better than us, we were not as good as we could have been or should have been."
On Vinicius Jr:
"I was impressed, not surprised [at the Brazilian's performance for Real Madrid in the first leg]. He is an outstanding talent. Everyone knew it before but he has improved. We have to avoid the passes in his direction, which is a big task."
On compatriot Toni Kroos:
"One of the biggest talents in German football for a long, long, long time. A great player since he was really young. It was a brave move to Real Madrid. He's not really old. He has a lot more to come. Quite a nice person as well. I have admired him for years. A wonderful footballer. He can change the game from really deep areas. A nice package."
(Photo: Clive Brunskill / POOL / AFP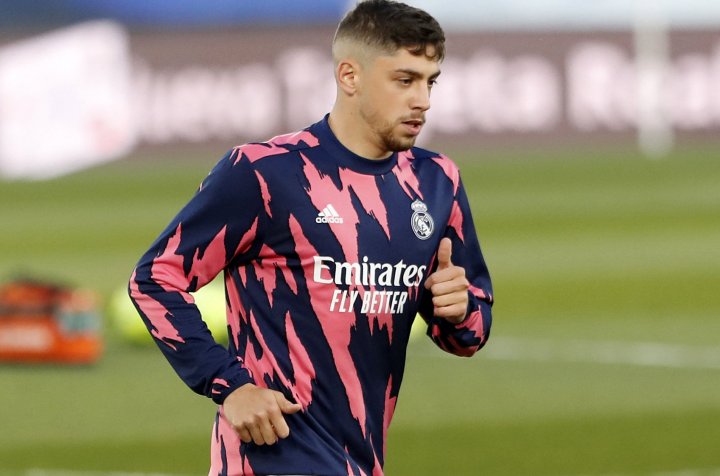 Valverde at right-back for Real, Klopp makes two changes from first leg
Real Madrid make one change to the side that won last week's first leg: with Dani Carvajal and Lucas Vázquez both out injured, midfielder Federico Valverde deputises at right-back ahead of specialist Álvaro Odriozola, who has played just once for Los Blancos in the last two months.
Liverpool boss Jürgen Klopp makes two changes from the opener in Madrid, bringing in James Milner in place of Naby Keita - who was hooked in the first half in the Spanish capital - and restoring Roberto Firmino to the forward line at the expense of Diogo Jota.
(Photo: Javier Gandul/Diario AS)
Real Madrid team news
Starting line-up: Courtois, Valverde, Militao, Nacho, Mendy, Casemiro, Kroos, Modric, Asensio, Benzema, Vinicius
Substitutes: Lunin, Altube, Marcelo, Odriozola, Isco, Mariano, Rodrygo, Marvin, Arribas, Chust
Liverpool team news
Starting line-up: Alisson, Alexander-Arnold, Phillips, Kabak, Robertson, Milner, Fabinho, Wijnaldum, Salah, Firmino, Mané
Substitutes: Adrián, H. Davies, Thiago, Keita, Oxlade-Chamberlain, Jota, Tsimikas, Shaqiri, B. Davies, R. Williams, Cain, Clarkson
Liverpool vs Real Madrid: Champions League preamble
Good morning, good afternoon or good evening, depending on where you are! Welcome to our live coverage of Liverpool and Real Madrid's Champions League quarter-final second leg at Anfield, as the Reds and Los Blancos do battle for the right to face Thomas Tuchel's Chelsea in the last four.
Liverpool were well beaten in last week's first leg at the Estadio Alfredo di Stéfano, two goals by Vinicius Jr and one by Marco Asensio earning Madrid a 3-1 victory that Zinedine Zidane's men deserved all ends up, and that leaves the 13-time European champs as the clear favourites to progress this evening.
As Barcelona are only too aware, though, Liverpool are no stranger to the heroic European comeback - and Mohamed Salah's away goal in Madrid means the task facing the hosts is considerably less daunting than against the Catalans two years ago. While nothing less than a 4-0 shellacking was needed to overturn Barça's 3-0 first-leg advantage, a comparatively straightforward 2-0 win will do for Jürgen Klopp's men tonight.
That said, a shufties at the stats will not fill Liverpool fans with optimism that Real Madrid's commanding lead will go the same way as the Spaniards' arch rivals'. Indeed, Madrid have only lost one of 16 previous Champions League knockout ties in which they won the first leg by two or more goals.
Liverpool, meanwhile, have won just two out of 13 two-legged European ties in which they have been beaten by two or more in the opener. The Merseysiders will need a "close-to-perfect" performance if they are to pull off another famous continental turnaround, Reds left-back Andy Robertson told reporters on Tuesday.